An Interview with Noel Higgins - Quiznos Ireland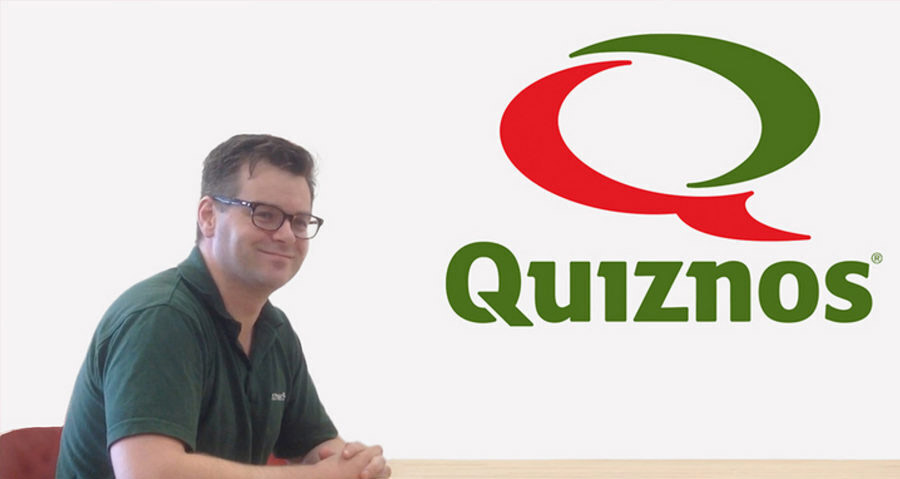 The sub sandwich shop that is "a cut above" is found on almost every interstate exit in the United States and has over 5,000 locations in over 40 countries and territories. Recently, Quiznos was introduced to Ireland and the first restaurant in the country was opened in Finglas Village Shopping Centre. Noel Higgins, the proud owner of Quiznos Ireland, knew the fresh bread and quality meat would work perfectly here. Myself and the Flipdish Team got a chance to visit the Quiznos that started it all and talk to the passionate owner.
Tell me about your career path. How were you introduced to Quiznos?
I grew up in the food business in restaurants, bars and cavaries. If you don't know what carvery is (it's a total Irish thing!) where you queue up and get your roast beef dinner on a Sunday. I was always passionate about food. I can say I was a bit spoiled when I was younger as far as growing up in a restaurant because I was always able to get a good quality dinner.
I strayed from the food industry for a while and became a structural engineer. I was working in Australia and then America, where I came across Quiznos. I came across the sub shop again which I was working in London for four years. I kept thinking the Quiznos name and the recipes would work really well back in Ireland.
We have started our goal here with this restaurant. I took the master franchise so this is the very first one. Quiznos is really good quality. The fact that we slow roast all of our meat and have proper artisan bakery bread really makes a big difference.
It's tough work but I am very passionate about Quiznos Ireland and really enjoy bringing good quality food to the customer.
Bourbon Steak sandwich at Quiznos
Describe yourself in three words.
I'm honest, driven and passionate.

Describe Quiznos in three words.
I have to say our slogan "a cut above" because it really is true.
The slogan certainly fits. The premium meats used in the subs, flatbreads and salads are all locally sourced from Irish farms.

What is your secret to keeping customers coming back to Quiznos?
We have regular customers that come in that usually live or work in the area. They come back because we offer quick, good, quality service. It's important to have a personality as well to make sure the customers are alright and you are looking after them. We are in the service industry, not just the food industry. It's so important to be welcoming when someone comes in. We want to immediately see what we can do to for them.
Another secret (that's not so secret once you taste the toasted sub) is the toaster that Quiznos likes to refer to as a "flavour maker." It's not just the artisan bread. It's the toasting that releases the flavours in the meat and cheese to give it the true Quiznos taste.
What advice do you have for someone wanting to start a career in the restaurant industry?
It's not all sunshine and lollipops. It is tough work but it is the first thing I have come across that I am so passionate about. When I go home, I notice myself talking about it. It's not just a job for me; it's a passion. Just make sure you are passionate about what you are doing. Make sure you stand behind your business 100 percent. That is easy to do when you have something quality and you have something that you believe in. You aren't letting anyone down. Yeah, sandwiches are simple enough but our menu has really quality ingredients to set us apart. That's what makes it all worthwhile to me.
Oh and there are some other perks as well. Last night I met a guy who developed a new gelato range and he wanted me to come over and taste ice cream just to give him feedback. Tasting ice cream until late at night?! That's the perfect job for me!

What is the craziest thing that has happened here at Quiznos?
I think the kids are gas! They come in and you think they just want a ham and cheese like I did when I was a child. Kid's palettes have totally changed. I have kids coming in and they're having black olives, jalapenos and red wine vinaigrette. It's funny to watch a child munch down on that and they love it!
Where do you enjoy dining out in Dublin?
If it's not Quiznos, I usually find myself at markets. I was at Taste of Dublin a few weeks ago. I like going to markets where there is a variety of stuff you can taste. There's not many foods I don't like so I enjoy going to places where I can taste a bit of everything.
Taste of Dublin is the perfect place to taste everything! It's the "ultimate foodie destination" in Iveagh Gardens complete with 4 days of summer eating, drinking and entertainment.
When I was in London, I lived right around a market and I went there for the day sometimes just tasting bits and pieces of everything. This atmosphere is coming around Dublin now. We are bringing in things like markets and food festivals. My answer, put simply, is I enjoy eating everything.
As an American myself I was pretty excited to see a taste of the United States across the world and learn about the brand's expansion overseas. Owner Noel was just as excited to meet someone that knew the brand and could spread the word that the world-famous sub shop had arrived in Ireland. The next plan for Quiznos Ireland is to open a flagship store in Dublin City Centre and then continue to franchise it out. You're lucky Ireland. Stay on the lookout for a Quiznos and taste a toasted sub with a flavour that has been perfected for the past 30 years.
Interested in a free Flipdish demo? Click here to talk to our online ordering specialists.