Flipdish: wrapped up for you at Christmas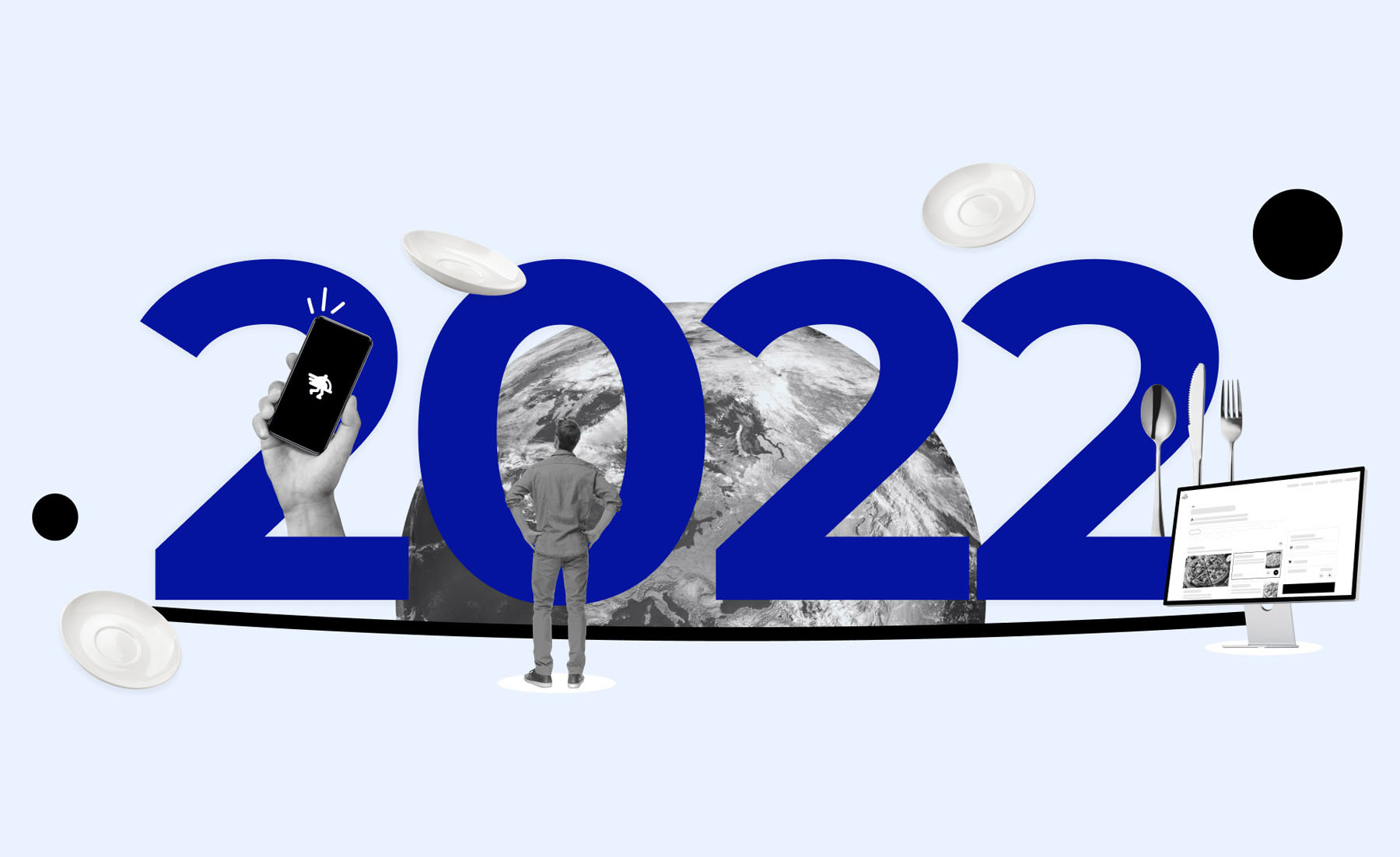 Well… what a year. Yes, it's a safe bet a lot of companies will be starting their yearly wrap-up with a similar sentence. But, well… what a year. Elon Musk hasn't tried a hostile takeover of Flipdish just yet and we've managed to avoid getting slapped by Will Smith, but it's still been an eventful one for us as the world ever so tentatively emerges from a global pandemic with 16 billion fingers crossed.
Today, with constant coverage of economic uncertainty, you might feel yourself needing to take a deep breath before watching the news. But, we've been hard at work to help you breathe a little easier tomorrow. All year, we've been working with you to help design a product that meets your needs while introducing a ton of new features so you can cut back on the busy work, increase efficiency, and maximise your margins.
So, let's take a look at what we've been up to…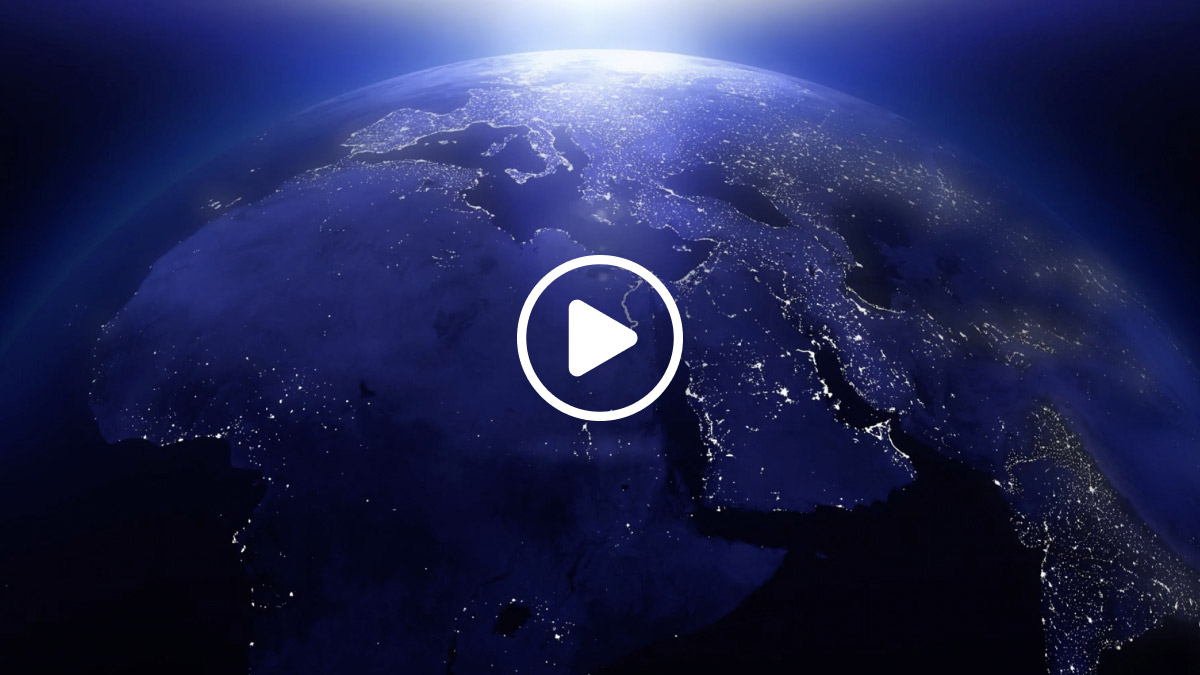 Make smart, data-driven decisions
Data can be superbly effective for driving decision-making, especially if you already have specific goals in mind. And, today, if you're not leveraging your data at all, you might find yourself falling behind restaurant businesses that do.
Looking at general data can offer some surprising and potentially business-changing perspectives, but examining targeted data can help you drill down into the nitty-gritty to see what tweaks and adjustments you might need to make.
Throughout the year, our team has been hard at work building new reports for you and each report is available directly in your Flipdish Portal.
In the Portal, you'll now find the Performance Summary Report which shows a snapshot of all your stores and how each is performing. No need to rummage through emails to find what you're looking for, now you have the information you need in one central place.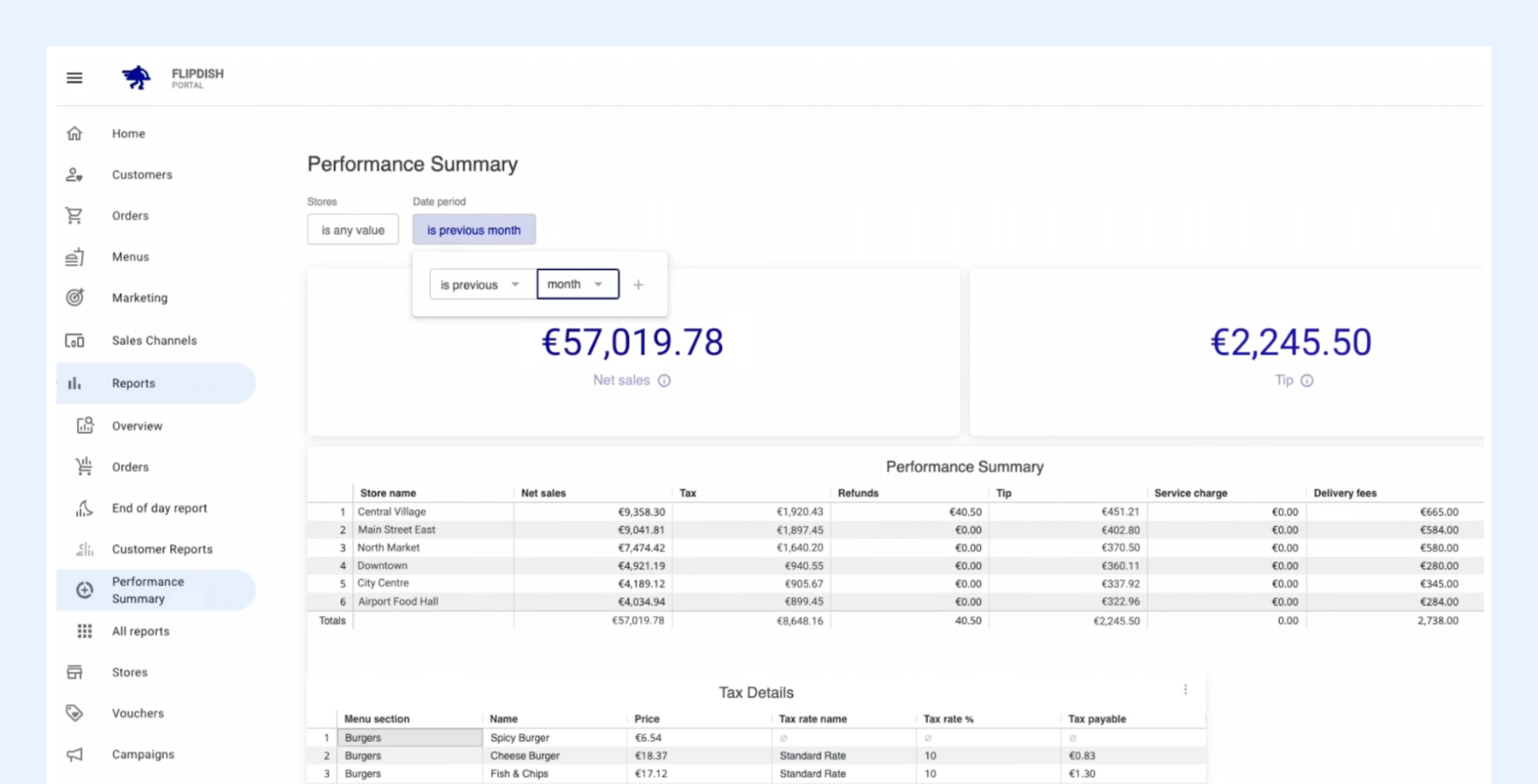 You can dig into specific details around your customers and find your most and least valuable patrons with the new Customer Report. Armed with these key insights you can make impactful steps to help you build greater customer loyalty.
Who deserves some extra love? Why not reward Pete, who without fail, places his order for the Hot n Spicy burger every Friday night, with a discount on his next Friday favourite? Alternatively, you could create a retention campaign to lure back customers you haven't seen in, according to your reports, over 20 days.

The highly customisable Business Review Report provides a comprehensive overview of your business - everything from details on your ordering channels, delivery vs pickup, to average order value. You can easily identify trends and react to them too. Collection orders are low? Why not incentivise increased collection with SMS campaigns?
And you can now view data based on order numbers or order value.

One of our customers, Aonghus at Tuco's Taqueria, used the business review report to help him identify the important data points, like average order value, orders by channel and percentage growth in order volume, that showed the difference over time. He went on to win a national award.
The Sales Report is now brought directly to the Portal so you can access this information on demand (no need to wait on us!), giving you a granular breakdown of your ordering data, allowing you to do your analysis your way.
Use the Tips Report to allocate the correct tip amount to your staff for each shift with filtering by time of day. The report shows a breakdown of total tips, refunded tips, pickup/delivery tips - split by store or platform. And, with the new Ordered Items Report, you can delve into your top sellers and see which menu items might need a shake up, moving high-margin and bestselling items to the top of your menu and updating descriptions for items that aren't selling as well as they should be – or perhaps remove them altogether.

The new Campaign Performance Report is a game changer when it comes to optimising your voucher campaigns like loyalty, retention or first order, and using this data to make more informed decisions. For example, you can find out which customers engage most with your campaigns or what promotional code combination really works for you.
Taking a look at your data allows you to optimise your marketing efforts by adjusting or removing the campaigns that provide the lowest value to you. Perhaps money off (€, $, £) provides a much higher return than a campaign offering a fixed % off.
And you can test variations of your top-performing campaigns. If you know using vouchers around holidays provides a good return, for example, you could experiment with some novelty days – like offering 10% off your Chicken Satay dish on National Peanut Day!
On average, customers will place an additional 12 orders within 12 months of receiving their first loyalty discount. Reviewing all of these metrics provides you with a more complete picture of customer satisfaction so you can make necessary changes to keep your customers happy and coming back for more!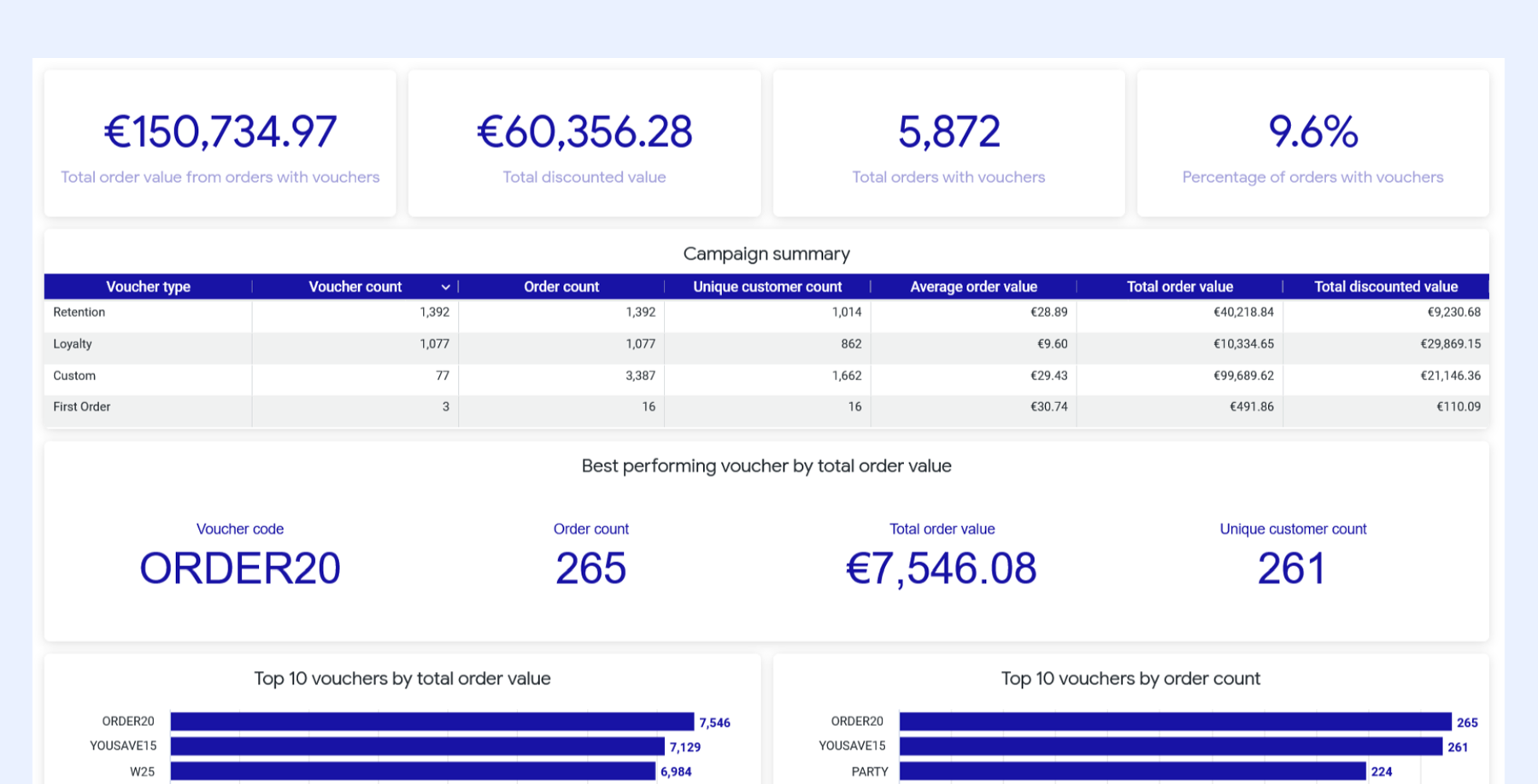 … and get them whenever you want
With each of these new reports you can decide when they get emailed to you and how often. Simply set up an email delivery schedule on the hour, day, week or month in CSV, PDF or PNG format. Whatever works best for you - just make sure to filter for your time zone!
All your reporting and analysis happen on a Monday morning? Schedule the report to land in your inbox at 8.45am (just enough time to enjoy your first cup of coffee before opening). And make sure Jane gets the Campaign Performance report on Wednesday at 4pm before she starts to plan for the weekend ahead.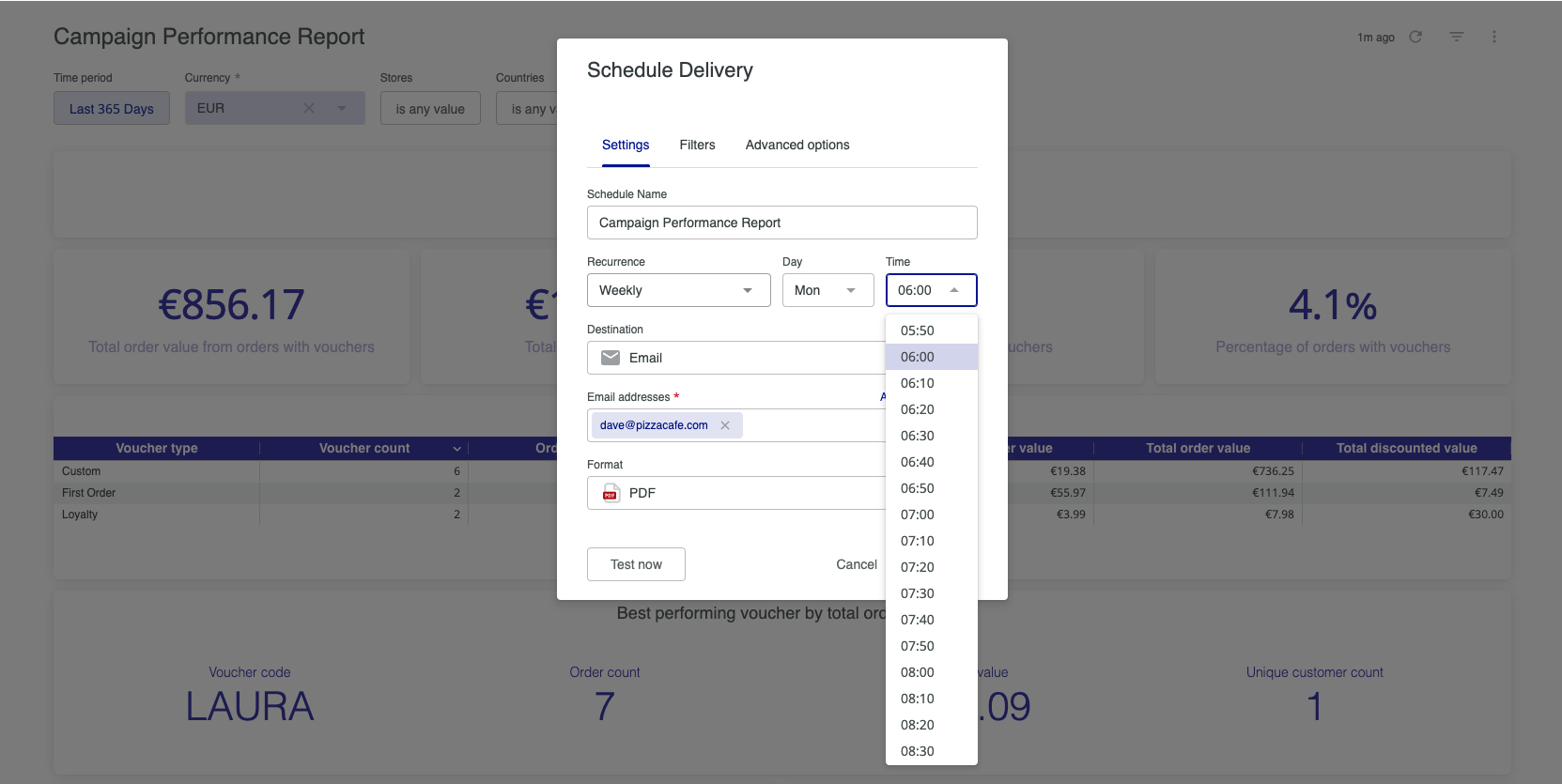 We're putting you in the driving seat
We want to give you as much control as possible and help you manage your business online, so we've made some changes in the Portal. Firstly, we've made improvements that now allow you to set up tipping for your customers in the Flipdish Portal for online, app, and kiosk orders. You have total control over setting tipping amounts, percentages, and pre-selected amounts, with quick and easy editing. With greater control, you can help increase tips for your staff by making it really easy for your customers to give them.

Optional service charges are essentially the same as a tip or a gratuity. Mandatory service charges must be paid by the customer, on top of the cost of their meal. You can now set a service charge via the Portal which means you can define mandatory or optional service charge amounts to fit your business needs, or even reward your staff with another revenue source.

Additionally, for those of you using QR Code Order & Pay, you can configure and update your floor plan within the Flipdish Portal. This means you can add or remove tables quickly, or even change their labelling from numbers to names.
The kitchen sync
At Flipdish, we believe that all your tools should work together seamlessly so you can choreograph your whole business from the palm of your hand. That's why we've spent some time this year working on new integrations to help connect all the vital pieces of your restaurant together.
We've added delivery integrations with: Nash in the US, Ondway in Ireland, and Ryde in the UK. So, if you partner with any of these guys, they'll now automatically get notified when new delivery orders are placed with your store. You can then track delivery from your Flipdish Portal.
If your POS system is with Oracle Micros Symphony, CES Software, Cuboh or Lightspeed K-series, you can have all your orders in one place, reducing errors in the process - we're integrated with them too.
And if you need a speedy printer solution to handle high order volumes, we've got you sorted with Star Micronics.
Little touches, big impact
Animated GIF's add a fun, engaging element to your menus, encouraging greater customer interaction. And this year we brought this feature to kiosks. GIFs can be used in a smart way to highlight higher margin menu items, new additions to the menu, or dietary-specific items like gluten-free or vegan.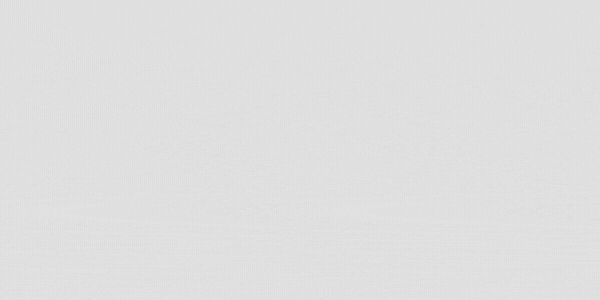 We've also added a little fun to the tipping experience for your users with emojis. But don't worry, there's no passive-aggressive smiley face - yes, looking at you millennials!

And some extras on the side…
With loyalty now added to kiosks, you have another option to reward those repeat customers and keep them coming back for more. We are also helping you save paper with shorter receipts for your Terminal. Changing the rolls less frequently saves time and money while also benefiting the environment.

Menu zones are now neatly displayed at the top of your menu with a horizontal slider functionality. This makes it easy for your customers to quickly browse between menus, stores or brands - without needing to navigate back a page. Plus, they can add items from multiple stores to one basket and checkout with one single payment.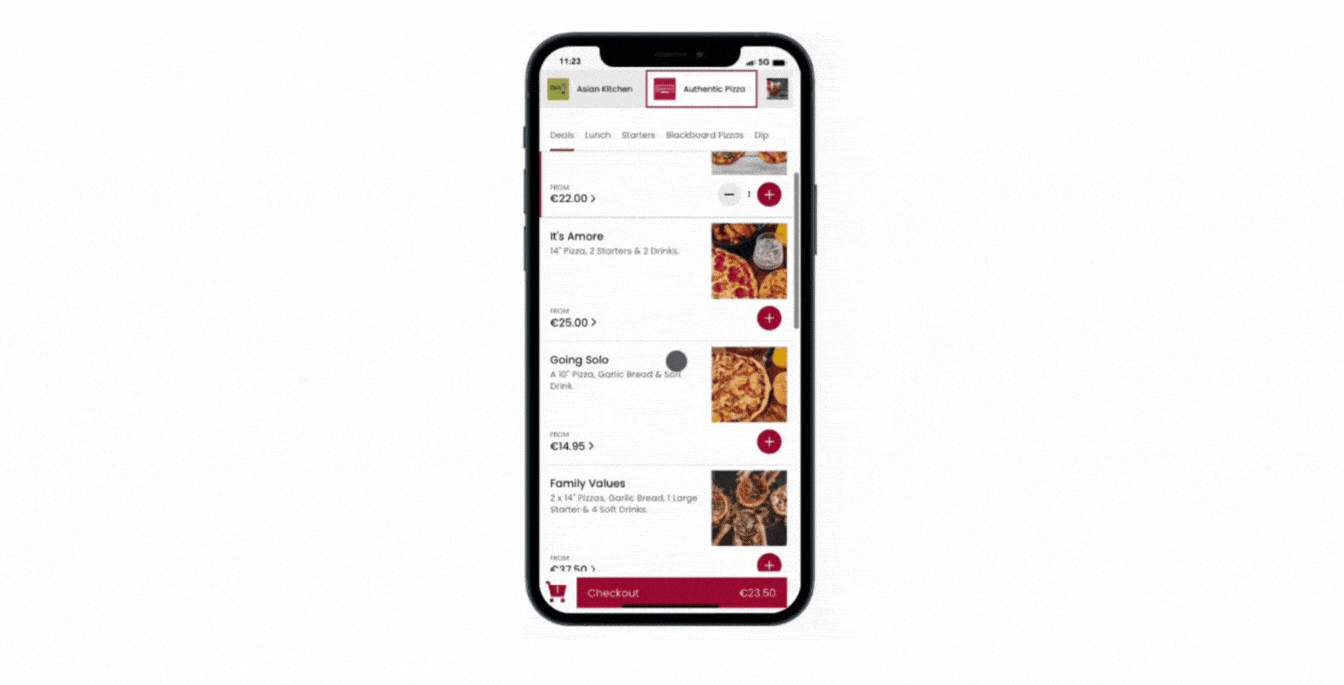 What's on the menu for 2023?
Next year, we'll be striving even harder to make your life easier and deliver the tools you need. 2023 is set to be packed with improvements like:
new mobile app design

new website designs

a new look on kiosks

digital signage on kiosks

new ways for you to sell more with upselling features across our platforms
We'll be going even further in helping you deepen your relationship with your customers with additional ways to order and allowing them to keep up to speed with a new Order Tracking feature (which will be shipping very soon!).

Here's a sneak peek 👇
There's plenty more in the oven so make sure to stay tuned....But, for now, enjoy the holiday season!


Ready to get set up with digital ordering for your restaurant?
Talk to Sales