Welcome back to your August edition of The Dish. The home of Flipdish product updates, company news and more. In the last month, we've made some big improvements to our Kitchen Display System, have introduced a new tool to help you manage your online reputation and have made other small tweaks to our products. Plus, big things are coming, so make sure to read till the end!
🎉 What's new
Customised. Personalised. Optimised: The better-than-ever Flipdish KDS
Many of you wanted the ability to customise the display of your Flipdish Kitchen Display System. That's why we've completely revamped the settings menu and have added a ton of new options so you can tailor each of your KDS stations to exactly how your team prefers to work and read instructions. For example, you can now decide what and how information appears on each ticket, you can adjust the size of your tickets, and you can also control the sound.
But we've also made some big improvements which we think will help you organise your tickets better and help you prepare orders faster:
Club identical items as a single line to speed up prep time
Let's say that you have an order that includes four times the exact same item. You can now choose to see those items as one entry on the ticket instead of four. And we'll clearly indicate how many identical items you need to prep, no need to count.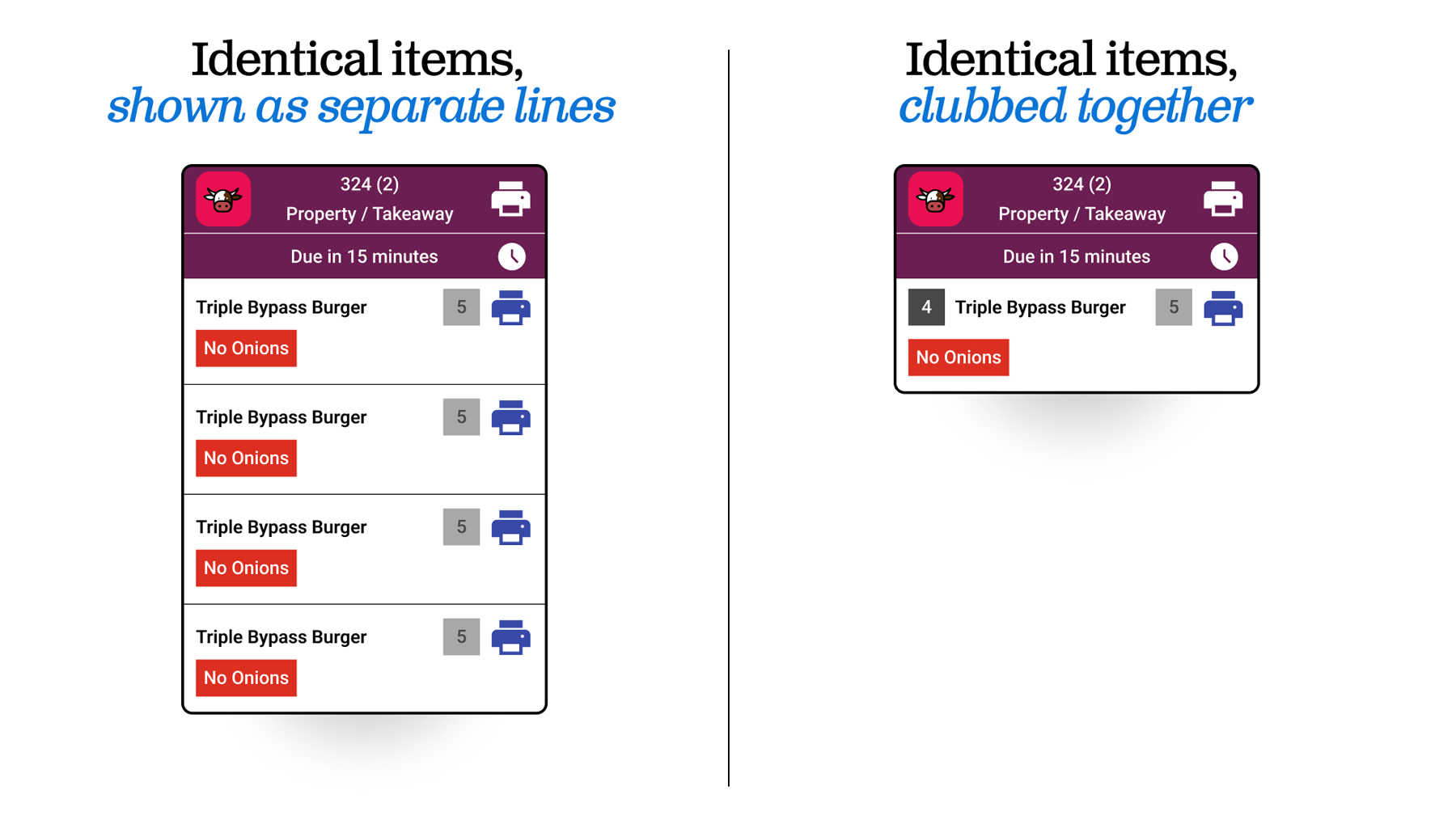 Quickly see how many similar items you need to make across all active orders
By looking at a single ticket, you can now see how many similar items you have to prepare across all your active orders. Let's make that fifth burger from another ticket while you're preparing this order!
Change the order sequence and adjust the due time to stay organised
Orders on the KDS are now sequenced by due time instead of appearing in the order that they are received. But you can easily change that sequence by dragging and dropping tickets or by adjusting the due time right on the ticket.
Check out what else is new in this short video and read the blog for the full details.
⭐ Introducing Flipdish Reputation Management
Your online reputation impacts your restaurant's bottom line. Improving your Google Business rating by just 1 star can increase sales by as much as 37%. That's why we're excited to introduce Flipdish Reputation Management - a simple tool to help you monitor, respond, and increase your online reviews.
This new tool will help you monitor reviews and mentions across the web, respond quickly to recent reviews, identify negative feedback that needs addressing, solicit new reviews from happy customers and analyze data to identify opportunities.
Interested? If you'd like to schedule a quick video call to demo and discuss how your restaurant can start benefiting today, please reach out to the team, or contact your customer success manager directly.
Please note: reputation management is only available in Ireland, the UK, Spain, the US, and Canada.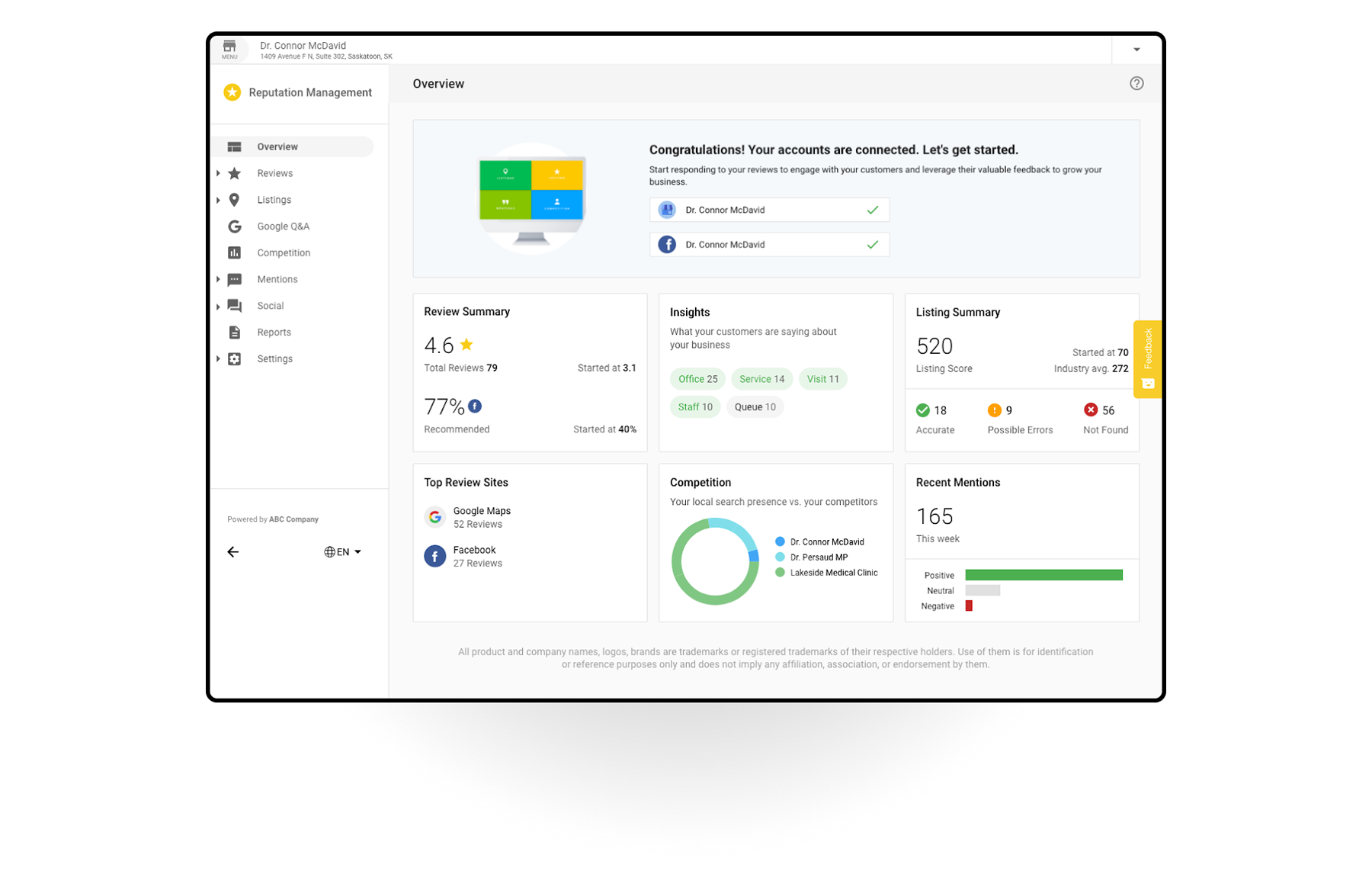 🤓 Join us in person for our Grow Your Business Workshops
We are coming to Cork & Glasgow!
On September 19th, we'll be at the Cork International Hotel, running a 'Grow your Business' workshop to talk about the ins and outs of running a successful restaurant or takeaway in today's climate. We'll also be joined by special guests and award-winning local takeaways—Dacent Munch & O'Reilly's Fish & Chips for a 'Fireside Chat'. Keep an eye on your inbox if you're in the local area, we'd love to have you there.
Glasgow - we'll be at The Studio on Hope Street, September 26th running a similar workshop and event. Invites will be going out soon - stay tuned 🙌
Curious about what these events look like? Check out some highlights of our Dublin event below. 👇
👀 Sneak peek
We've got plenty cooking in the Flipdish kitchen! Here's what we're working on right now.
Accept food orders through Order with Google
Ready to tap into the billions of customers already searching on Google? Us too! Order with Google will be available as a sales channel for you this Fall. How does it work? We'll pull the menu from your Flipdish website into Google Search and Google Maps, so people can order, without leaving Google. Order with Google will only be available in the UK for now, but we'll keep you posted when it opens in other countries. Check this space for more details next month.
Brand New Mobile Apps
In our biggest update to Mobile Apps since its introduction into the market, we're excited to bring you an end-to-end redesign of your mobile app's menu. This will give you a sleek, modern mobile app that shows off your menu and brand to your customers in the best light possible. —while making the ordering experience even smoother than before.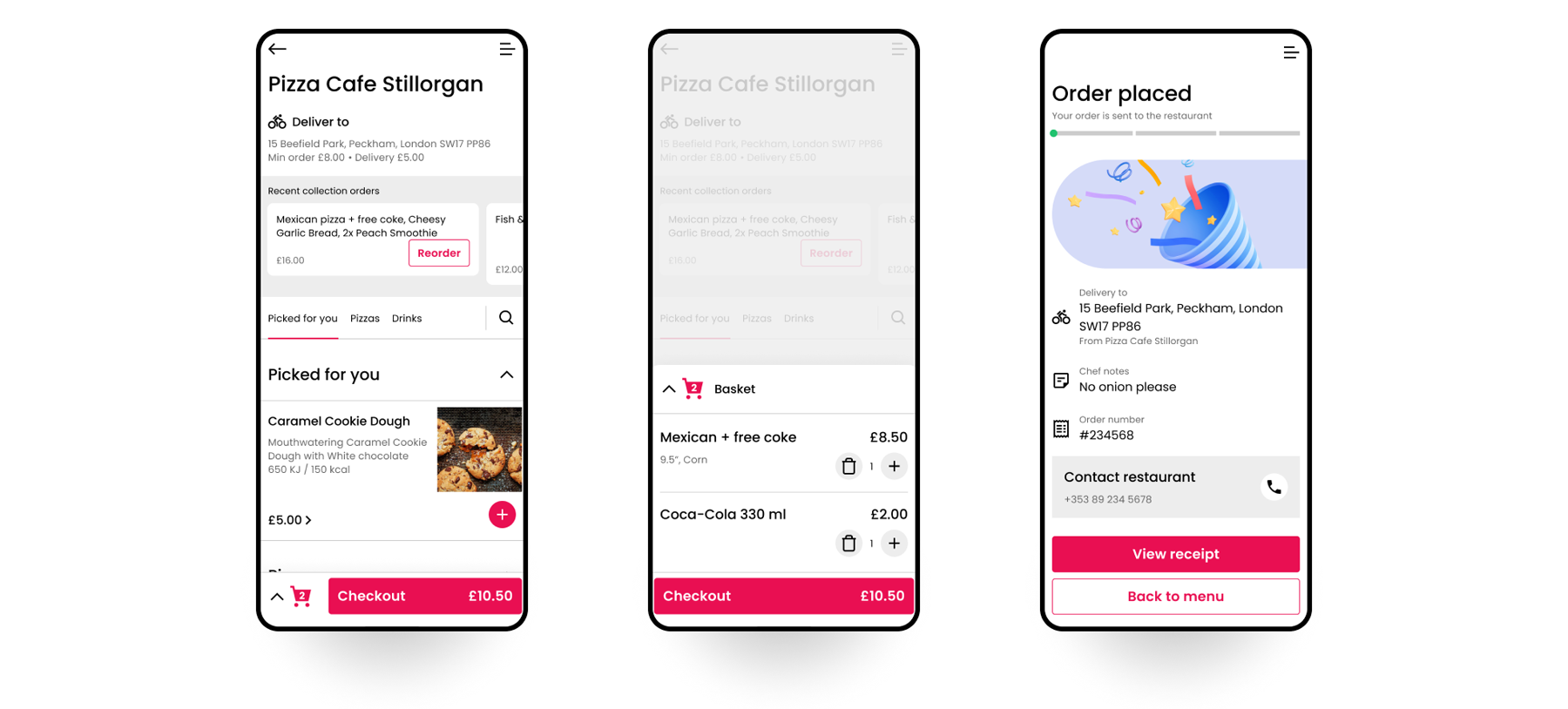 Brand new Websites
We've got brand new website designs coming to a homepage near you! With multiple templates to choose from, and even a website builder where you can customise things like fonts, colours, text and widgets in an instant— soon you'll have an even more beautiful homepage that gives your customers a great impression of your brand, store and menu. Check out some snippets of what to expect below 👀. Stay tuned for more!
Improvements to the Customer Report
With this upgraded customer report in your Flipdish Portal, you'll be able to gain insights to avoid churning customers by identifying those who are lapsing or use the report to identify your most valuable customers and reward them accordingly. Stay tuned for more!
👨‍⚕️Product Support Tip of The Month: Quick Refunds and How to give them
Did you know that giving refunds or cancelling orders can be quick, easy and settled in just a few clicks? The best way to handle these orders on a busy Friday night is to log into your Portal or refund directly from your Terminal. In just a few steps your customer's order will be refunded and you can focus back on taking new orders in. It's that simple.
Here's the step-by-step guide on how to do it:
That's all for this month's edition of The Dish. Stay tuned for more. If you're looking to get started with Flipdish, or even understand more about how your platform can work best for you? Reach out to our team at any time.