An Interview with Duncan McDonald – Bread and Bones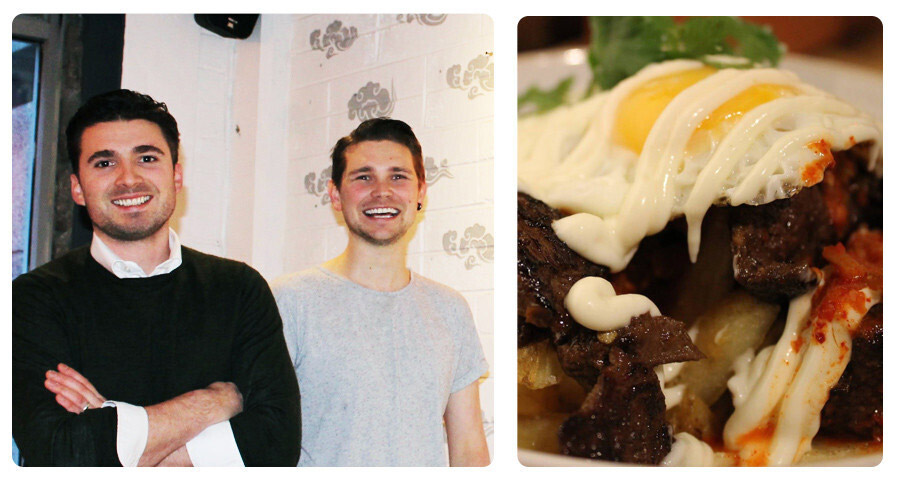 I sat down with Duncan McDonald (left) from Bread and Bones to hear about his (and Jack's) super-cool new restaurant on 7 Millennium Walkway, Dublin 1.
How would you describe yourself in 3 words?
Calm, temperamental, contradictory.
What's the story behind B&B and how did you come to be involved?
I'd been looking to start my own food business for a number of years. I was at a point in my career where I felt I was ready for the challenge and luckily there were parties who believed in us enough to invest. My business partner (and brother in law) Jack came on board very early in the development of the idea and we've worked hard together to get to where we are today.

Where did the name come from?
I always wanted to keep things simple. If you start with good ingredients, the basics, a great quality end product is much harder to screw up! Originally our idea was to do a play on the classis soup and sandwich combo but introducing Banh Mi (Asian baguettes) and noodle soups made from scratch into the Irish market. Bread and Bones evoked that idea of simplicity whilst hinting at the main products on offer.
Why did you start the business?
I've been involved in Hospitality most of my life, certainly all of my working life, since the age of 14. At a certain point, if you don't branch out on your own, you'll be working for someone else for the rest of your career. I thought I had a concept that could work and the skills to make it happen so decided to take the plunge.

Did you deal with negativity when you were starting off and if so how?
Everyone was really positive. The hardest thing is to get past all the barriers and bureaucracy put in your way when starting any business. It's easy to be become overwhelmed by the number of hoops to jump through, if you let that get to you you'd give up before you even got started! Take each obstacle on its own, one day at a time and you'll get there eventually.
What does your average day consist of now?
Up at 6.30 to get the kids up and have breakfast with the family. Big pot of coffee! Then if I'm opening the restaurant I'll be in the kitchen by 8am taking in deliveries and doing food prep. 12pm we open for lunch and the kitchen doesn't close until maybe 10pm that night. Clean the place down and get out of the kitchen around 11pm. I have a great team working with me so it's rare that I'll have to be there all night but long shifts come with the territory. Somewhere along the line there will be paperwork to do, supplier to liaise with and bills to put on the back burner! Then it's home to bed and start all over again the next day.

What's your favourite recipe on the menu?
I have a soft spot for the Bao (steamed buns) that we make. They're one of our main USPs and we make hundreds every week. Since we opened the recipe has developed alongside the restaurant, the quality is much more consistent and our method of making them much more efficient. They kind of mirror the restaurant, simple, unique, always evolving!
We're a food delivery app so we're interested to know what and when was your last take-away?
I'm lucky that my wife likes my cooking more than most takeaways so we'd order in a lot less than we used to. Shameless plug but the last takeaway I would have eaten would have been from Bread and Bones! If I'm running later than expected it's great to be able to arrive home with something hot, freshly prepared and most importantly delicious!
What would be your perfect food day in Dublin?
My perfect day would involve a lie in, so I wouldn't be in town until lunchtime for starters! Maybe lunch in the Pepper pot café in the Powerscourt centre, it's a beautiful space and their pear and bacon sambo is awesome. Round the corner to PMacs or Grogans for a couple of cheeky afternoon pints and read the paper if I'm being antisocial! Then down Camden street to Los Tapas de Lola for some great tapas, wine and atmosphere. I love that style of eating where the food facilitates the experience rather than being the main focus, so we'd need at least a table for 4. Good friends and good food go hand in hand. Then into Against the Grain for a couple more pints or, if we've had enough beer, over to Opium for some cheeky cocktails. By then I'd be more than ready for bed, all-nighters are fast becoming a thing of the past in my old age.

What do you think it takes to be successful when starting your own business?
Ask me when we're a success, I might have an answer for you then!
Who are your main influences?
In food or life? Food has become so fashionable these days that it's easy to forget most of the chefs we see on TV have only got to where they are through a lifetime of hard work in stressful environments for crappy pay. I have a huge respect for anyone who dedicates their life to cooking, you have to have a passion for it as it would be so much easier to do something else. In life of course my parents have paid a huge part in giving me the ambition and opportunity to think I can achieve pretty much anything, and now I have my own family who are a source of constant motivation for me.
What book would you recommend the most to friends?
I have an army of cookbooks; one of my favourites would be 'Made in Italy' by Giorgio Locatelli. I've had it for years and it was the first cookbook I ever read that is as much an auto-biography as it is a collection of recipes. It's great so know how a chef's experiences and childhood shape his cooking, and he's a pretty interesting and inspiring fella to boot.
Knowing what you know now would you do anything differently starting the business?
Plenty! But as with most things in life you only learn through your mistakes. There are things that I could have done differently, but you only know that from the benefit of hindsight. The most important thing is not to waste time wallowing in regret, just don't make the same error twice!
What advice would you give yourself at 15?
Seek medical attention more often. I have a number of aches, pains and injuries from a youth spent jumping off/over/into things that are going to be with me for the rest of my life now. A bit of proactive treatment could have saved me a lot of pain and ibuprofen!

What's next for yourself and B&B?
In the short term the priority is to pay the next rent bill! Long term we'd love to have a few more food businesses but maybe with a slightly different direction. We never set out to be a franchise.
Where can we find you online?
We have a beautiful website at www.breadandbones.ie and we're pretty active on most social media. Watch those spaces for info on new menus, comps and events.
Thanks Duncan, best of luck to yourself and Jack. Chat again soon!
Interested in a free Flipdish demo? Get in touch with Flipdish today.