How we designed Flipdish websites and apps to drive more online orders to your restaurant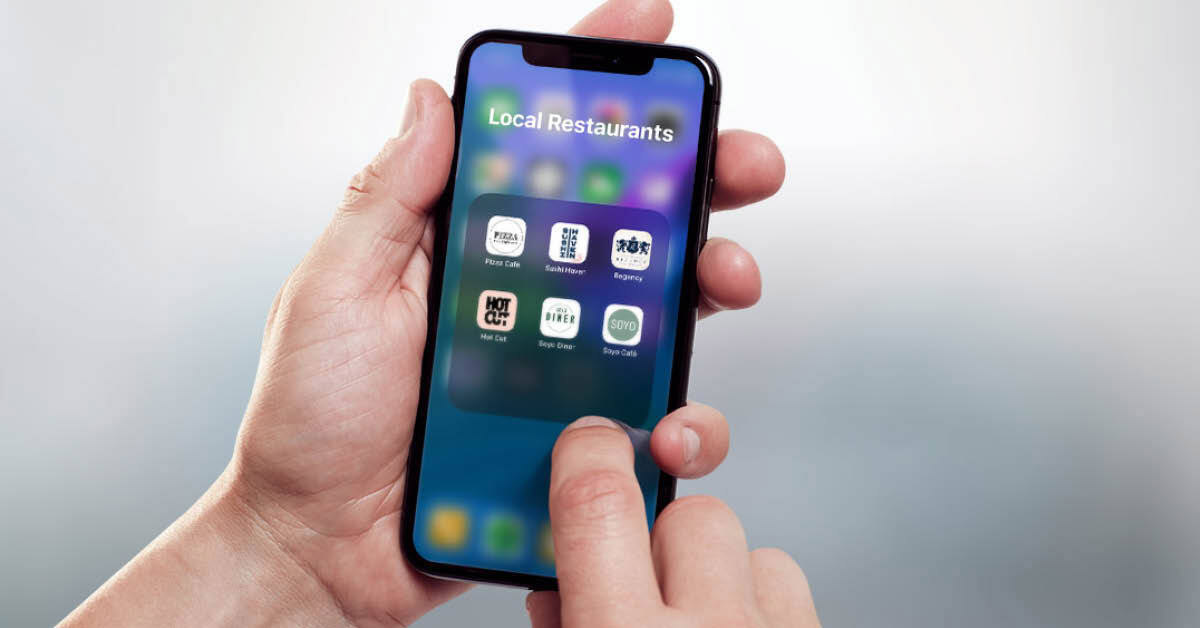 At Flipdish, we want our websites and mobile apps to deliver the best possible results for our customers.

Here, we'll take a look at some of the ways the Flipdish online ordering system has been designed to drive a high volume of online orders to a restaurant or takeaway.
We'll look at:
User journey: Making the website or app easy to navigate, focusing on guiding the user to the menu (where they can place orders!)
Design: Making the website or app visually appealing and ensuring it operates at high speed
Menu and checkout: Making the menu simple to follow, with orders being placed and completed with ease
A mobile-first approach to maximise conversions
Flipdish websites and apps perform exceptionally well in these areas, delivering high conversion rates - over 50% in some cases, an extremely high rate by any digital industry standards. Of course, this is not achieved by accident, as we develop and build our products with a laser focus on upping conversions.
A big part of our approach is that we are, and always have been, mobile-first. We know that consumers prefer mobile these days, and the numbers back this up. In the second quarter of 2020, mobile devices (excluding tablets) generated 51.5% of global website traffic, and that figure has consistently hovered around the 50% mark since 2017.
Some 80% of Internet users now own a smartphone. And analysts have predicted that food orders placed via smartphone and mobile apps will become a US$38 billion industry this year - so there's serious money involved!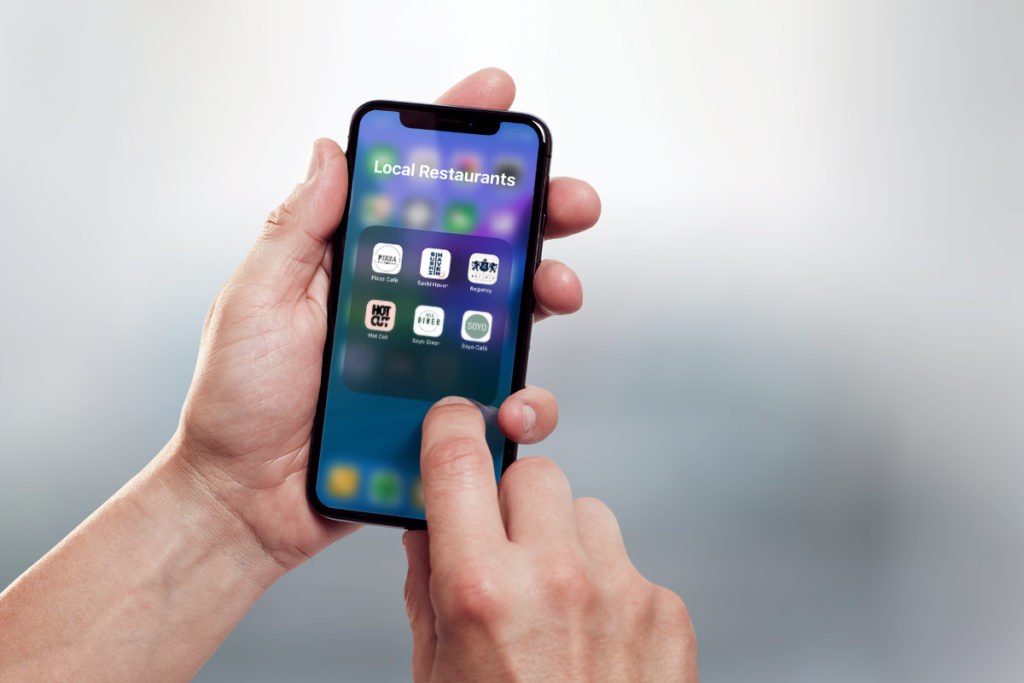 That guides our mission and our product offering, as we know it benefits restaurants to be available on the customer's phone, where it's most convenient for them to order food. So we make our apps as pleasant to use as possible and our websites user-friendly on smartphones.
That's the big picture, but there are lots of seemingly small, quite clever details that are unique to Flipdish and go into achieving high conversion rates. Collectively, these all add up to a great user experience, more orders completed, and more revenue for our customers.
Next we'll look at some of the main features of our websites and apps where we really excel.
Taking users to the menu simply
The user journey should bring customers easily and naturally to the menu, where they can place orders. That means keeping the buttons or links to them prominent on various pages.
Flipdish websites and apps display 'Order Online', 'Deliver' or 'Collect' buttons on the home screen - with very prominent positioning, directing them quickly and simply to the menu with one click or finger tap. So this user flow is never broken, with customers navigating to your menu and placing their orders.
Figuring out the user's location
The moment a user opens a Flipdish-powered app we use geolocation technology to suggest their address and ask them to confirm it.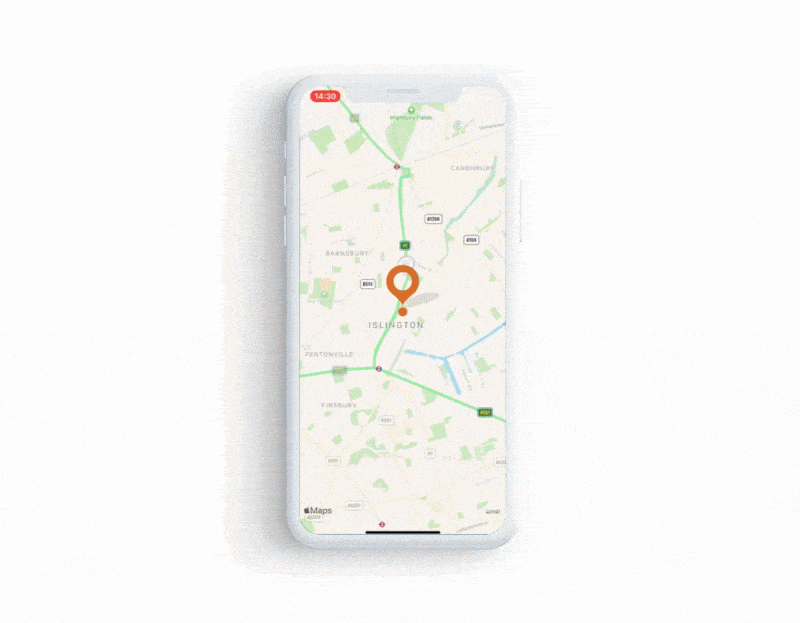 This does two things:
Eliminates the requirement to manually enter an address
Establishes whether the restaurant can deliver to this location (with ranges having been defined in their portal), thus avoiding that realisation later in the process after a lot of work
Of course the customer can override this by manually entering their address (or moving the icon on the screen). And the next time the app is opened, if the user is close to their home address we will automatically revert to this (again allowing it to be changed if necessary).
When the customer selects 'Deliver', we automatically know which open branch or store in a chain or franchise is closest, and default to that store. This reduces mental load on the user, who would otherwise have to figure out which store is closest (that's not always easy). An even worse scenario is also avoided here - a user potentially choosing the wrong location only to discover that won't work at the end of the process.
Based on this automated understanding of the end customer's location and the store location, we automatically calculate delivery charges and minimum order value (where applicable, as defined by the restaurant). This way, customers can see the delivery charges before placing their order, avoiding any unpleasant surprises later on. That sort of negative experience can often lead to abandoned carts, which again would hurt conversion rate. Our system makes sure this doesn't happen.
For collection, the customer's location is also used smartly to optimise their experience. We show all stores in order of distance, but always bring the store most recently collected from to the top of the list.
Users registering/logging in with ease

The Flipdish system makes registration as easy as possible for the end user. And we only start asking for information AFTER they've chosen their food (other than address, to ensure that service is available).
When the customer is ready to order, we confirm their phone number, automatically populating number prefixes/codes if possible, based on location. When the customer confirms their phone number, we send them a text message to validate, then the customer is registered. We don't demand names or other unnecessary details, which are likely to reduce the number of orders being placed.

For locations with poor phone signal, the Guest Checkout feature can be enabled. This gives guests the ability to place a successful web order without needing to receive an SMS. However, please note, guest data won't be collected on Guest Checkout orders.
Adding credit and debit card details is also really easy. The system dynamically checks as the user enters their details. If they've entered an invalid number, we can tell after just a few digits, and we let the customer know.
So registering and paying is all as simple and intuitive as possible.
A fast user experience and ordering process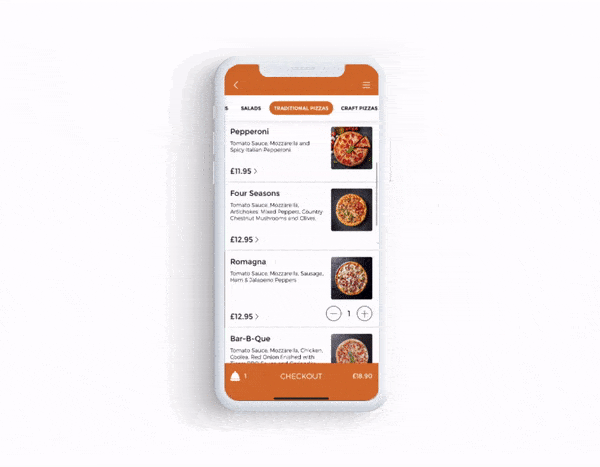 Our system provides a fast user experience at every step along the user journey and an efficient ordering process. Wherever possible, we cleverly reduce or even eliminate transition times from one screen to the next by pre-loading screens and app content in the background.
For example, while the user is confirming location we are already loading the menu. This approach means our apps work fast with no waiting times, again helping to boost conversions.
We also remove the need to click a 'Next' button where possible. For instance, our system knows when credit card details and phone numbers are complete, bringing users on to the next screen automatically. Of course, users can still edit these details if they need to later on.
You never want to lose an order at the payment stage! So we make this part really easy. We remember card details across orders - when someone orders, it will default to the payment method they chose previously.
However, we make sure that when 'Next' is needed as a step, or other core functions such as 'Add to basket', 'Order Now' or 'Checkout', they are clearly signalled by a large button placed at the bottom of the screen where it is easy to tap.
Reordering quickly for regular customers
With Flipdish, businesses can set up a 'Favourites' section of your menu. To create this section, we look at previous ordering habits and figure out which items a customer is most likely to order. This means they can reorder their favourite items in seconds, with just a couple of taps. So it's another useful shortcut – ensuring that customers get what they want quickly, thus driving more orders.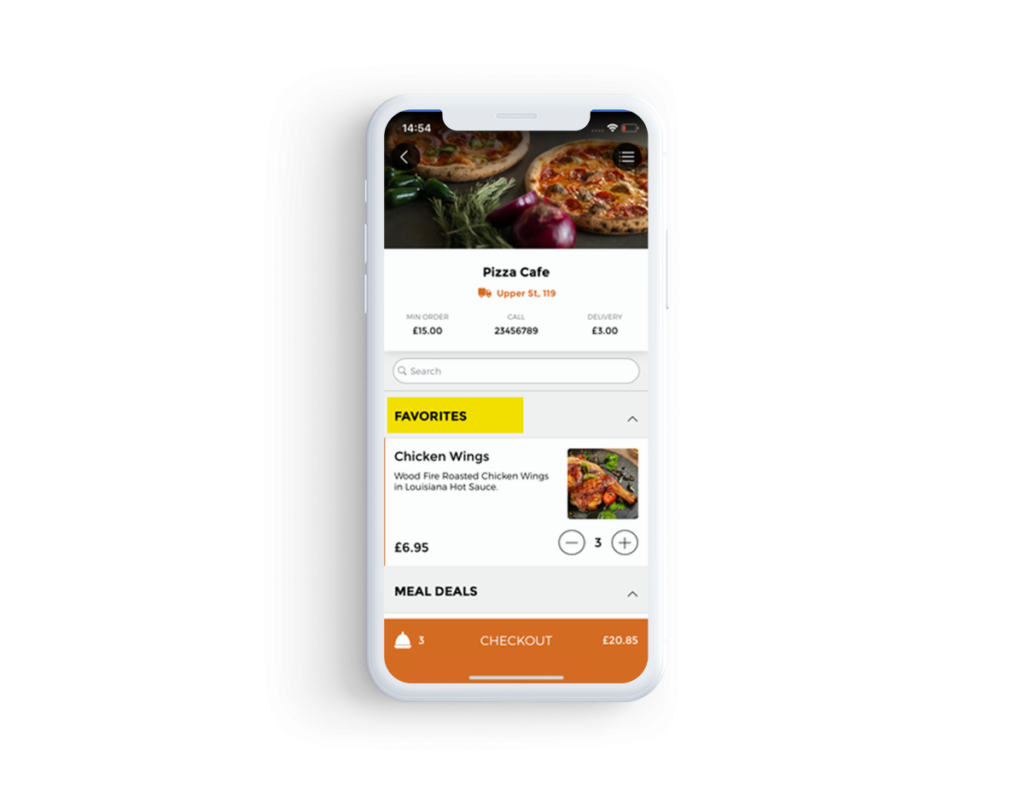 Getting the details right to ensure high standards

Making these actions easy may seem trivial, but it is precisely the work that makes all the difference when it comes to maximising conversion rates. Every small step in the ordering process is important - so we make sure it's seamless and efficient so that orders are completed.
There's more little things too. When it's time to choose a delivery slot, we automatically show available slots to the user and allow them to select one from the list - they don't need to go into a separate screen.
Our team of experts is always working hard to improve and optimise our product features. This ensures that every Flipdish website and app performs to the highest standards, pleasing your customers - driving up conversions and revenues all the time.
Get more online orders and grow your business with Flipdish