What is a dark kitchen? The definitive guide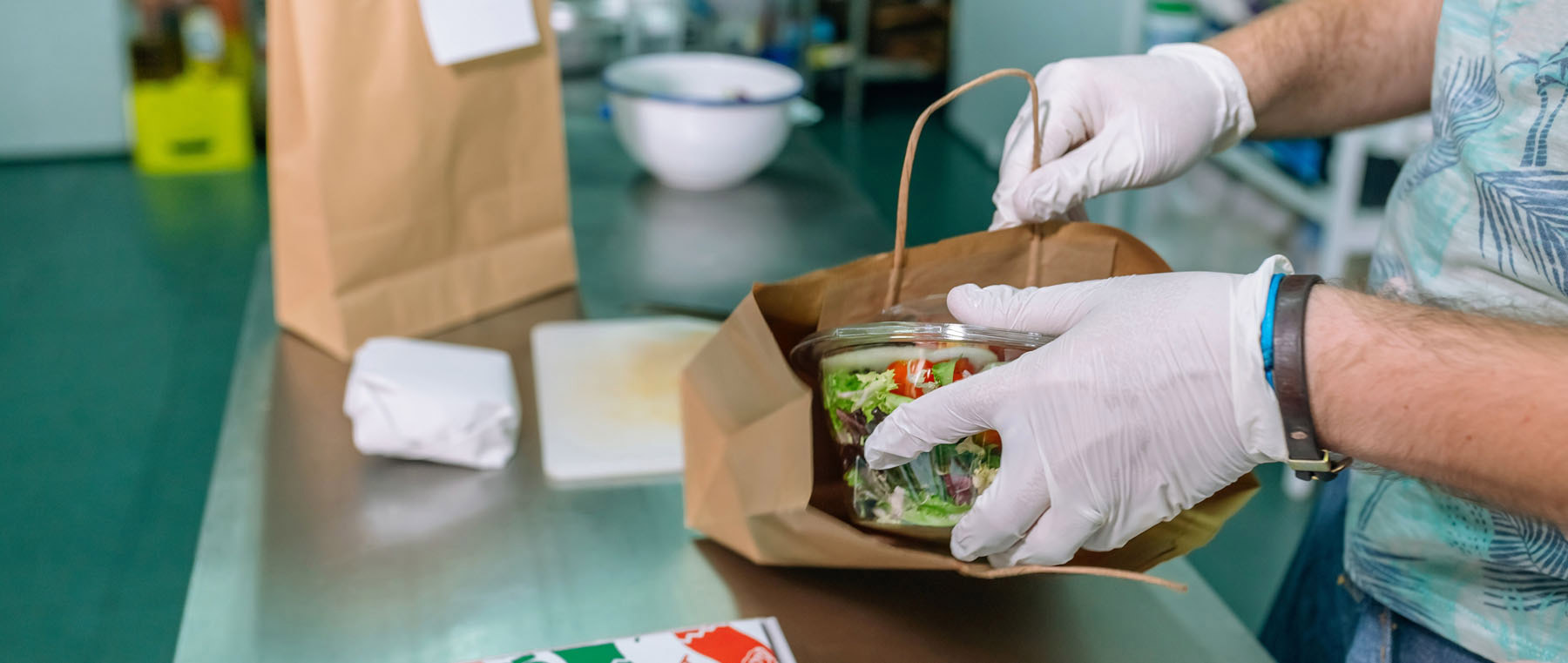 As restaurants went digital over the last decade, online ordering, mobile apps and contactless payments made the front-of-house far more efficient. Meanwhile, social media and online reviews have completely changed the way restaurants interact with customers.
But one part of the business was lagging behind digitally: getting the food to the customer.
The huge challenge for restaurants and takeaways is matching the scalability and efficiency of the digital realm with the hot, messy and complex world of food service.
The answer lay in a new concept. A more efficient, tech-enabled way to get quality food to more customers: dark kitchens aka ghost kitchens or virtual restaurants.
What is a dark kitchen?
Despite the many confusing, or even ominous, names for digital-first kitchens, the concept can be boiled down to a simple definition:
Dark kitchens are food production units primarily optimised for digital ordering and delivery.
This is in stark contrast to traditional restaurants, where the focus is on walk-ins and reservations for dine-in customers. For dark kitchens, this means the efficiency of the kitchen operations, production, logistics and the digital customer experience are the priority, rather than service, decor, or fancy towels in the toilets.
How did we get here? Dark kitchen investment and buzz
The idea of a delivery-only cloud or dark kitchen was touted as a new trend as far back as the mid-2010s.
The concept was gaining momentum right up to 2020 with VC money pouring into start-ups in the space, and concepts being trialled and refined everywhere from Silicon Valley to Europe's major cities.
The digitisation of the restaurant business was accelerated even further over the last two years with the advent of the pandemic and ensuing dining restrictions. Many restaurants realised that getting tech-savvy was now essential to compete and thrive. And since then, the dark kitchen trend has been one of the most talked about in the industry.
With all this investment and buzz around the concept, it's unsurprising that Statista projects the dark kitchen market to grow to $112.5 billion by 2027, nearly doubling from the 2021 estimate of $56.7 billion.
Dark kitchen ideas and business models
The endeavour to bring restaurants into the digital age has spawned a thousand different ideas and business models. Dark kitchen business models are still evolving and restaurants, aggregators and dark kitchen operators are all experimenting with different ideas and approaches to see what works best.
That's why there are so many names for dark kitchens and so much confusion about what they really are. Let's explore the common names and models, and the differences between them, to find out what we really mean when we use terms like dark kitchen or virtual restaurant.
Different names for the same thing
The terms dark kitchen, ghost kitchen and virtual kitchen usually refer to the broader concept of a delivery-only kitchen with no storefront or dining room — though some offer collection too.
A virtual restaurant could refer to one restaurant operating out of its own dark kitchen or it could be a restaurant that operates from a shared dark kitchen. And just to make it more confusing, one dark kitchen could house multiple virtual brands.
There are also virtual food halls with a dine-in space and dark kitchens with storefronts. These are hybrids where the storefront or collection option is not the primary function of the kitchen.
Meek's Vegan Pizza, for example, operates from a virtual food hall in Houston. The plant-based pizza brand managed to grow orders by 30% in 60 days using online ordering and an android app created and powered by Flipdish.
One thing that all dark kitchens have in common is that they're tech-enabled. Without online ordering, kiosks, delivery systems, online payments and other technology they simply couldn't exist.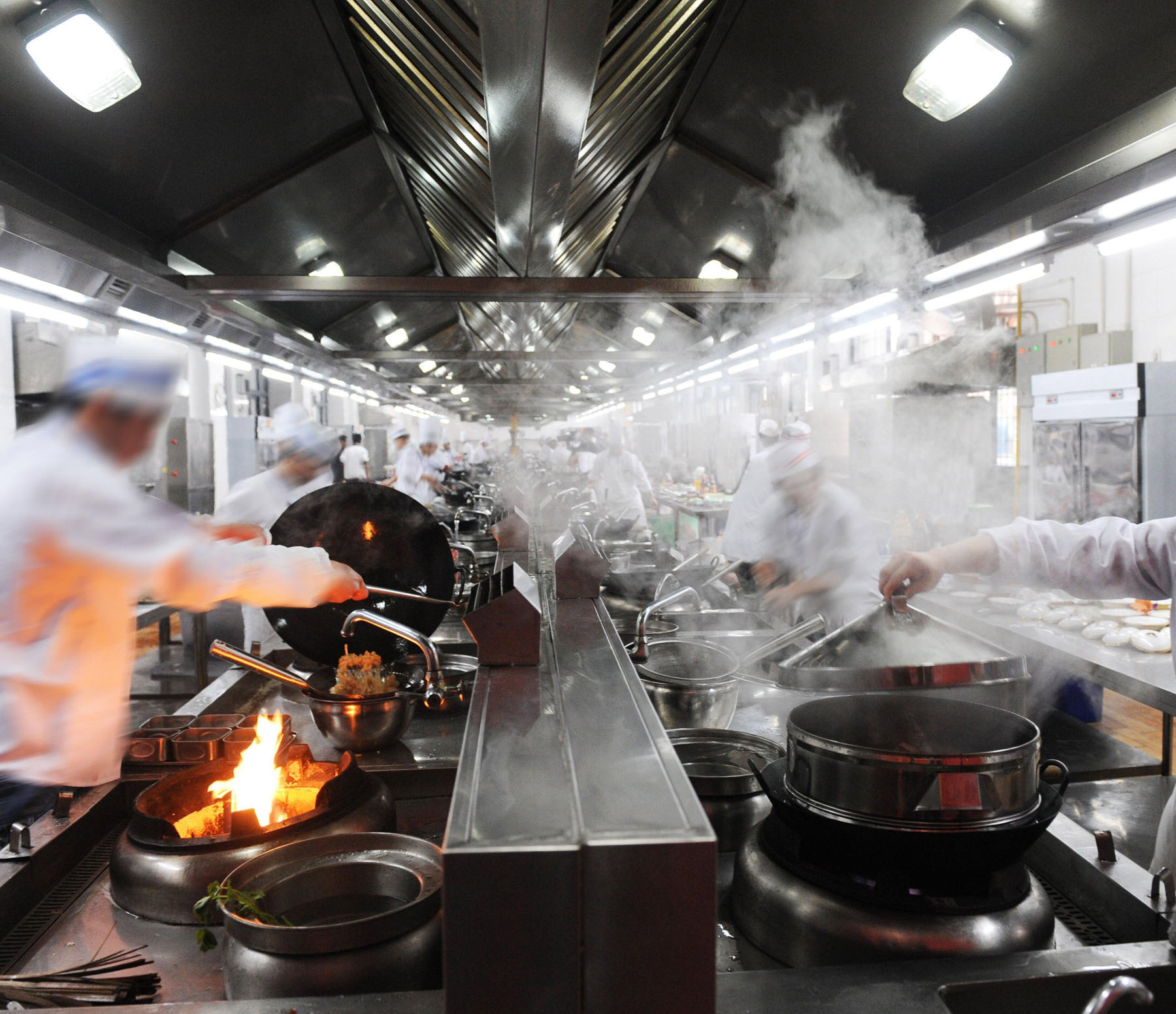 Different types of dark kitchen business model
Now that we've cleared up the lack of standardised terminology in the dark kitchen world, let's take a look at something even more confusing: the mind-bending muddle of dark kitchen business models.
Vertically-integrated dark kitchen
The OG dark kitchen model is where a restaurant decides to build a dark kitchen to serve a new area or to separate delivery orders from on-premise dining. The entire project is run by one restaurant and is purpose-built to produce delivery orders.
Multi-brand dark kitchen or virtual food hall
Similar to the above model, the multi-brand virtual kitchen is run by one restaurant business, but produces food under multiple brands. It is like a virtual food hall where customers could even choose to order from different brands for delivery together.
This gives the consumer more choice and allows the business to diversify its offering. All while still keeping overheads low and maintaining an efficient production line.
Kitchen as a service (KaaS)
In this model, a business sets up a dark kitchen specifically for existing restaurants or new virtual brands to operate from. These kitchens are optimised for delivery and efficient production but must be flexible enough to handle whatever cuisine the different brands want to produce.
These can be seen as managed dark kitchens as they will typically offer a full suite of services, from the equipment, health and hygiene compliance and business support services, to the tech and delivery logistics.
Entrepreneurs Samantha Pascal and Jusnah Gadi used a managed dark kitchen in East London to grow their seafood boil brand Hot N Juicy Shrimp LDN. Flipdish online ordering allowed the pair to cope with the massive influx of orders during 2020 without paying out huge commissions to delivery aggregators.
"Since partnering with Flipdish we have been able to build a streamlined ordering system for Hot N Juicy Shrimp LDN", Jusnah explains, "This was a bespoke process which meant that we were able to address all the feedback we received from customers while Flipdish technology allowed us to tailor it to those needs."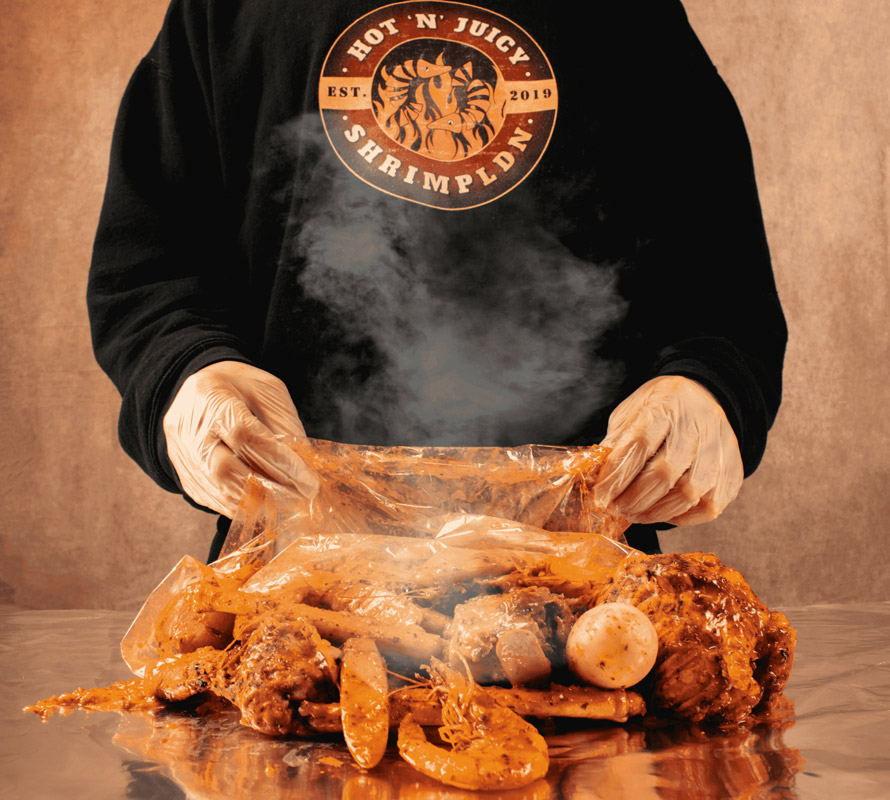 Distributed fulfilment kitchens
Distributed micro-fulfilment kitchens, or satellite kitchens, allow restaurants to rapidly extend their delivery radius or deliver to new areas without having to open a new restaurant. Prepared food is sent out to the distributed dark kitchens, from which it can be reheated and packed for delivery to the new area.
Aggregator-owned dark kitchens
As the influence of delivery aggregators like Deliveroo, JustEat, UberEats, and DoorDash has grown, many of these giants have started to invest in physical dark kitchen spaces which host their own brands as well as other virtual restaurants.
The delivery platforms provide kitchens with all the necessary equipment and tech for restaurants to rent. And naturally, these kitchens are optimised for delivery and located in high-volume areas with plenty of drivers at the ready.
Unsurprisingly, the aggregators themselves gain the most from this model. They reap the efficiency benefits of having a number of different cuisines coming out of one purpose-built kitchen. For restaurants, the benefits are less clear as you are essentially competing against the aggregators for the customers in the area and paying them for the privilege.
Virtual brands operating out of existing kitchens
This model turns the dark kitchen concept on its head by utilising existing kitchen space for virtual restaurant brands. This might be a restaurant realising they can use their existing kitchen to produce food for delivery under a new brand name.
Or it could involve a restaurant renting space in their kitchen to a separate virtual restaurant brand – like MrBeast Burger, a virtual brand that operates out of hotel kitchens in the UK, using Flipdish to power its online ordering.

Benefits of dark kitchens and virtual restaurants
Dark kitchens emerged out of a need for more convenience and more efficient production of meals for delivery. The opportunities to improve the restaurant industry are huge.
Let's look at how dark kitchens compare to traditional restaurants when it comes to the benefits and associated trade-offs.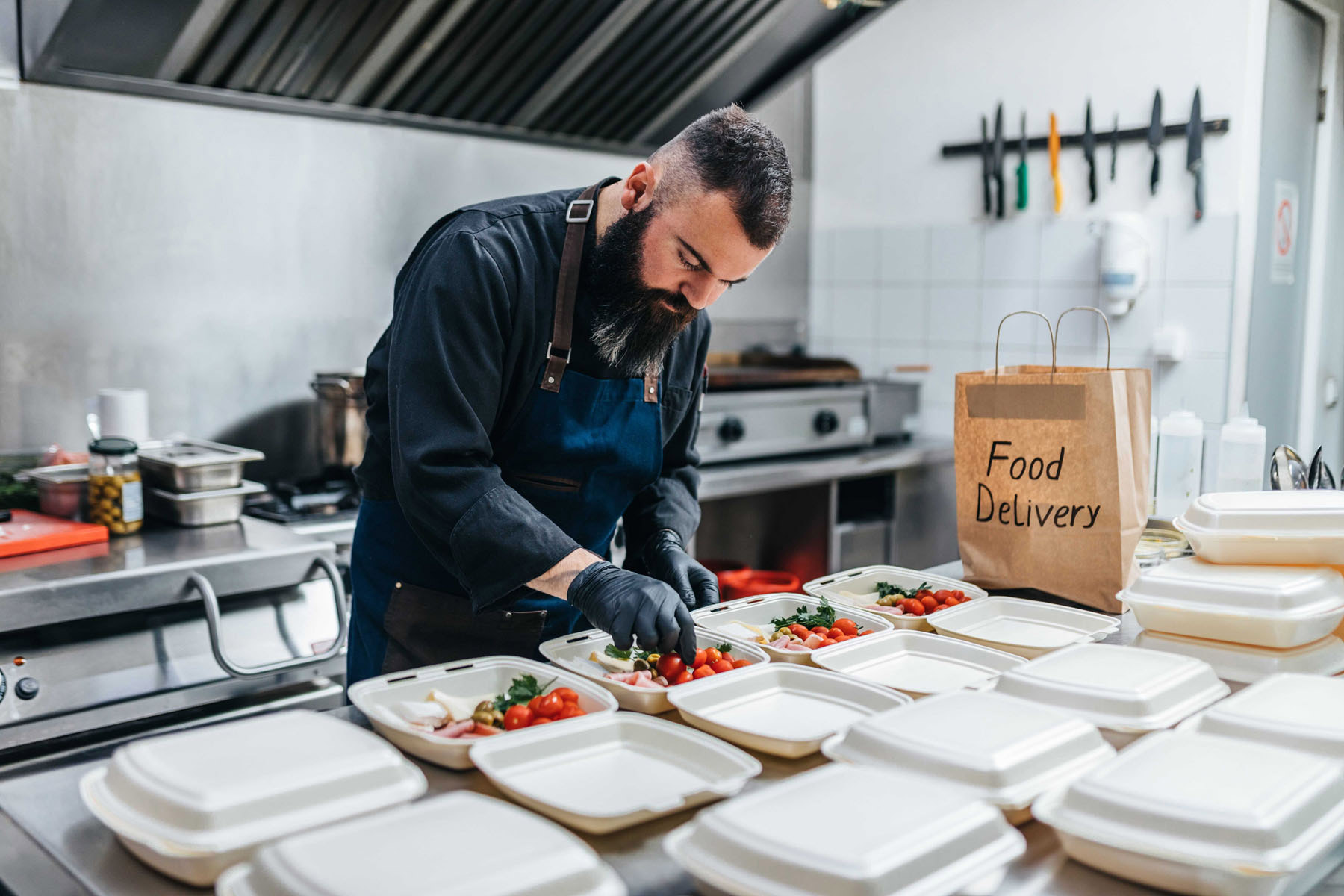 Lower start-up costs
Opening a new restaurant is an expensive process costing in the hundreds of thousands, or even up to millions, to pay a deposit to lease a space, remodel it and kit it out. And initial leases often run for three to five years, meaning you're locked into a hefty outgoing for several years at least.
Renting space in a dark kitchen is far less expensive. And in many dark kitchen models, a lot of the paperwork and bills are taken care of, leaving you ready to start your business without risking your life savings from the outset.
This low barrier to entry also comes with a downside though. Competition among digital-first restaurants is fierce. Over-saturation can lead to a race to the bottom on delivery marketplaces – with brands competing on price rather than quality.
The best way to overcome this is to build a strong brand on your own ordering website to differentiate your virtual restaurant from the competition.
Lower overheads
Dark kitchens have no front-of-house staff, no dining room and no need for customer toilets. And because they don't rely on a high volume of foot traffic, they can be located in out-of-town industrial areas where the rent is lower. The utility bills are often shared by multiple tenants or are included in the rental agreement.
All of this means the overheads are far lower than in a traditional restaurant.
As with the low start-up costs, this makes the model very attractive to businesses trying out new concepts or looking for a low-risk business with a chance of success.
Of course, having no physical storefront or guaranteed footfall coming to your restaurant presents challenges. That's why it's even more important to have a strong online presence when operating from a dark kitchen.
See how Flipdish Managed Marketing can help you build an engaged audience and drive orders
Flexible and agile
Dark kitchens offer the unique opportunity to experiment and tweak ideas. You can spin up a brand within days to test a new idea out and see how it fares.
If you already have a restaurant business, you could even run a test to see if a particular menu item works better as its own brand. Then create the new brand and run it side by side to see which performs best.
If something isn't working or if market conditions suddenly change, you have the ability to quickly pivot and offer something different. Or simply adapt and change your offering on the fly.
Hyper-efficient
Dark kitchens are designed specifically to maximise efficiency for delivery orders. They tend to be filled with the latest technology to ease orders through the kitchen in the most efficient way possible – all the way from the ordering software and kiosk hardware, to the POS, kitchen display system and printers, to the delivery tech that connects you with drivers.
Dark kitchens often have dedicated order packing and driver waiting areas so the production areas are not crowded, and so drivers can quickly identify and collect the right orders.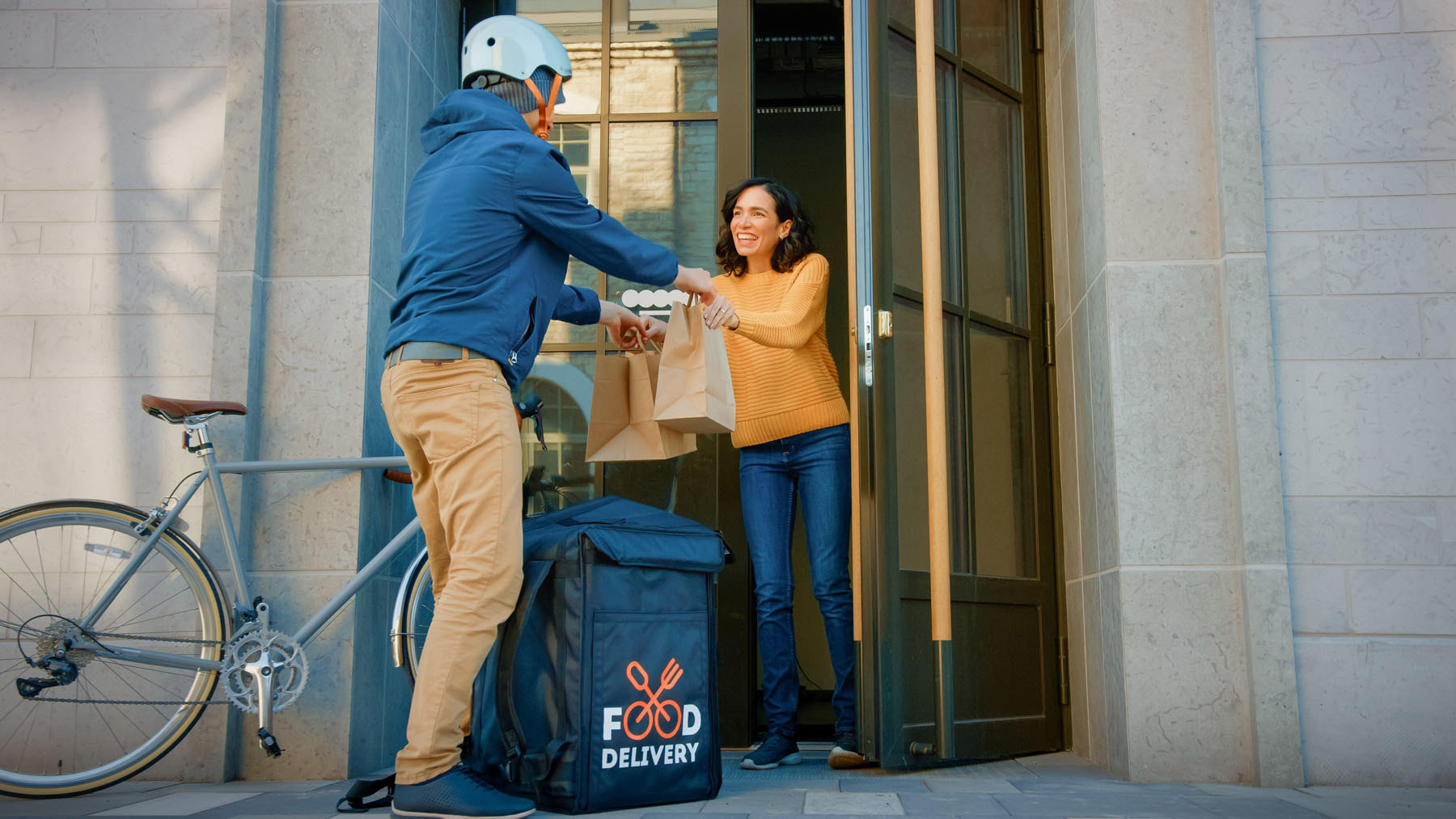 Future-proof
The agility and tech-enabled nature of dark kitchens makes them ready for the AI-powered, automation-fueled future. If you want to make sure your restaurant isn't left behind, dark kitchens are already at the cutting edge. And the agility of the concept means they will continue to be, even as the next seismic technological shift occurs.
Dark kitchen brands
Here are some examples of dark kitchen brands operating in different markets that use totally different business models. All of them, however, have found success in their different approaches using Flipdish to power their online ordering websites and apps.
OSK is a digital food court that allows users to add dishes from multiple restaurants in a single order. The orders are available for pick up or delivery in several Californian cities.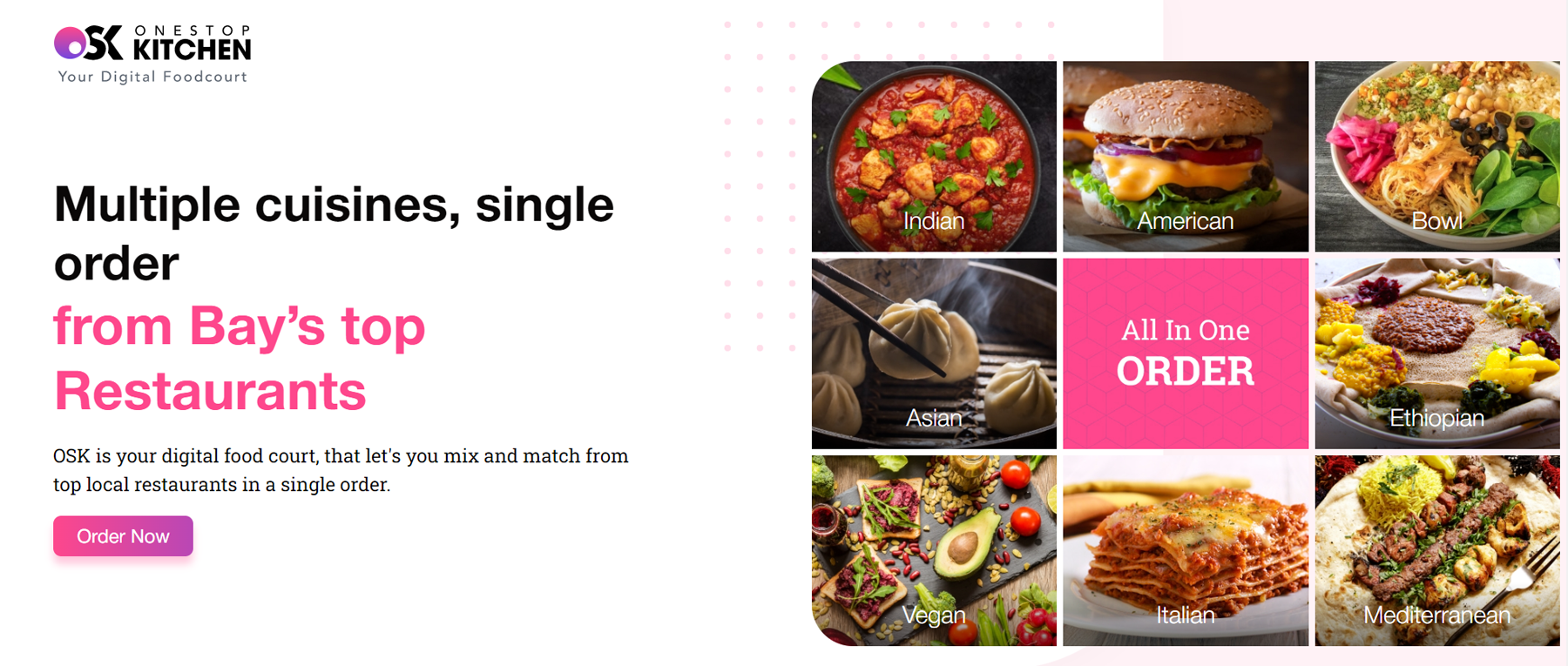 Q-ZN offers managed dark kitchen space for restaurant brands to rent. The company's Montreal dark kitchen offers several brands for pick up or delivery and customers can choose to order in French or English via the Flipdish online ordering website.
A virtual food court operator offering several brands out of the same kitchen that can be delivered together. Currently operating in several major French cities with more virtual food courts coming soon.
How to start a dark kitchen

Now that we've delved into the nuanced world of dark kitchen business models, you're probably chomping at the bit to get started bringing in those extra orders. While starting a dark kitchen is too huge of a topic to cover extensively in this guide, you can find out more in our detailed post on how to start a dark kitchen — coming soon!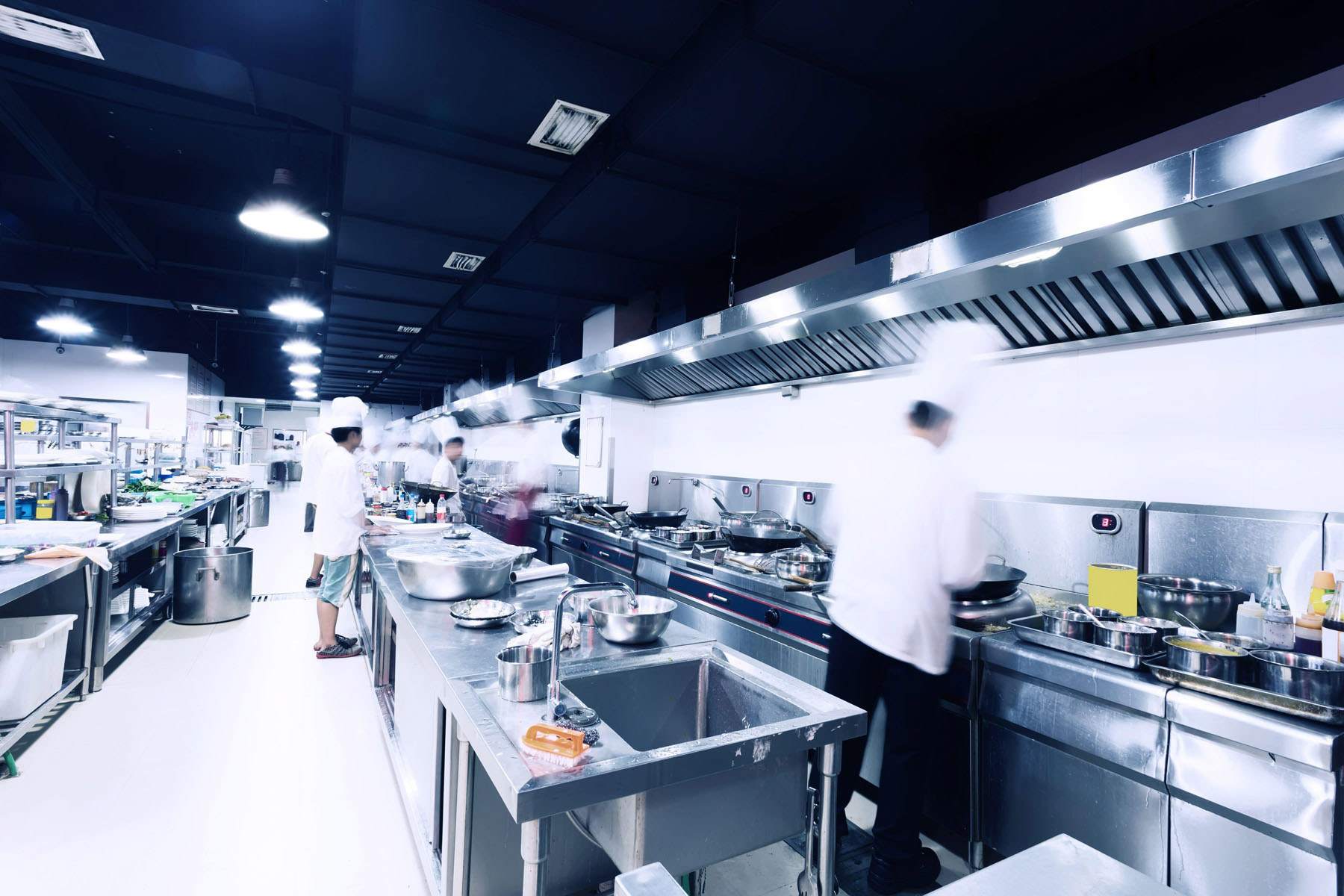 Dark kitchen software
Dark kitchens are powered by a number of tech platforms that work together to achieve a clean ordering experience and excellent operational efficiency. Without the software working seamlessly, you won't be able to gain the benefits of a digital-first restaurant.
Here are the tech tools you are likely to find in a typical dark kitchen tech stack:
Your online ordering website and/or app is your digital storefront so it's essential to the success of your dark kitchen.
The modern restaurant POS has become a multi-purpose restaurant management tool. In a dark kitchen, the POS is often used as a link between online ordering systems and kitchen tech like receipt printers and the kitchen display system. As the go-between hub of data, it's vital that your POS integrates seamlessly with your other dark kitchen tech.
Delivery aggregation software
If you decide to take orders through a third-party marketplace, you will likely need an added piece of tech to process and manage orders coming in from different sources. Order management tools take all your orders and let you manage them from your POS or a single dashboard in a delivery management app. This eliminates the need for multiple ordering tablets or having to re-punch orders into your POS.
KDS (kitchen display system)
A KDS tracks all your orders and displays them on screens so that the whole team can prioritise and see what needs to be done to most efficiently process each order.
Dark kitchens with a customer-facing storefront often use ordering kiosks, which allow customers to order without talking to a member of staff. Even dark kitchens located in out-of-town industrial areas might place a kiosk at the entrance, in the driver waiting area or in a customer dine-in area to allow people to order on-site for collection.
Ordering kiosks are a great way to speed up the ordering process and offer customers the same smooth experience they would get online, while still saving on staff costs.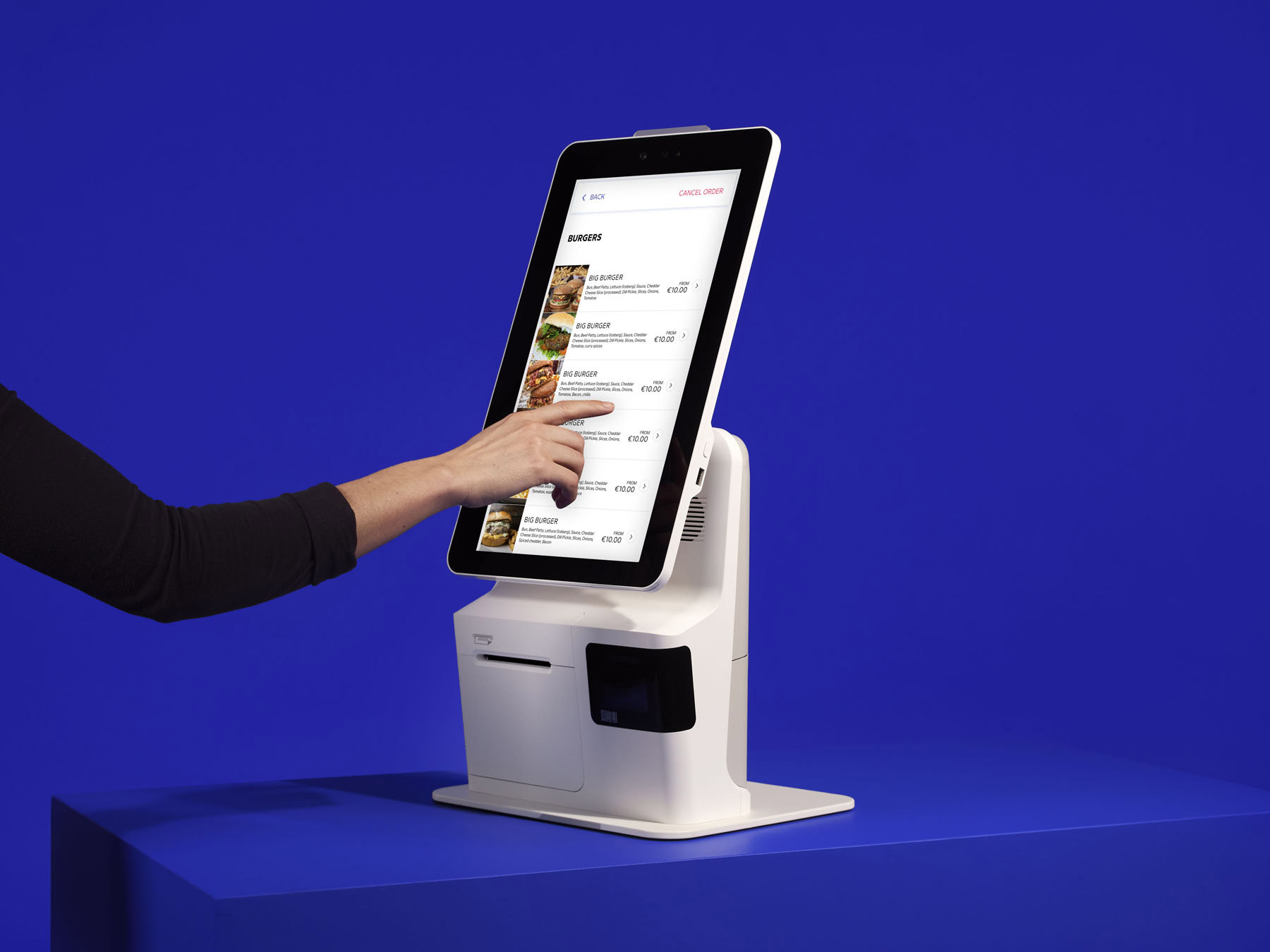 What does the future hold for dark kitchens?
The multitude of dark kitchen business models gives us a glimpse of what the future of food service might look like. But the concept is far from the end of its evolution.
Dark kitchens are helping independent restaurants take new concepts to market, try out innovative models and expand into new markets. All of which contributes to a more diverse and exciting industry.
Whatever the future truly holds for dark kitchens, restaurant operators looking to stay on top of the latest trends and technologies should pay attention. Dark kitchen ideas and concepts are certainly going to be involved in the next iteration of the digital restaurant.
Grow your dark kitchen business with best-in-class ordering tech
Without a physical storefront on a busy high street, dark kitchens rely on the best technology to create a unique online brand personality to stand out and build a loyal following. Here at Flipdish, we've worked hard to provide everything a dark kitchen or virtual restaurant operator needs to build an online presence and give their customers the best online ordering experience.