Restaurant POS systems: everything you need to know
You may have heard of the term "restaurant POS" but what does that mean exactly? And how does a restaurant POS system work?
Short for "point of sale", a restaurant POS system is both the software and hardware restaurants use to take customers' orders, accept payments, manage food inventory and ultimately manage the entire operation — from the front of house (FOH) to the back of house (BOH).
There's a lot to know about modern point of sale systems, whether you run a quick service restaurant, fast casual restaurant or takeaway, so we set out to demystify everything they can do and what hardware you need to operate one effectively. In this post, you'll learn:
What is a restaurant POS system?
A point of sale, also known as a POS system or ePOS system, is the physical location where transactions are processed.
Many traditional table service restaurants have a physical cash register somewhere in the establishment (usually near the bar or entrance) — the area surrounding that cash register is the point of sale. Patrons can exchange physical cash or pay via credit card or smart wallet, and exchange money for your restaurant's service.
But since the invention of cloud-based technology and mobile devices like phones or tablets, traditional points of sale like this are slowly but surely becoming a relic of the past.
Enter: the cloud based point of sale system.
What is a cloud-based restaurant point of sale system?
A restaurant POS system is the software and hardware that restaurant operators use to run their entire business: from taking orders to managing the floor plan, reservations, reporting on sales, doing inventory counts, scheduling staff and pricing their menu. More often than not, a restaurant's point of sale system is a complete restaurant management system.
Most of the top restaurant POS systems on the market are cloud-based, meaning that the data it stores (your sales data, menu prices, inventory levels, reservations, etc) are all stored on a secure internet server.
What does that mean? It means you can access and manage your restaurant using any device that has an internet connection, whether that's a computer, tablet or smartphone. For example, a fast food POS system could run on tablets in-store but you can check your analytics at home on your smartphone.
If your internet goes down, most restaurant POS systems have an offline mode, which allows you to keep working even when your internet is down. And when your internet is back online, your data is pushed and saved to the cloud.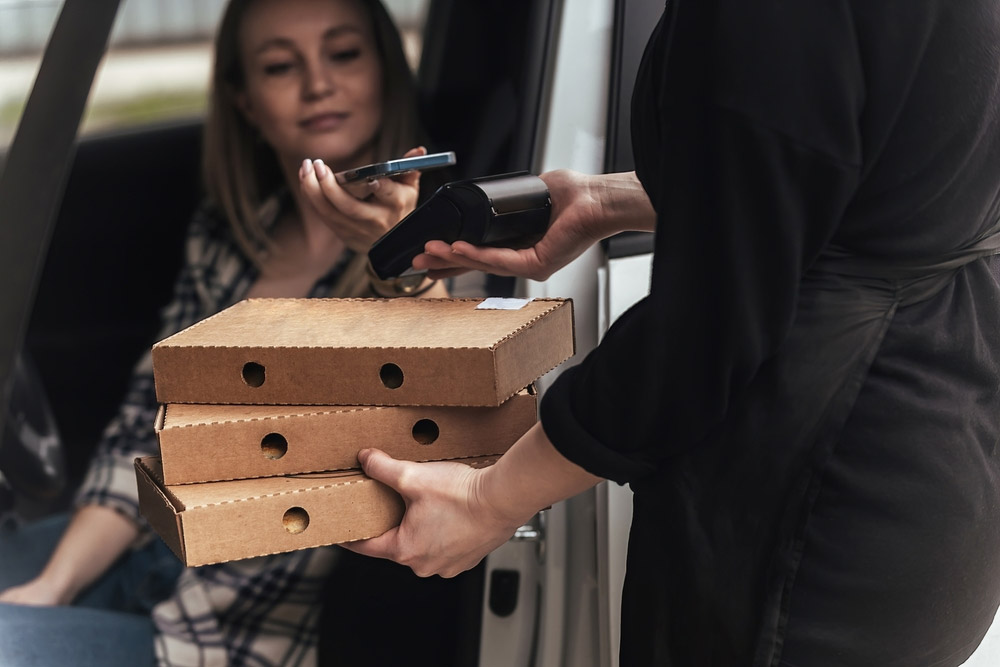 Essentially, a mobile, cloud-based POS system lets you work from anywhere, whether or not you have an internet connection.
Now, let's dive into the features to look for in a restaurant point of sale system

Restaurant POS system features
Most POS systems are adept at processing orders, taking payments and storing restaurant data, but when you start to add other restaurant management features, you start to see the real value of a restaurant POS.
Here are some of the features to look out for when choosing your POS. Having these features built-in and working seamlessly with your other restaurant software is a potential game-changer for your restaurant.
Staff scheduling
While most POS systems don't have labour management and scheduling as a feature out-of-the-box, the vast majority integrate with scheduling platforms, which can expand your capabilities.
Unless you're a solo operator, scheduling staff and budgeting labour costs is essential. Make sure that the point of sale you choose integrates with scheduling software, enabling you to grow your team (and business) down the line.
Or even better, choose a restaurant POS with its own scheduling tools, that can be used to clock-in and clock-out, manage shifts and provide the staffing data for you to make better scheduling decisions.
Inventory management
Inventory counts should be a part of your day-to-day routine — before you open up shop for the day and after you close. It's essential for managing food costs, while ensuring you have enough inventory to meet the demand you forecast for the next day.
Now, when it comes to inventory counts, there are a few ways you can approach this. There's the tried-and-true method of literally counting the inventory and keeping track with pen and paper — but that's prone to error.
A better way is to use the built-in inventory management features in your restaurant POS. Most POS systems have inventory management capabilities to help manage food waste, variance, and beginning and ending inventory counts.
This is crucial for minimising food waste while assuring you have enough inventory on-hand to fulfil orders. And it can be the key to staying in control of your restaurant profit margins.
Kiosk ordering
Restaurant kiosks make life easier for your customers and your staff by providing an intuitive interface for customers to place their own orders in-store. For maximum efficiency, you want kiosks that work seamlessly with your POS system.
They should also look the part so that they become part of your restaurant interior. Branded kiosks, either wall-mounted or free-standing, can become a visual selling point while providing speed and convenience.
Order ingest
When you're receiving orders from multiple channels, they need to all enter your POS system in the same format, and be automatically ingested into the system. The last thing you want is an extra member of staff manually adding orders from third-party marketplaces into the system. That's a recipe for errors and missed orders.
Order ingest tools integrated with your POS system can gather together orders from all your partners and automatically push them into your POS system to be dealt with like any other order.
Driver tracking
A useful feature to look out for, especially in a POS system for delivery restaurant orders, is real-time driver tracking. Not only does this let your customers know how where their delivery order is and how long it will take to arrive, it can also be used in-store to organise drivers and assign deliveries in the most efficient way possible.
This feature is less common in a POS system but if you manage your own delivery drivers, it's a very handy tool to have at your disposal.
CRM and marketing features
A customer relationship management system is the best way to make use of your customer data and keep track of loyalty and promotions. As your POS is taking in so much customer order and payment information, it makes sense for your CRM to be built-in to get the most value from it.
Health and food safety
Keeping track of the cleaning schedule, hygiene checks and food safety documentation is one of the most fundamental parts of running a restaurant. Without it you could be shut down.
A POS with health and food safety tools built-in helps your staff know exactly what they need to do every day with integrated checklists, temperature logs and accurate documentation. When the health inspector calls, you can make their job easy by simply printing off your up-to-date paperwork.
Integrated payments
Handling payments is handling the lifeblood of your business. So, it's something you want to do as carefully and efficiently as possible to keep your kitchen pumping out the orders. If your payment system isn't properly integrated into your POS, you could be operating with less efficiency and bleeding out money unnecessarily.
Consider choosing a POS with a straightforward payment scheme that lets you accept different online payment methods so you can cut back on confusion by knowing exactly what needs to be paid and how much you need to budget for.

Here are the most common payment methods to consider for restaurant delivery:
Cash – paying in physical currency has been in decline, even more so since people became concerned about transmitting COVID through hand-to-hand contact. However, a sizable number of people still prefer it and it's literally money in your hands

Contactless payment – contactless payment terminals offer speedy payments wherever your customer needs to pay: at the counter, at the drive through and or a self-ordering kiosk

Apple Pay - this option lets people with Apple devices like iPhones make quick and secure payments

Google Pay - Google's mobile payment service for in-app, online, and in-person contactless purchases through Android phones, tablets, or watches

In-app payment - this allows customers to pay directly from an app by card or mobile wallet
Ready for a cloud-based POS system?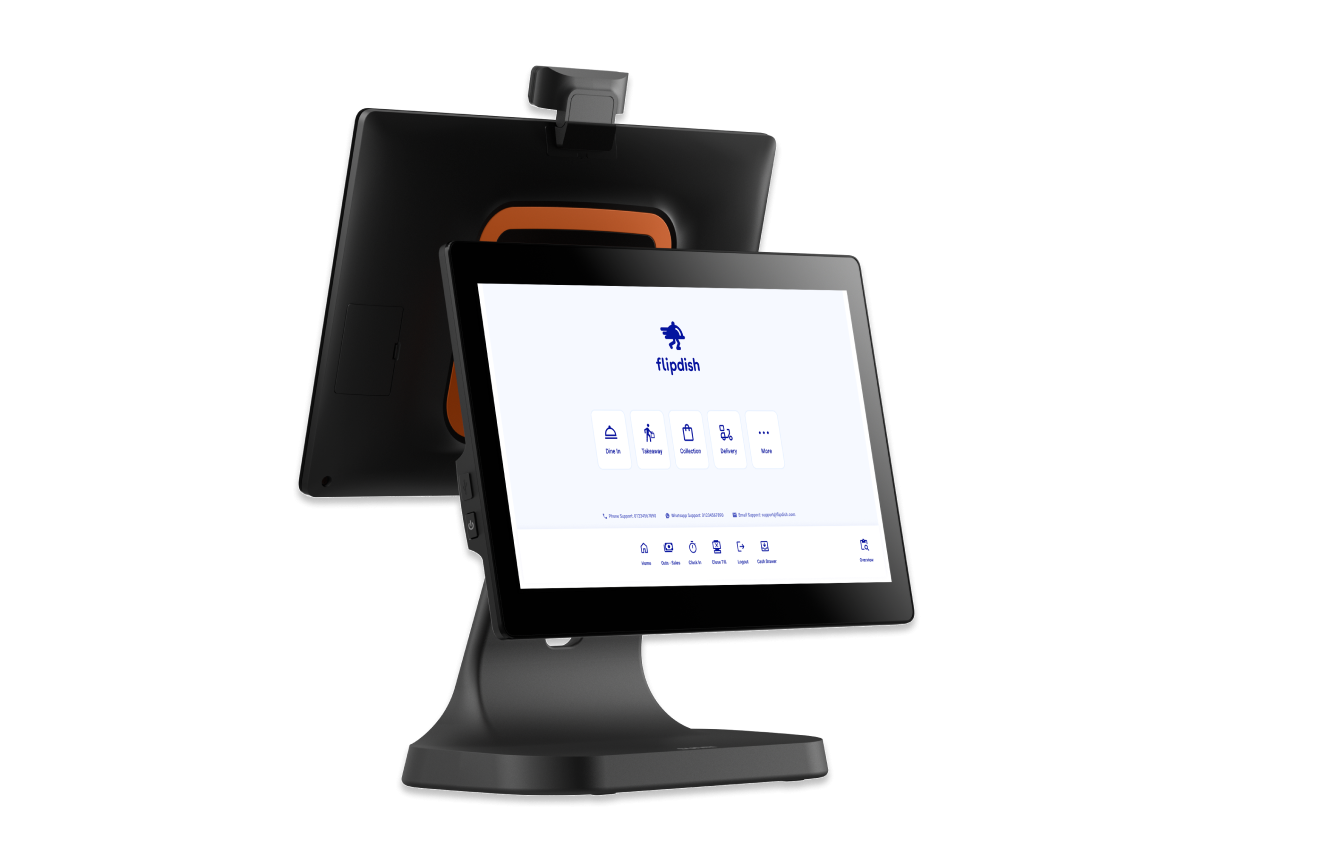 What are the benefits of a restaurant POS?
As a complete restaurant management system, a modern restaurant POS has stacks of benefits. But the value you get from it depends on the type of restaurant you run and the features you choose for your POS system.
For example, a pizza restaurant POS system would benefit from inventory management features to ensure service isn't affected by ingredients running out. And a QSR POS for a UK restaurant needs a support team that can solve their specific problems.
Power your decisions with data
Great decisions aren't (entirely) based on intuition in the restaurant space. Whether you're setting menu item prices, monitoring food costs, fixed and variable expenses, sales, staffing, tips, or restocking inventory, data is what informs your decisions.
Whether you're looking for high-level insights or to dive into granular insights, most POS systems have end-of-day reports, weekly, monthly, and annual sales reports. Take advantage of them to better grasp when your peak selling times are and what your best-selling menu items are.

Adjust your floor plan on the fly
Back when restaurant revenue was largely predicated on table service sales, an adjustable floor plan was an essential tool for efficiently running the front of house.

Cloud-based restaurant POS systems often have adjustable floor plans that reflect your changes in real time. This is incredibly valuable for keeping FOH staff quite literally on the same page as adjustments to your dining room are made. If wait staff are running food to table five, but a server moved table five to another location, your wait staff don't miss a beat.
Offer takeout, delivery and order-ahead
There's no denying that restaurants have gone through a monumental shift in how they operate since the start of the pandemic. The long-standing path to revenue was to either serve as many customers as possible (fast food and fast casual restaurants) or charge more per dish (fine dining).
But since table service was largely shut down at the outset of COVID-19, we've seen restaurants follow the path of direct-to-consumer (DTC) eCommerce retailers and pursue online sales.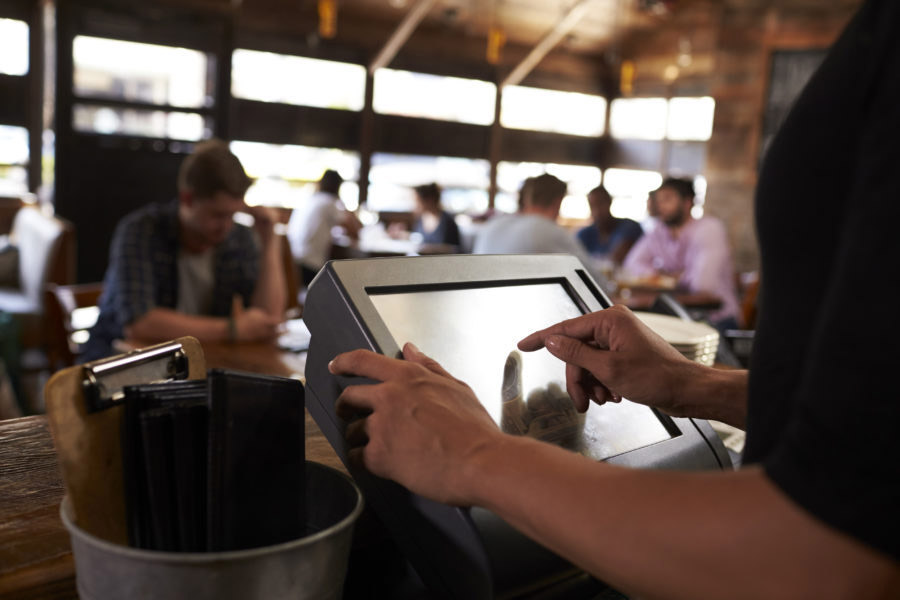 In pursuit of off-premise sales, restaurants used to have to choose between either third-party aggregators (and their prohibitively high service fees eating into already thin profit margins), or owning the whole process in-house — which many restaurateurs feared was simply too much to handle along with their duties on-site. But now, we're seeing a tremendous uprising of restaurants using mobile ordering platforms to fulfil online orders without taking on the responsibility of building and managing a website. Flipdish, for instance, integrates with most restaurant POS systems, enabling them to sell to patrons from a distance, control their customer experience and keep more of their hard-earned revenue.
Mobile checkout and contactless payments

What was already a growing trend in the commerce space has accelerated since the pandemic — cashless, contactless payments.
While not all POS providers offer payment processing, most offer mobile payment terminals and contactless card readers (more on those later). These allow servers to meet customers at their table and accept payments instantly, which is a much more fluid customer experience than literally waiting in line to pay.
Run multiple locations from one system
When shopping for a POS system, be sure to look at its multi-location capabilities. This is especially important if you have aspirations of opening multiple locations, or franchising your establishment. Check that you can see sales data per location, as well as get high-level insights across all of your locations.

What hardware does a restaurant POS need to function?
Once you choose a POS software provider, you'll need to buy hardware to run the software.
To make sure you get the most from your POS, you should think carefully about your goals and budget, and create a restaurant POS launch plan. That way, you'll make better decisions and get the right system in place from the start.
Here's a breakdown of what equipment you typically need:
Restaurant POS system terminal
A POS terminal is the physical device that your point of sale system runs on. For most restaurants, they choose a mix of mobile tablets, for example, an iPad POS system, with a stand that transforms it into a countertop device when needed. Tablets can effectively replace the need for a desktop computer, although some restaurant operators like to view reports on a computer.
With cloud-based restaurant POS systems, restaurant owners and operators have the flexibility to choose the hardware that works for them.
Kitchen Display System (KDS)
A Kitchen Display System is an extension of your POS system for the back of house. Your KDS essentially pushes orders that servers take to the kitchen and visualises them for cooks in chronological order.

Essentially, a KDS connects your front of house to your back of house and ensures that you fulfil every order that comes through the kitchen. For smaller operations, it may be a 'nice to have', but for any restaurant that handles higher volumes of orders, it's essential. For example, a busy Chinese takeaway with an extensive menu needs excellent kitchen organisation. Chinese restaurant POS software with a KDS built-in would help the restaurant ensure the complex kitchen runs smoothly with minimal errors.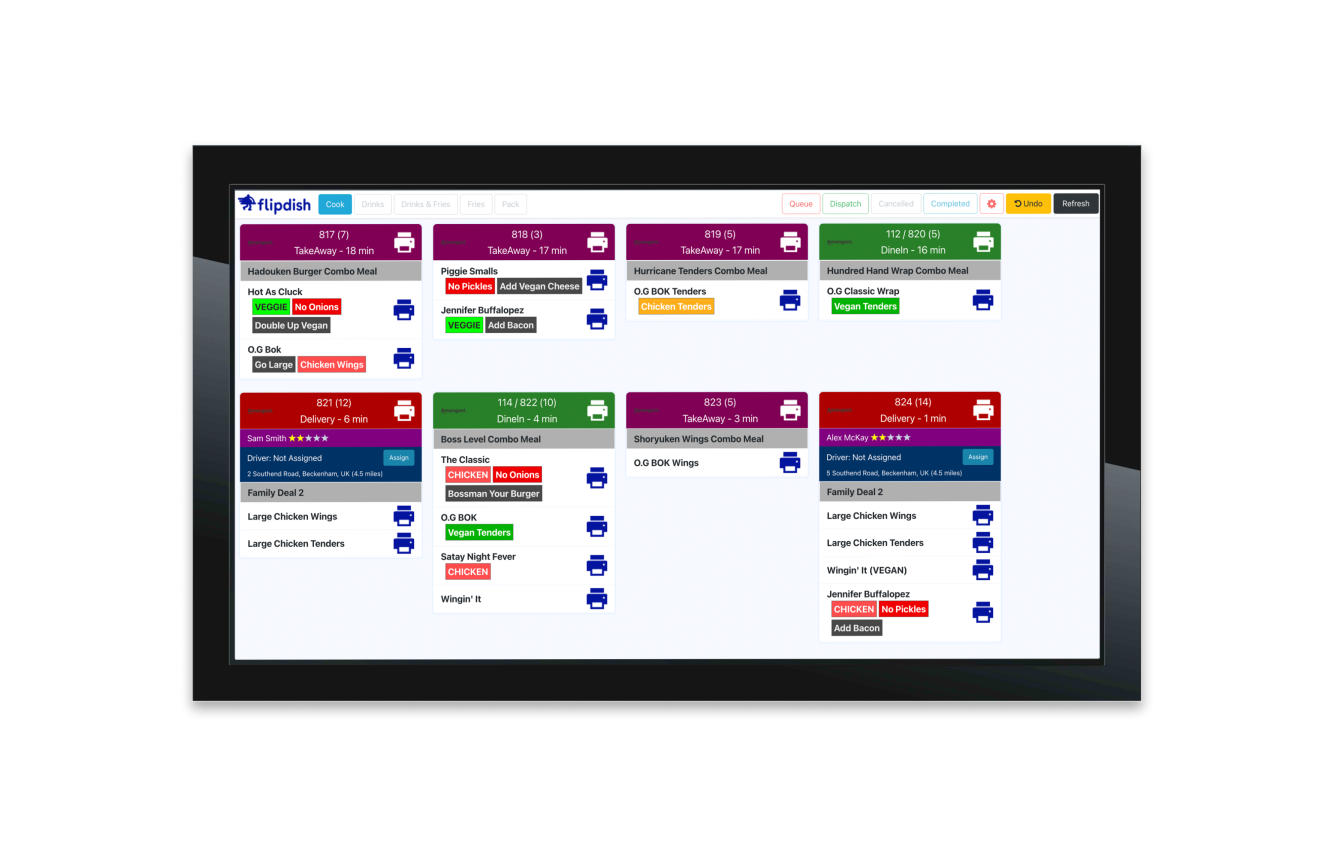 Customer Display System (CDS)

Just as the kitchen display system improves visibility and efficiency in the kitchen, it's also handy if your system can be used for customer displays as well. Customer-facing screens can be used to let customers know the progress of their orders and when to collect them, but they can also display dynamic menus, promote special offers or be used for advertising.
Driver Display System (DDS)
A Driver Display System can be installed in the driver waiting area or parking area to show drivers the status of orders and keep them organised. Having this capability built into your restaurant POS system allows you to keep your delivery operations running smoothly and efficiently without having to employ extra staff to manage your drivers.

Receipt printer
While email receipts are becoming increasingly popular, it's still important to offer paper receipts. To do that, you need a receipt printer.
Restaurateurs can typically choose between two types of printers:
Impact printers use wax, resin or ink-soaked ribbon in cartridges to print receipts. Impact printers are usually used exclusively as kitchen printers because they can function in high-temperature environments without breaking down.
Thermal receipt printers are the most common type of printer in restaurants because they're cost-effective. Since they use heat to print (like a laser), restaurants save costs on ink cartridges.
Payment terminal
For customers with credit cards that do not have a near field communication (NFC) chip, they need to pay using a traditional card reader — the ones that allow them to swipe their cards.
For patrons that want to pay by tapping their credit card or smartphone, you need a contactless credit card reader. This lets them pay using and device with an NFC chip that's connected to their banking information (like a credit card or their digital wallet).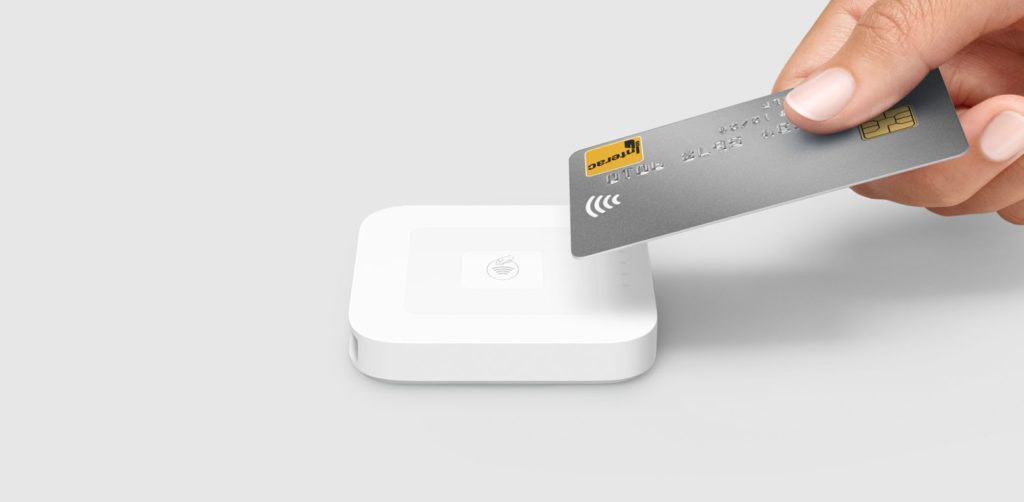 In response to the pandemic, many consumers have transitioned to contactless payments. For one, cash is perceived as 'dirty'. But most importantly, paying with NFC-enabled devices is faster and more convenient.

Cash drawer
Even though we just mentioned the benefits of mobile payment terminals and cashless payments, it's still important to support patrons who want to pay cash.
Most POS systems are compatible with several models of cash drawers and connect via USB or Bluetooth, each of which are typically equipped with a bill and coin tray compartment. Check your POS system provider's hardware page to see which cash drawers their platform is compatible with.
How much does a restaurant POS system cost?
This is one of the most frequently asked questions about restaurant point of sale systems. It's an important question, but it's unwise to base your purchasing decision on cost alone. The POS system is such an important part of your business, the features and suitability of the POS you choose is far more important.
That being said, restaurant POS systems are paid for in a few different ways, depending on the supplier.
The costs may include:
A monthly subscription to use the software – anywhere between $50 up to a few hundred dollars a month.

Upfront cost for the hardware: some companies may charge from $500 or more for the hardware needed to run your POS system in the restaurant. If you use a device-agnostic cloud-based POS, you may be able to use existing hardware or purchase your own,iPads for servers, for example.

Transaction fees – your POS system provider may charge a small fee for each transaction processed.
You'll have to weigh up the costs of each provider to decide which provides the best value for your business. Remember, the cheapest option is not always the best. Choose a POS that has the features you need for a long-term investment that will pay for itself many times over.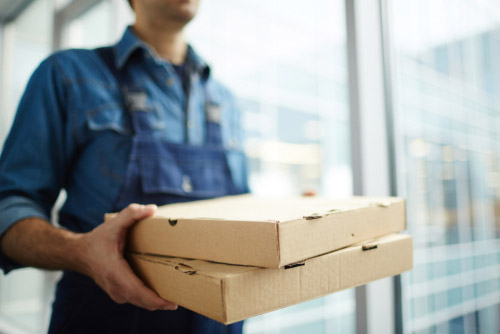 Restaurant POS systems: mission control for your business
The restaurant POS system you choose ultimately needs to align with what you need to operate your establishment now, while supporting its growth in the future.

Now you have a better idea of what a POS system is and how essential it is for running a successful restaurant operation. But just remember, technology may be what enables you to run a restaurant, but ultimately it's your quality of food and customer service that customers appreciate.
Every business is different. Find a POS that allows you to deliver the best customer experience for your context, rather than the solution that has the most features.
Read online reviews, ask other restaurateurs, and don't be afraid to talk to POS sales teams. Assess your current and future needs, do your research, and you'll find a solution that's right for you.