Restaurant kiosks: everything you need to know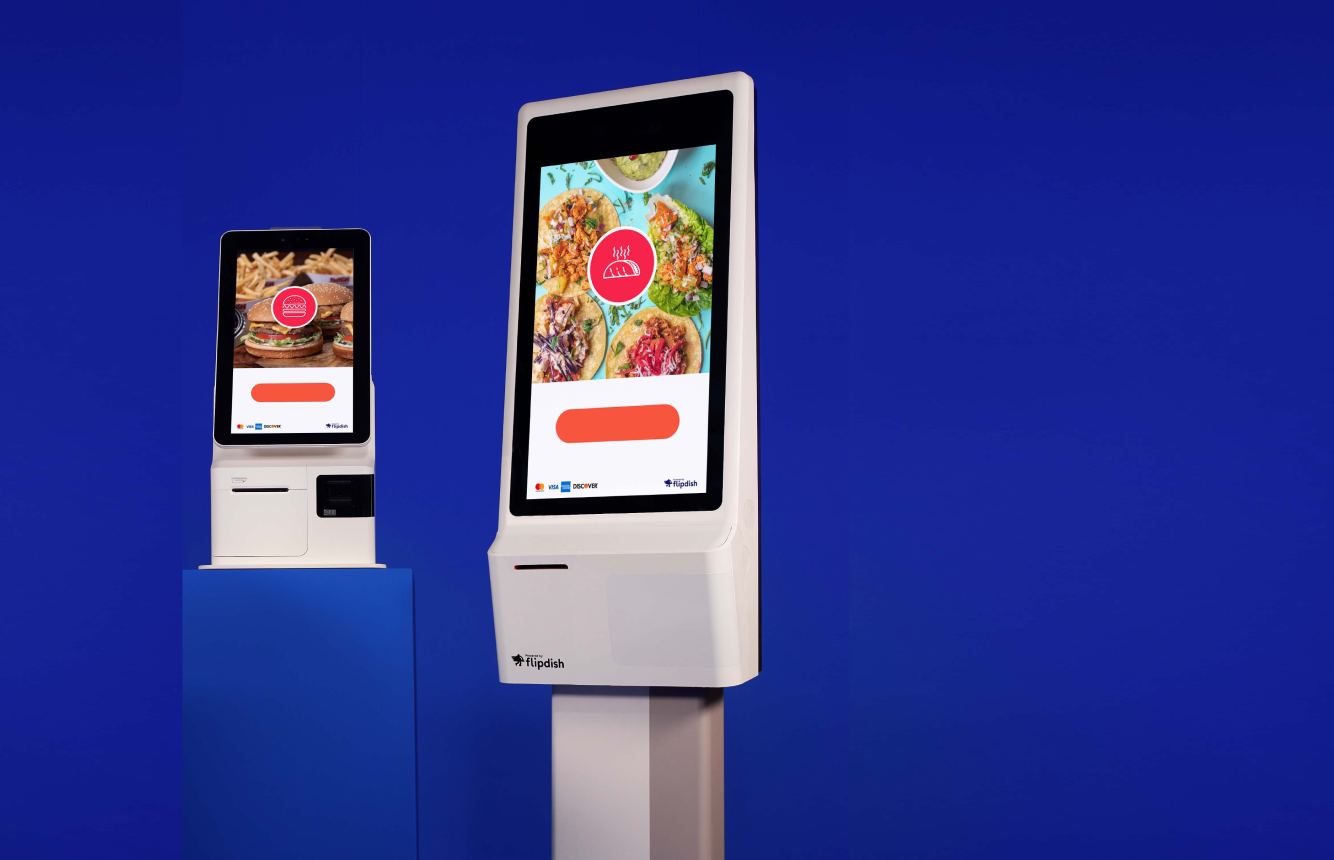 In their early iterations, restaurant kiosks could put you in mind of Stonehenge's hulking standing stones. But the technology has come a long way in the last six years. Although self-ordering kiosks now come in a variety of formats and sizes, they remain a very physical symbol of the rapid digitisation of the restaurant industry, a trend vastly accelerated by the pandemic and a growing preference for contactless service.
While use of self-ordering kiosks in restaurants, especially quick-service restaurants and fast casual restaurants, is now instinctive for most consumers, technological changes in other industries like grocery, banking and travel really set the precedent. In essence, self-checkouts and self-check-ins walked so restaurant kiosks could run. Restaurants all over the world are now seeing the benefits of this broader change in customer behaviour, from dealing with staff shortages to increasing basket size and order frequency.
Demand for restaurant kiosks is rapidly rising. According to Statista, market revenue for kiosks worldwide was an estimated $28.34bn in 2021, up from $26.63bn in 2020, and this is expected to further rise to $45.32bn in 2028. These projections chime with our data here at Flipdish, where we have seen dramatic growth in the number of stores with kiosks and the number of orders through kiosks, a 10x increase in 2021. In fact, with our market-leading digital ordering solution preloaded onto hardware, some of our busiest stores are now accepting 3-4 orders per minute on a single restaurant kiosk.
Read on to find out more about these automated ordering systems, including:
What is a restaurant kiosk?
What are the leading self-service kiosk restaurants?
What are the benefits of kiosks in restaurants?
What should I look for in restaurant kiosk design?
What should I expect for restaurant kiosk costs?
What is the perfect size for a restaurant kiosk?
Let's take a closer look.
What is a restaurant kiosk?

Restaurant kiosks are all-in-one automated ordering systems. A hardware unit with software installed allows consumers to order food and drinks by tapping the menu items on a screen instead of speaking to a person behind a counter. On a restaurant kiosk, menu items are categorised and there is a smooth and intuitive flow quietly guiding users to fill their basket and make a digital or card payment.
And of course, without software restaurant kiosks are just objects. Kiosks need to have software installed that allows for menu display and digital ordering, and that integrates with your existing POS system.

Who are the leading self-service kiosk restaurants?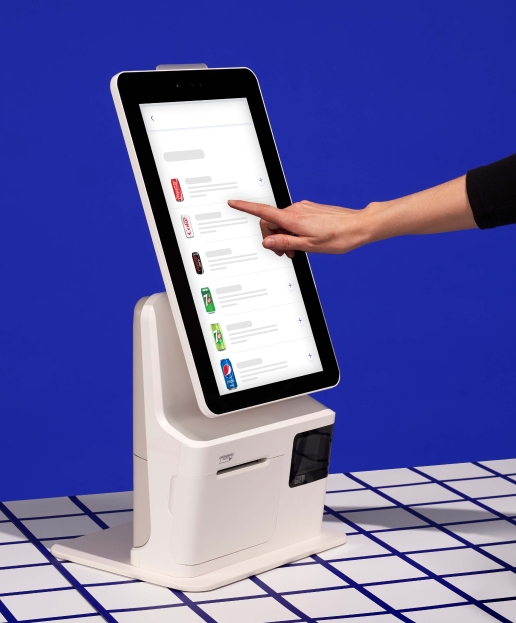 McDonald's was one of the pioneers of restaurant kiosks technology, introducing touch-screen kiosks in 2015, and other well-known fast-food chains soon followed. In 2016, Wendy's had restaurant kiosks installed in about 300 of their franchised restaurants and now has kiosks in two-thirds of its restaurants. Always innovating, Wendy's is planning to open 750 ghost kitchens in the next five years between the US, Canada and UK, according to a Dataessentials webinar on 2022 trends.

Over at KFC, in November 2017, four wall-mounted self-ordering kiosks were installed at a UK KFC, and since then thousands have been installed at KFC franchises around the world. Traditionally famed for their suburban drive-thru experience, in 2022 KFC is prioritising an urban expansion strategy by building stores with a strong emphasis on the to-go format, and at these sites kiosks will be king.
In Spain, Healthy Poke, a 26-outlet restaurant chain that has seen great success with digital ordering, now has 17 Flipdish restaurant kiosks live across stores. Customer convenience and speed of transactions have been important motivators in implementing kiosk technology.

"For us, digitalisation and technology are key to the proper development of our business. Our customers are used to moving in digital environments, so from the beginning we have had to implement technological solutions to facilitate the interaction between Healthy Poke and its customers. Customers value the time factor and we have the obligation to deliver the best product in the best way, and in the best time possible."
Ivan Bertolone
Business Development Manager
Healthy Poke
The pandemic, and its associated labour shortage, has driven a preference for restaurant kiosks by both business owners and customers.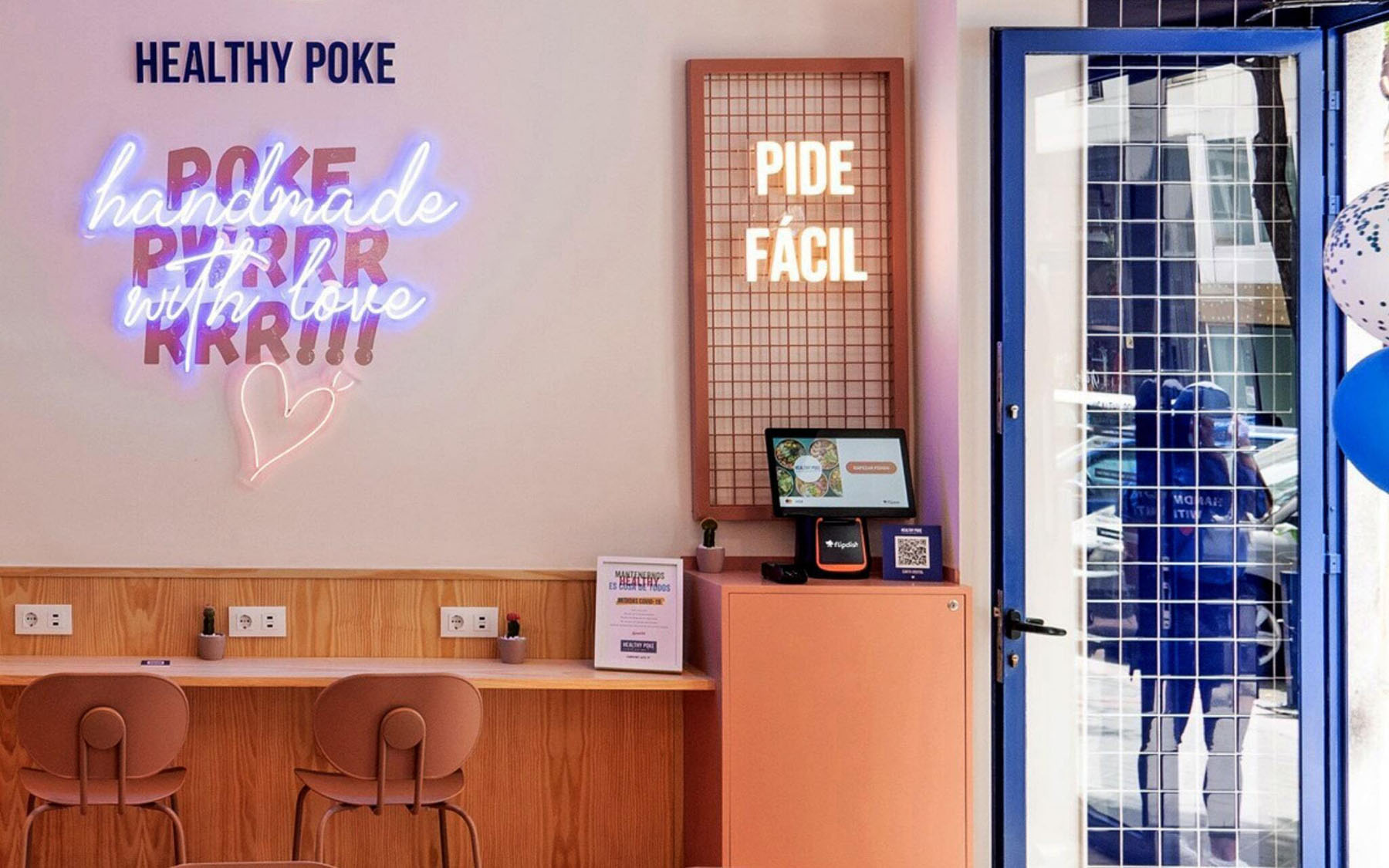 What are the benefits of kiosks in restaurants?
There are a number of benefits to installing kiosks in your restaurant, and these benefit the business owner and the customer.

For customers

Contactless service preferred during the pandemic

Premises have shorter queues that move quicker

Gives customers the control of their order

Improves order accuracy

Gives customers better privacy

Customers can customise their orders easily

Customers have time and can take longer to browse
For business owners

Without the need to relay an order verbally to a cashier and for the cashier to confirm it back, wait times are reduced drastically

Reliable technology means kiosks can be always-on

Improves order accuracy — kiosks never make mistakes

Staff are freed up to focus on other tasks that cannot be automated, like customer service

Restaurant kiosks are shown to increase order value

Automated prompts can upsell items intuitively

Menu updates are easily actioned

Kiosks can integrate with your existing POS system

Kiosks can be programmed with multiple languages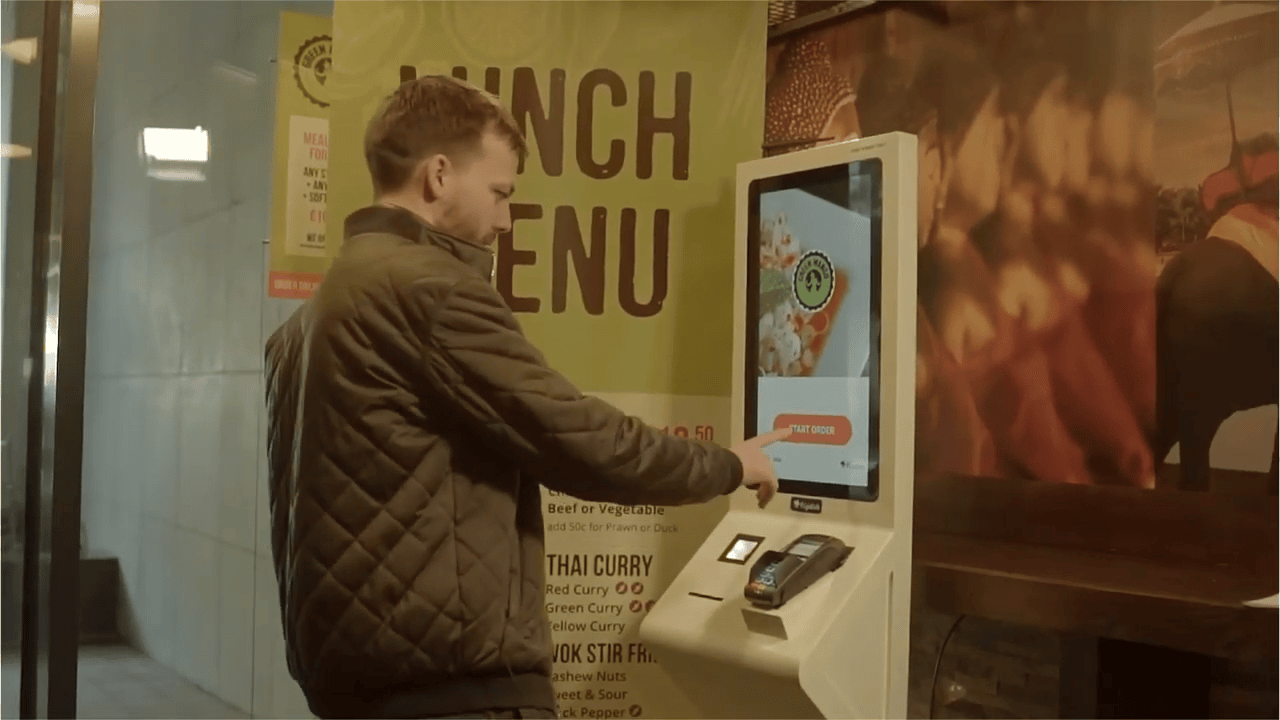 What qualities should I look for in restaurant kiosk design?

Responsive design

Responsive design ensures your online ordering software works across multiple devices, no matter where your customers are connecting. From scanning a QR code on their phone to touchscreen kiosks, you want to ensure that any unnecessary resizing, scrolling, zooming or panning is eliminated and that your ordering experience is as cohesive and intuitive as possible. Read more about creating a seamless customer experience and find out what great UI design looks like.

Choice of sizes and formats
Depending on your premises and preferences, your kiosk size and format requirements will differ. If your strategy is to really funnel customers direct to ordering from kiosks instead of cashiers, large format freestanding 24" or 32" kiosks may be the best bet. If you don't have the floor space for freestanding, look for wall-mounted options. The 15" tabletop kiosk is the most popular of the Flipdish suite of products, perhaps due to space constraints; they can be easily fixed to existing counters and are set up within minutes.

Ethernet and wireless internet options
Again, depending on the layout of your premises, you will want to check if there are ethernet and wireless kiosk options available. Ethernet is famously more reliable and faster than wireless connections, but wireless is clean and simple, should your internet speeds allow. Any restaurant kiosk provider worth their salt should be able to help you test your internet speeds and advise on the best option for you.
Durable hardware
Once again, we're back to location, location, location. Every business needs durable technology, but if your business is somewhere with a lot of foot traffic like an airport or shopping centre, you will really need to prioritise durability in your kiosk quest.
Regular software updates
When meeting with any salesperson, quiz them on how often software updates have been employed in the last year. Look for a kiosk provider whose product development is at the cutting edge, and talk to fellow business owners who use the company's kiosk to get behind-the-scenes information.
Easy set-up
First, look for a provider who will install restaurant kiosks at a time that suits you. Minimising disruption to your business is key. Flipdish conducts a full-site survey prior to installation to ensure time spent on-site on installation day is minimal: typical installs of full-size kiosks of 24" or 32" takes a few hours, while a 15" kiosk set-up can be under an hour.
Ability to integrate with existing systems
Changing POS and stock systems is a pain. Ensure your kiosk provider either already integrates with your existing POS system, or is willing to customise their software to integrate with yours. Or choose a restaurant POS system that supports kiosks, online ordering and a host of other restaurant management features.
Facility to take multiple payment options
Research your own location and ensure your kiosk provider works with the most popular payment options in your region. Visa, Mastercard, Google Pay, Apple Pay, Discover and Amex are world-leading payment solutions and should be on your shopping list.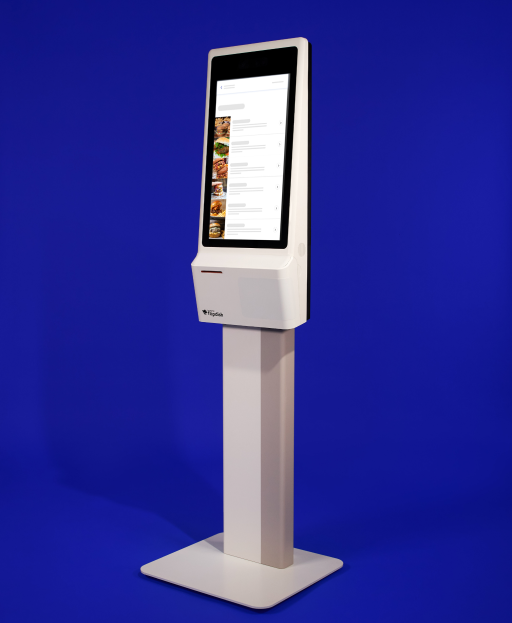 What should I expect for restaurant kiosk costs?
Again, this depends on the size of kiosk you opt for. For the hardware itself, budget at least €800 per unit, and before making cost-based decisions, look ahead to ROI estimates. Both Flipdish and industry data show kiosks average an 30% increase in average order value versus verbal orders, and this is often incremental. Flipdish data shows:

What is the perfect size for a restaurant kiosk?

Kiosk hardware comes in a range of shapes and sizes — 15", 24" and 32" respectively at Flipdish — to suit different premises and business needs. Not everyone has space for a free-standing unit, which is where tabletop and wall-mounted kiosks shine, while other businesses want the larger free-standing restaurant kiosks positioned to greet customers on their way in the door. Every business has different needs.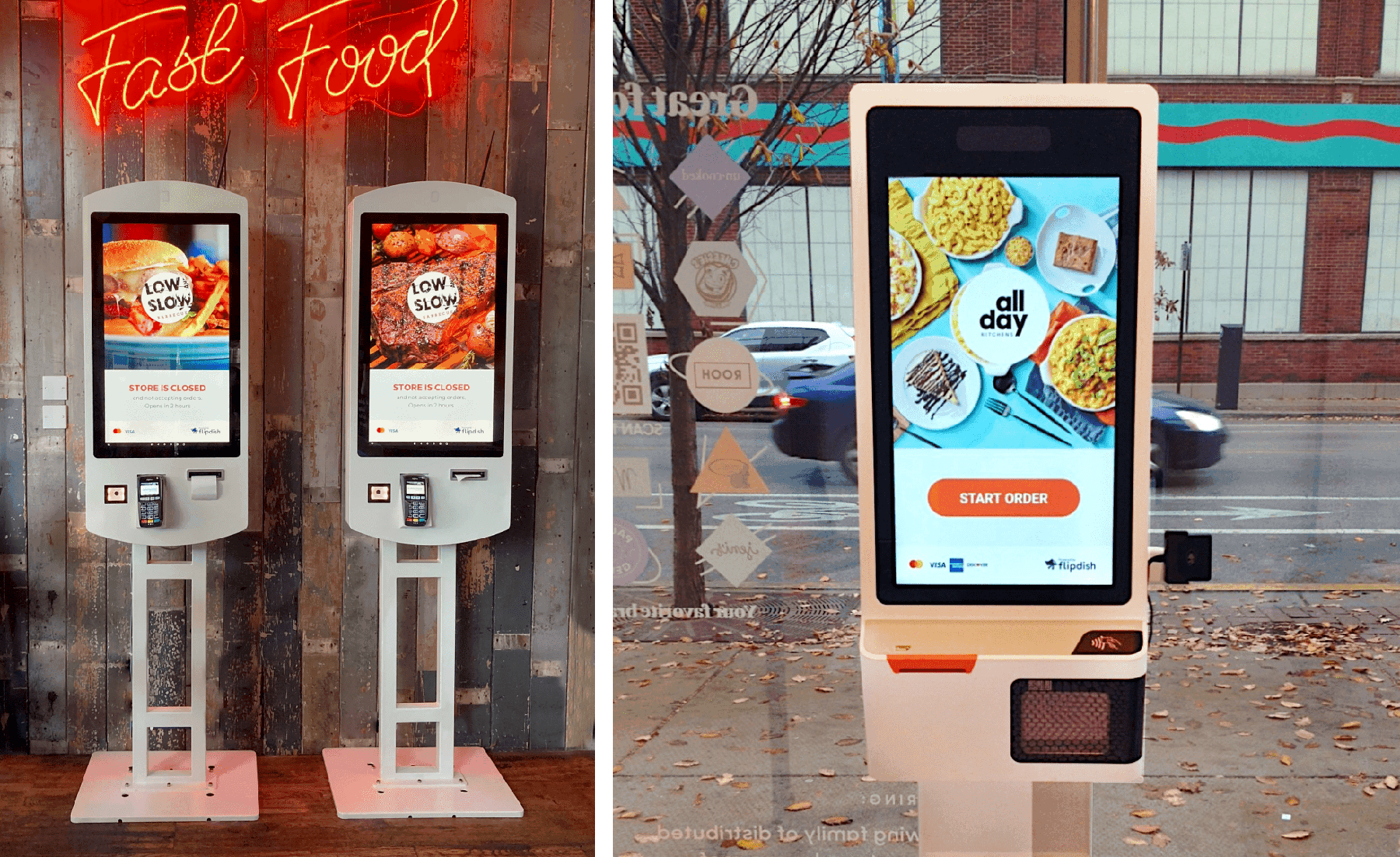 Do I need to alter my floorplan to accommodate restaurant kiosks?

Restaurant floor plans are a hot topic since the pandemic began. Hospitality businesses have made more room for Click & Collect, serving hatches and delivery drivers, while balancing social distancing requirements for dine-in customers. Kiosks are another floor plan consideration.

Ideally, kiosks should be placed between the entrance and the counter. You also need to consider queuing space behind kiosks that do not block the entry. Customers entering your premises should be guided to restaurant kiosks with appropriate vinyl graphics, stickers and signage. Ideally, kiosks should be placed so customers queuing at counters can side-eye them, and see how they are used before migrating over to try kiosk ordering themselves.
Will I need a new POS system for these restaurant kiosks?

With the right provider, no. A POS system is a huge investment of time and resources and is not a decision made lightly. Look for a kiosk provider that integrates with the technology you already have. Flipdish kiosk technology integrates with numerous POS providers including Lightspeed, Micros 3700, Simphony, Captiva and Pixelpoint. It can also work as a standalone product giving multiple configuration options. And don't forget about your payment processing terminals, your kiosk provider should provide you with a seamless option.
How can restaurant kiosks help with staff shortages?
According to a January 2022 ONS Labour Market report, total hours worked increased on the quarter in 2021 in the UK, due to the relaxing of some COVID-19 restrictions, but still remain below pre-coronavirus levels. Prior to this, the International Labour Organisation highlighted that 8.8% of working hours were lost in 2020 relative to the end of 2019, the equivalent of 255 million full-time jobs. It is thus no surprise that when Flipdish conducted its new research, it was revealed that 45% of restaurant and cafe owners are having to ask existing staff to work longer hours and 46% are working longer hours themselves.
Flipdish kiosks enable restaurant owners to make smarter staffing decisions, especially if their business has been affected by staff shortages. Restaurants of all sizes are now automating the ordering process, and are reallocating the staff they do have to roles that enhance the customer experience in other ways, such as dining room greeting, dealing with increased delivery orders, turning over tables and COVID sanitisation. In restaurants with Flipdish kiosks, more staff time can be spent improving the guest journey, versus inputting orders. And with strategically-placed hand sanitising stations by restaurant kiosks, alongside the increased demand for contactless service, Flipdish kiosk technology is also facilitating a safer customer journey.

Restaurant kiosks are here to stay

Fundamentally changing the way consumers interact with restaurants doesn't happen overnight. When ATMs were launched in the US back in 1967, for example, you can bet that not everyone was immediately on board. And yet, using an ATM machine is now second nature.
With many other industries laying decades of groundwork in educating people on how to use self-service restaurant kiosks, combined with the pandemic-influenced preference for contactless service, this is the perfect moment for the hospitality industry to really embrace self-service technology.

As the biggest fast-food brands continue to roll out kiosks at pace, you can expect the rest of the industry to follow suit. Especially once these takeaways start to see the numerous benefits of self-service restaurant kiosks, for staff and customers alike.
Ready to delight your customers with restaurant kiosks?
Talk to us