How technology can amplify the human connection in hospitality
Hospitality and food services are evolving at a rapid pace. Technology is of course driving much of the change, with advanced new tools bringing greater efficiency, productivity and other significant benefits. However, it's worth remembering that customer experience and the personal touch are still absolutely fundamental to restaurants, bars and cafés.
Your success still depends on customers enjoying your product and the whole experience around it. That goes for off-premises as well as on-premises transactions. Meanwhile, the new reality of COVID-19 has added to the challenge of providing a great customer experience.
Bringing more technology into an operation is sometimes seen as diminishing the human connection. However, there's lots of evidence that tech solutions can actually empower businesses and their staff to offer a more personalised and attentive service.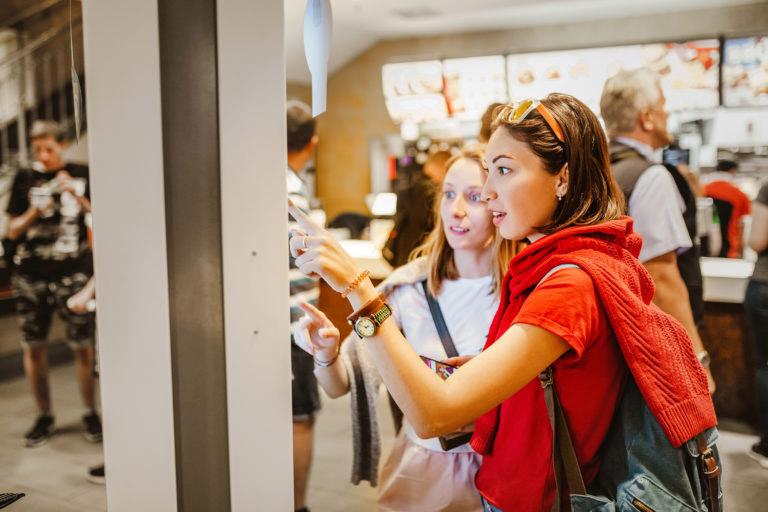 How tech can build connection with the customer
So, how can technology help to build a greater connection with the customer? A good starting point is to look at the overall customer experience and the role of tech solutions within that. Digital products should always be used to enhance the customer experience rather than hinder it.
The world's largest food franchises recognise that customer experience is core to their offering. They of course also keep a close eye on cost and efficiency, and tech undoubtedly plays an important role in optimising those aspects. Major food brands are increasingly using tech to serve guests quickly.
However, they also know that people expect a consistent, high-quality, enjoyable experience when visiting their outlets, or indeed ordering online remotely. That experience is often what drives customer loyalty. So the world's major chains and franchises build and integrate tech solutions which are actually geared towards strengthening the human connection.
Take McDonalds for example. Their recent digital initiatives include self-service kiosks, mobile ordering, and giving thousands of their restaurants a modern new look and feel that they call the 'Experience of the Future'. This restaurant transformation includes the remodelling of stores to include touch-screen ordering systems, as well as a focus on delivery and ordering via mobile apps. So the emphasis is very much on customer convenience and reducing wait times.
McDonald's also complements these tech advances with a vital human touch, through the creation of new in-store roles. So the technology and greater automation does not operate in isolation. It's a case of rethinking the human element rather than just replacing it - and strategically executing all of this.
"We've incorporated technology at your fingertips so we can focus on creating a more convenient and enjoyable experience for anyone who comes into our restaurants. We understand these new experiences can be exciting for people to try, so we've created new roles like Guest Experience Leaders. They'll answer your questions, guide you through the ordering process and offer recommendations based on what you like, so you can truly make your favourite meals your own," said the company in 2019.
The emphasis on 'creating a more convenient and enjoyable experience' is important here. They make sure their digital solutions provide a positive and simple user experience, as customers need to navigate them easily, conveniently and quickly. This all helps to build a reliable and enjoyable customer experience, on top of the more obvious benefits around processing speed and efficiency.
The industry is full of innovation like this right now. IBM's question-answering AI platform Watson is one clever tech solution being used by large hospitality businesses to enhance the personal connection with customers. Watson can provide customers with quick answers regarding food and services at any time of the day.
Major chains and franchises are finding new ways of leveraging technology to improve the customers experience all the time. They embrace digital solutions as an integral part of what they do. And while big global companies like McDonald's have vast resources to invest in their digital strategy, it's still an approach all kinds of restaurants and chains can learn from.


Data, customer loyalty and personalisation
Using digital ordering solutions through websites and mobile apps brings in another big component - data collection. Gathering sales and customer data is a vital part of marketing efforts for many restaurants. This sounds quite cold and scientific - but the effect is actually quite the opposite, as it can strengthen the connection with your customers significantly. It helps businesses to really know their customers.
When it comes to customer loyalty programs and campaigns, customers value personalised rewards and experiences very highly. In a recent survey, over half of respondents said they consider personalised rewards to be 'very important' and 'extremely important' to them. Customer data collection, through tech and online ordering, is the secret ingredient making that level of personalisation possible.
Incorporating a personal touch into your campaigns can really delight customers. It builds a sense of meaningful connection. They feel appreciated when they get little bonuses and goodwill gestures. A typical example might be giving a special reward to loyal customers on their birthday - using that piece of data previously collected.
Strong records and customer data, built up through an online ordering system, can drive these loyalty initiatives. App-based loyalty programs are a particularly rich source of customer insights and data.
Having solid data to call on also means being able to customise menus and online experiences based on what your customers are interested in, rather than just scattered information or random feedback. You can take a much more accurate and focused approach by using data. Again, this benefits the customer, as your menus and online experiences are always being optimised for their needs and preferences.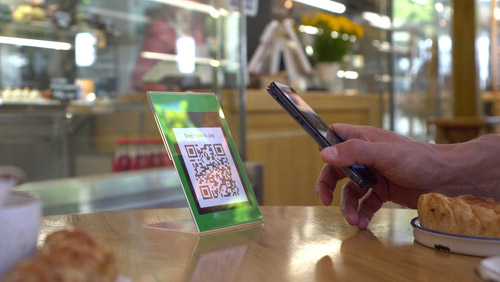 Tech and customer experience: Striking the right balance
So we know that technology can bring a range of new capabilities to restaurants and other hospitality businesses - but it's all about using it the right way. That involves taking a strategic and balanced approach to best serve the customer.
When considering the introduction of new tech, restaurateurs should ask whether it solves a common pain point of the customer experience, or otherwise meets or exceeds their expectations. That approach can really keep you on track.
Look at mobile apps, for example. The customer expectation is to order your food quickly from their smartphone, so a great, user-friendly app is the best way to facilitate that. Another example is self-service within a restaurant itself, which many customers actually prefer. Digital table ordering and self-service kiosks can provide straightforward and pleasant ways for them to do that.
However, staff can still be on-hand to provide assistance, so customers don't get stuck, confused or frustrated when using tech options. We've seen how McDonald's has cleverly built this into their service model.
In higher-end full-service restaurants, where a greater level of personal staff attention is valued and expected, tech can assist with tasks beyond the parameters of the main dining experience. Great digital tools can actually free up staff time, so they can provide a more friendly personal service.
"We see AI being adopted by these restaurants not necessarily during the dining experience itself but before and after the actual visit," says Fredrik Tunvall, who manages all go-to-market activities for IBM's Watson Assistant.
So, different types of hospitality businesses are leveraging tech in different ways to manage their own operational needs, while improving the customer experience. It is possible to get the balance right, by choosing the most suitable tech solutions and working to provide a positive and simple user experience at every stage.
In today's environment, building and maintaining a real human connection with customers can be challenging. Technology, when used wisely, can amplify that human connection between your business and your customer.


Take full advantage of technology and delight your customers with Flipdish online ordering