How to write a restaurant business plan
Writing a restaurant business plan can be daunting. If you're at the precipice of taking the plunge, chances are you've dreamed of opening your own place for years. Now you must turn your dreams into reality. And this requires you to take some challenging and uncomfortable steps.
At Flipdish, we work with thousands of restaurant owners in over 15 countries, and along the way, we've picked up an insight or two.
So we've created this step-by-step guide to writing your own restaurant business plan. In it, you'll find answers to entry-level questions, like: "What is in a restaurant business plan?" and "Where can I find a restaurant business plan sample?"
These are then backed up step-by-step guidance that gets into the real nitty-gritty, like:

Set up your restaurant website

Lay out your restaurant sales forecast

Ensure excellent customer service and operational efficiency

Organise staffing
Let's get started!
What is in a restaurant business plan?
A restaurant business plan runs the gamut from identifying the opportunity to operational efficiencies and the day-to-day running of the business. Not only will it state your goals, but it will outline the steps you need to take to achieve these goals.
A robust restaurant business plan begins with an executive summary and ends with a conclusion, and in between is well thought out information on everything from your unique proposition to competitors, marketing, sales and operations.
Where can I find a restaurant business plan template?
While this guide provides practical step-by-step advice, it can also be useful to have a template to start with. We've prepared a downloadable PDF that you can use to get your first ideas on paper.
If your usual operating mode is to type everything up at a computer, consider going old school with pens and paper. Handwriting engages our brains in a different way, and if you are brainstorming new ideas it can be beneficial to break with your usual habits.
In addition, it is always worth checking in with entrepreneur or enterprise support services locally. No matter what your area, state or country, there are always local nuances you should know about, and there is often training, mentorship programmes, funding and grant opportunities too.
How to draw up a business plan for a restaurant
1. Leave the executive summary until last
It might sound counterintuitive but write your leading executive summary last. While you might start drafting a business plan with a particular strong idea, through research and development, this may change. You do not want to spend your valuable time perfecting an executive summary that might be totally redundant by the time you finish writing the first draft.
The executive summary lays out the fundamentals of your plan. It will include the name and the address of your restaurant business and will provide an outline of your offering and unique selling point (USP). Here you will state who your customers will be and how much revenue you will generate.
The keyword here is "summary". This part should be no more than a page or two.
2. Define the opportunity and back it up with data
You might begin your restaurant journey with a hunch. But hunches need to be developed into opportunities, and opportunities need to be supported by data.
For example, let's say you intuitively spot a gap for good lunch spots in a rapidly-growing commercial district.
You need to develop this hunch with research and you need to start asking the right questions. Specifically you should ask: What is the demand? And what is the way of making money from that demand?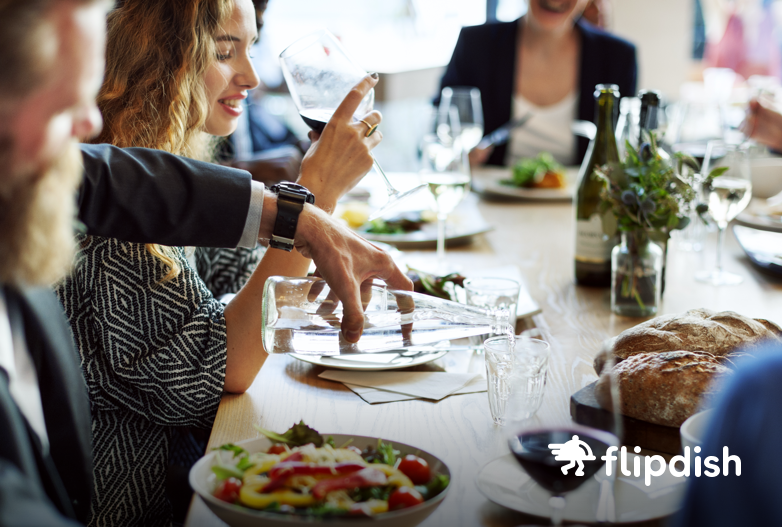 Your research might uncover that two more large corporate enterprises are moving operations to this area, or the reverse. Visit the area at various lunchtimes and observe. This gives you a chance to understand and empathise with your target customer. Interview people — if it is safe to do so — and conduct surveys with businesses in the area to gauge interest and understand customer needs and wants.
3. Identify your strengths and weaknesses
The SWOT analysis method is a simple process to identify your: Strengths, Weaknesses, Opportunities and Threats. In doing this exercise, you should consider both internal and external influences.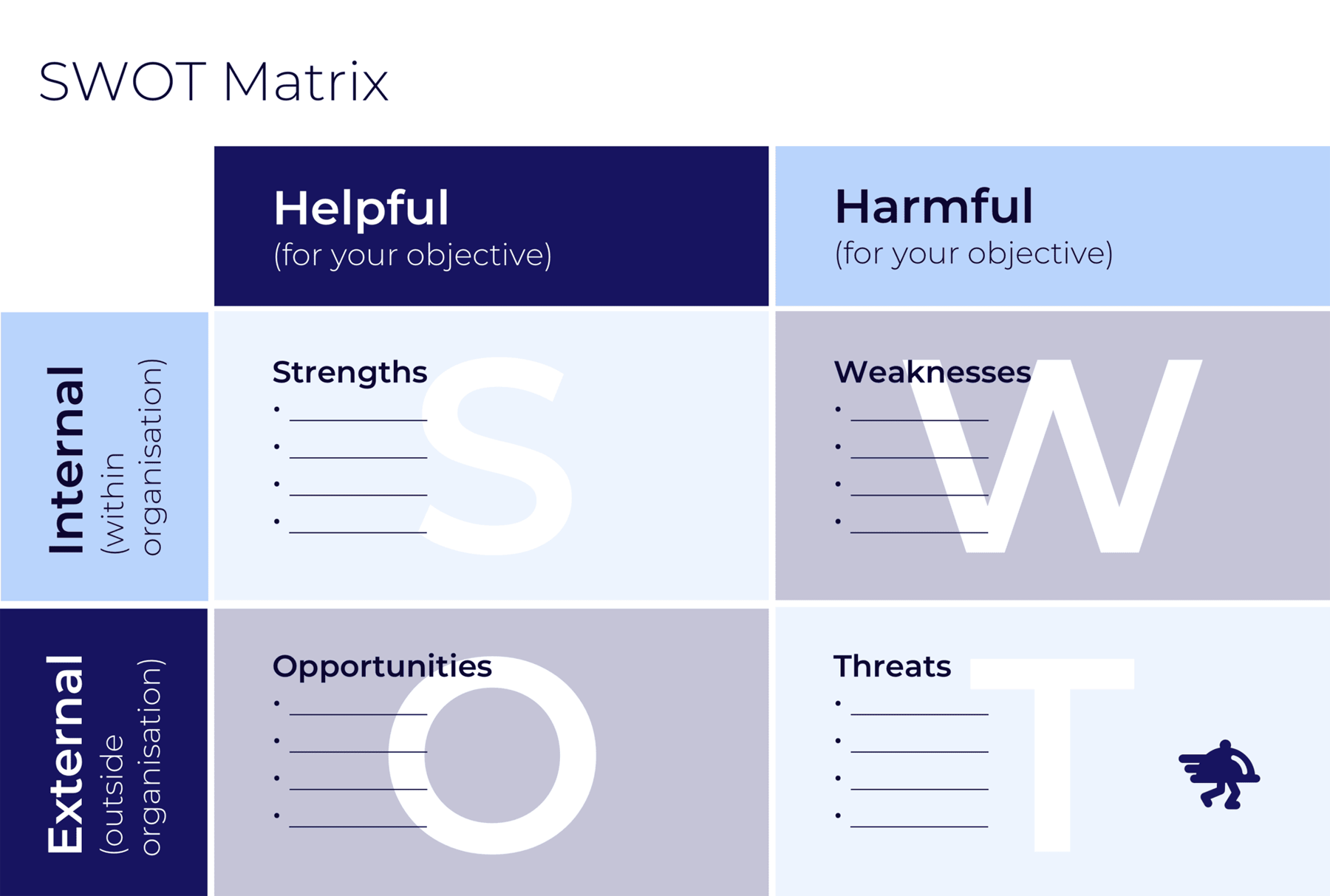 Strengths
If you don't know your own strengths, your customers won't know them either. If we take the previous example of opening a lunch spot in a commercial district, some of the business strengths could be seen as:
Prime location secured

Established relationships with local food producers

Strong health food proposition
Weaknesses
Conversely, knowing your restaurant's weaknesses is a strength. If you are very close to the business and have difficulties seeing the broader picture, consider canvassing others, including a business mentor, to help identify these. Sensitivity must go out the window — you need to spot and know your weaknesses before anyone else does.
Some examples are::
Low margins on fresh produce

Limited flexibility in pricing

No online ordering app
Opportunities
Back on a more positive note, ask: what needs can you meet for customers? What new technology can be implemented in addressing these needs? What vendors or suppliers can you work with for mutual success?
Examples of opportunities for our fictional good lunch spot are:
Online ordering system is ready to go

General increased interest in vegan and health foods

Two large financial services company are relocating nearby
Threats
Time to take the positivity blinkers off and look for threats. These can be internal (e.g. poor customer service, food poisoning) or external (e.g. lack of customers, poor brand perception), and often one leads to the other.
For example, our good lunch spot entrepreneur is considering the following:
Empty lots in new nearby developments could be taken up by competitors

Rents are rising rapidly in the area

More office workers opting to WFH
4. Make a future plan for your restaurant business
Look at key trends and beyond to longer-term changes in the restaurant industry. Ask yourself a series of questions and do the research to answer them. Some sample questions include:
What's happening in terms of consumer behaviour?

What food trends can offer for short-term gain?

What dietary trends are here to stay?

Are there any upcoming changes to restaurant tax or legislation?

Are there any government stimulus programmes for the restaurant industry in your state or country?

How has the global pandemic affected how consumers act?

Will customers always want a delivery option?

How can I offer contactless payment?

Do customers prefer to order online or through an app?

Could my restaurant integrate with drone delivery in the future?
5. Consider PESTLE
No, not pestle and mortar. We mean PESTLE, as in the Political, Economic, Social, Technological, Environmental and Legal context. Examine what changes in each of these areas would affect your restaurant business in the next 12 – 24 months.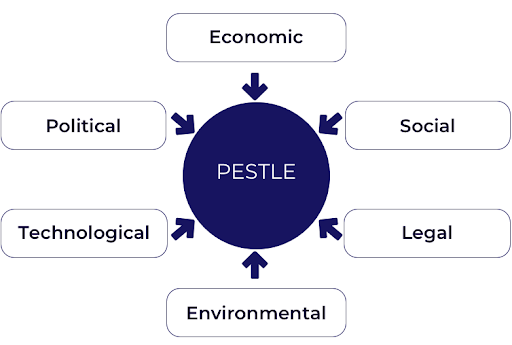 PESTLE is very broad and requires significant research and thought. However, a lot of it is joining the dots between common sense and general knowledge, and thinking about how these will affect your burgeoning business. Such as:
Political
Is the current political system in your state or country supportive of the restaurant industry?

Is there political change afoot or in progress?
Economic
What is the rate of food inflation where you are?

Are there staffing shortages?
Social
Experiencing indoor dining has been limited since the pandemic began, will people be comfortable socialising in your restaurant?

Can you offer outdoor dining?
Technological
What technology can you use to provide safe ordering for staff and customers?

What POS system will you use?
Environmental
What renewable energy sources will power your restaurant?

Are you installing mechanical ventilation?
Legal
What are the legal food safety standards in your state or country?

What are the current labour laws that will apply to your restaurant?
Generally speaking, your local restaurant association can advise on many PESTLE elements and they also keep on top of the most pressing PESTLE challenges for their members. They are well worth connecting with.
Make your restaurant marketing plan
Now you've laid the groundwork, it's time to move onto presenting your restaurant to the world. Modern consumers are not only looking for great food, they also want a good experience, and prefer to spend their hard-earned money with a brand that aligns with their personal values.
The very first thing you should do is secure your preferred social media account handles. But once they are confirmed, you need to go back several steps and start the heavy lifting of building your restaurant marketing plan with the following steps.
1. Look at the big picture
First, you need to get the fundamentals right, so start with your values and vision. Again, you must ask yourself questions such as; What sets you and your restaurant apart? What do you believe in? What values or commitments will your restaurant uphold?
Once you've explored these, move onto writing a vision statement to guide you for the next three to five years. This will take many drafts and will need time to simmer.
If this is not something that is just not in your wheelhouse, outsource it to an agency. An experienced marketing agency can workshop your brand to distill it and capture your essence in a zingy vision statement. Remember, there is great strength in simplicity and nowhere is this more evident than in branding.
A sample vision statement for our commercial district lunch spot could be:
At Kiwi + Lime, we are committed to sourcing all ingredients within 100km of the restaurant and are proud to nourish the neighbourhood with fresh and flavourful wholefoods.
It may only be a sentence — or two or three — but they are some of the most difficult and important sentences you will ever need to write for your business.
2. Define your target market
Marketing is a diverse discipline, and alongside some of the more creative elements is meticulous scrutinising of the market.
It's time to summarise the scope and total size of the market you are targeting, examine your potential range of customers, and identify what food and foodservices they will want to buy. Here you should show evidence of market research and highlight any target niches identified during your research.
3. Refine your product marketing
Next, draft up an overview of the products and services you will be offering. What need will they meet? Why will customers buy each particular product or menu item? What are the benefits of the products you are selling?
Keep asking these questions whenever you recruit new vendors, suppliers or new products. Don't only know what you are offering to consumers, know why you are offering it.
4. Conduct competitor analysis
To know and communicate your unique selling point (USP), you will need to conduct competitor analysis. What makes your restaurant different from others?
Summarise your key competitors; know who they are and what they are offering. And remember to look beyond bricks and mortar. Since the pandemic began there has been a rapid increase in the opening of ghost kitchens and dark kitchens by both restaurants and third-party delivery app aggregators. You will need to do some vigorous research into your online competition.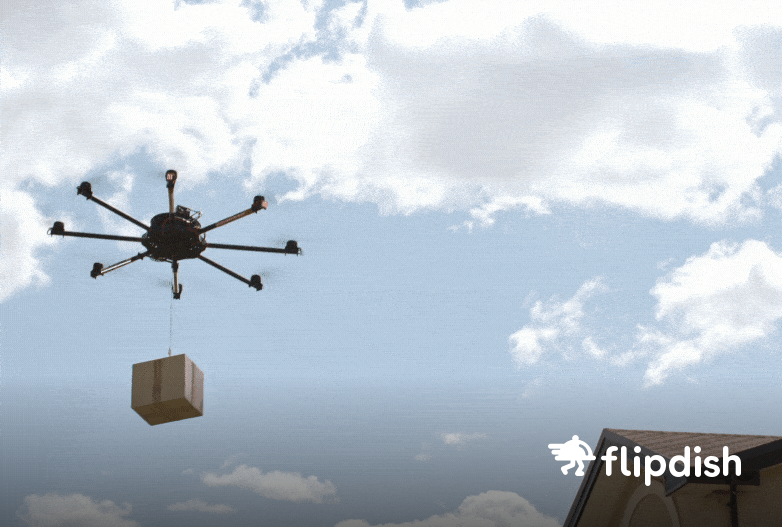 Also, keep drone delivery in mind. Drone delivery is continuing to make great leaps, so look forward 3-5 years time and anticipate competition from farther afield.
This all means your offering has to be super unique. Consider your four Ps: Product, Place, Price and Promotion. Note the four Ps of your restaurant, and of your competitors, and identify the key elements that will give your restaurant a competitive edge.
5. Set up your restaurant website
Now you know your target market, it's time to move on creating your restaurant website. For this, you will need your restaurant branding created and signed-off, and then you must look at your functionality requirements.
Will you be offering online ordering off the bat? What about QR code sticker ordering or QR table ordering? Do you want a mobile app? How will your customer loyalty programme drive repeat sales?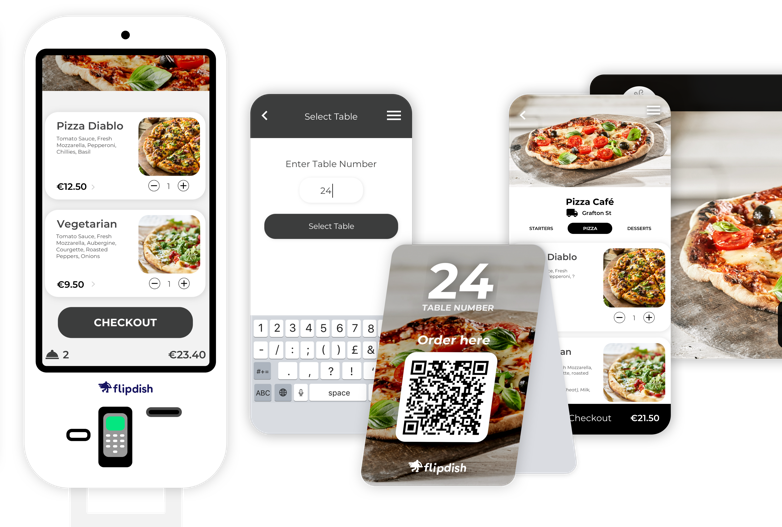 These are the bread and butter of what we do at Flipdish, and we can help get your restaurant or franchise online quickly, with the fastest, industry-leading technology, and your own personal Customer Success Manager.
"The features that I like the most about Flipdish is their inbuilt loyalty programme and push notification. So if anybody's got our app on their phone, if they haven't ordered it in a while, then we will send them a push notification, and then give them a discount."
Abhishek Mediratta
Founder and Managing Partner
Fresh Burrito, Canada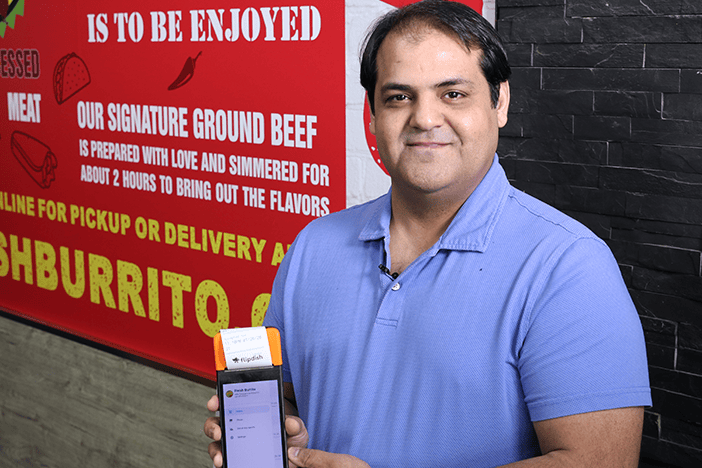 Layout your restaurant sales forecast
Now our sales pitch is over, it's time to look at your sales forecast. From how much you think you will sell to how much you need to sell, this forecast should be scaled and grounded with relevant and recent benchmarks.
Too high a forecast and your initial few months, which need serious energy, will see you depleted and despondent. Too low a forecast and you and your staff may not start out at the right pace and energy level. Lay it out month by month for the full first year of your business, allowing for seasonal peaks and quiet periods.
Ensure excellent customer service
Part and parcel of your sales forecast is providing exemplary customer service. This will keep customers coming back. Plus, endless studies have shown that customers are prepared to pay more for good customer service.
Your restaurant staff should know your menu and the provenance of your food. If you serve wine or spirits, consider hiring a sommelier or experienced bartender to specialise in heighting the drinks experience. Good front of house is like good choreography; it requires active listening, noticing, reacting and responding.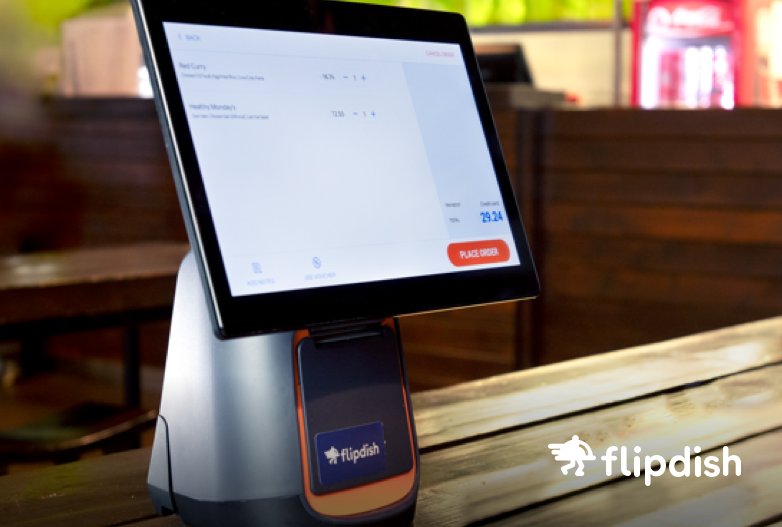 If your offering is more casual, consider installing self-service kiosks to offer a more seamless customer experience.

Know your funding and cash flow
Now you know the demand, your target market and how you will service their needs and wants, you need to show how you make a profit.
Funding can come from a number of sources, from personal savings, to investors and financial loans from institutions. For all of these, you will need to outline your cash flow.
Cash flow is essentially the money you will have once you take your outgoings (rent, loans, payroll, insurance etc) from your incomings (e.g. food and drink order sales, merchandise, catering etc). Your restaurant POS system can help you make an educated estimate for sales in the years ahead, but year one can be trickier. If you are uncertain, connect with a mentor, your local restaurant association or seek out business start-up support services in your area for professional advice.
Ensure operational efficiency in your restaurant
Once your premises is secured, break down how each day, week and month will operate for your business. Identify what equipment, tools and technology — both hardware and software — your restaurant will need. Look for efficiencies. For example, ensure your online ordering system is integrated with your POS system.

"As soon as you hit our website, you can order directly. It's a big clear menu. The great thing with Flipdish is if we run out of stock or something's not available, we can update that straightaway so we don't have to phone them to 'sorry, that's out of stock'. It's already live and updated."
Sean Carroll
Co-founder
Impasto 48, Dublin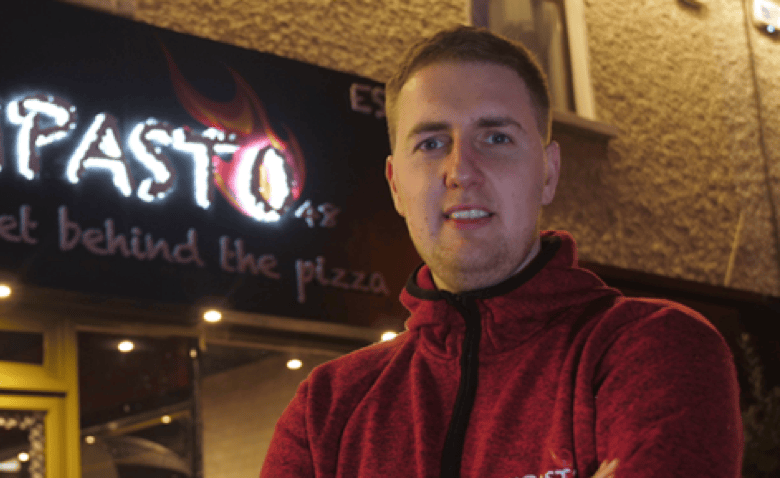 Confirm your preferred suppliers and outline your restaurant's credit policies. Determine quality control and customer service policies. Create a staff rota template, either in a spreadsheet or in dedicated scheduling software. Setting up operations is where things start to get really exciting. Your restaurant is close to opening!
Consider and reconsider your floor plan
When designing your restaurant, there are many new and pandemic-related challenges and opportunities to consider.
Let's go back to our PESTLE model, in particular Social and Legal. In your state or country, is there a legislative requirement for tables to be six feet apart? Or two metres apart? If not, how close are your customers happy to sit beside strangers? You might be able to fit less dine-in tables than you originally thought.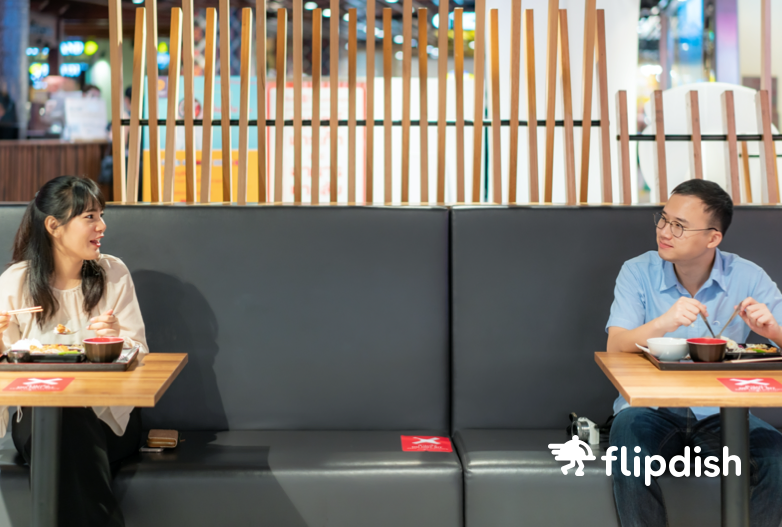 If you're offering takeout or delivery, perhaps you require a specific takeout, drive-through or delivery hatch to avoid customer and delivery worker congestion.
If takeout is a priority, consider installing self-service kiosks, which integrate with your existing EPOS and mean there can be no face-to-face contact between customers and staff, if so desired.
Organise your restaurant staffing
Identify what skills and experience you require to run the restaurant. While it can seem more cost-efficient to hire predominantly junior staff, think of the bigger picture. You need more experienced staff to guide and train juniors, and to ensure customer service runs smoothly. Outline roles and responsibilities for each hire and ensure all employees are clear on what is expected of them.
There are always teething problems when a restaurant opens. It's why restaurant reviewers would traditionally have a few weeks grace period before booking in. However, this window is getting tighter as publishers, bloggers and influencers compete for exclusives for online clicks and engagement.
As such, consider hosting a family and friends night to trial service before you open. A mix of brutally honest and predominantly positive people is a good start. You will need a balance.
At this point, you should also confirm your external advisors and develop these relationships. These include bookkeepers, accountants, insurance brokers, bank managers and law advisors.
Collate your restaurant business plan appendices
Now you have a big body of research behind you and a robust business plan, you may wish to include some collateral that didn't fit within the above headings, but is still useful information. These could be leaflets, brochures and advertising mock-ups, your brand proposition, blueprints and design documents for your premises, registered interest from future customers, contextual information on emerging trends (e.g. reports, newspaper or magazine features) and market research studies.
Now you are ready to write your executive summary.
Conclusion on how to create a restaurant business plan
In writing your restaurant business plan, you will have conducted a lot of research. Your restaurant business plan conclusion should then reconfirm and clarify the business plans, needs, goals, funding, and make a final compelling point about how the restaurant will succeed and should include a clear call to action. If you are seeking investors, the latter two points are especially pertinent.
To turn your restaurant dreams into a reality, there is a considerable amount of work to be done, but by taking it step-by-step, you can work towards your goal. As Desmond Tutu so sagely said, "There is only one way to eat an elephant: a bite at a time."