Burger King 'Restaurant of Tomorrow' offers glimpse into future of fast food
Burger King recently unveiled new plans for a dramatic redesign of its restaurants - and this 'Restaurant of Tomorrow' concept provides an interesting glimpse into the future of fast-food outlets.
Their exciting, innovative design concept is definitely something smaller chains and individual restaurants can look at and learn from, in terms of customer experience and the role of digital.
Digital ordering, collection and drive-thru options are very much to the fore in the recently revealed plans, which could shape the Burger King outlets and customer experience for decades to come. The current reality of coronavirus also has a very strong influence.
Optimising for 'COVID world' and collection
The design is optimised for what Burger King calls 'COVID world', including pick-up cubbies where customers can collect their orders without employee contact. Stores will also feature curbside delivery spots where customers can place orders through a mobile app.
Created by the Restaurant Brands International in-house design group, the plans had input from tech, operations and food innovation teams. The focus is to dramatically improve the Burger King restaurant guest experience going forward.
Renderings of the new design show a super-modern Burger King outlet with a shrunk-down dining room, elevated kitchen and increased driving space. The physical footprint of the store is 60% smaller than a traditional Burger King building, according to the company.
The multinational fast-food chain's first restaurants featuring the new design will be built in 2021 in Miami, Latin America and the Caribbean.
Check out Burger King's virtual tour of their innovative new restaurant design:


Increasing industry focus on takeaway and digital

Burger King's plans of course align with wider industry trends, where the focus is increasingly moving towards enhanced takeaway services, backed up by state-of-the-art digital solutions. The new designs will provide multiple ordering and delivery methods.
Dedicated mobile order and curbside pick-up areas, drive-in and walk-up ordering areas, an enhanced drive-thru experience, exterior dining spaces and sustainable design elements are featured throughout Burger King's new designs.
Other major chains are also going the same way, pivoting sharply towards collection and delivery options. Chipotle, Panera and Shake Shack have all said that they will be more focused on takeout going forward, rather than reopening dining facilities.
COVID-19 of course plays a big part in all of this. We've talked a lot on this blog over recent months about how restaurants have stayed in business by pivoting to takeaway and collection. The need for this was obviously most compelling when dine-in facilities had to close entirely during the strict lockdown phase which was in place in many countries.
However, even with outlets reopened in large part, the reality of COVID-19 remains, with stringent safety measures putting a major operational and financial burden on businesses.
Burger King's design stands out as a clever solution in that context, working around many of these issues. It saves money on expensive new safety features, decreases staffing levels, and prevents employees from having to enforce mask policies.
Related Post:Restaurant of the future: 5 tech trends driving change in the hospitality sector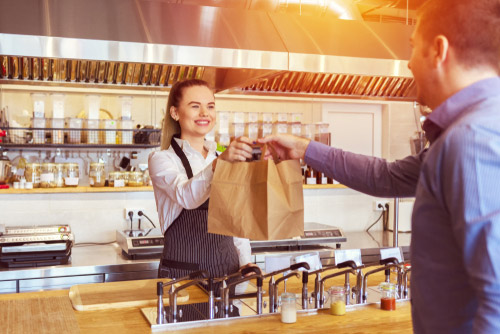 What this all means for smaller chains and individual restaurants
So these innovations from Burger King, as well as other major industry players, are seeking to tackle the challenges of coronavirus. They are sure to last far beyond that reality, however, and could be very much the shape of things to come.
It definitely provides useful guidance for smaller chains, individual restaurants, cafés and bars. There's much to learn from aspects of their design plans and how they see their outlets functioning into the long-term future. It's also a hint at the business model they view as most profitable.
The big takeaway here is, well, takeaway! That means providing customers with convenient and flexible options for both collection and delivery.
Looking more closely at the collection side of things, it's interesting to see how Burger King is giving it so much emphasis and assimilating it into the new outlet design, with pick-up cubbies and other new features.
Even without all the vast resources and financial firepower of such a large global chain, small and medium-sized businesses can take on elements of this collection-optimised design and make it part of their model.
Flipdish customer ThunderRoad Café is one example of a restaurant which has recently rolled out a creative collection solution. Along with installing a Flipdish self-service kiosk, they've also set up a convenient collection point and coffee bar area to the side of the main restaurant space.
Popular US chain Amy's Ice Creams has made a great success of curbside pick-up at their outlets during COVID-19, with orders coming in through its Flipdish-powered app (read more about their story in our playbook on rebooting hospitality businesses). More generally, many small cafés have introduced little collection cubbies to minimise staff-customer contact.
These kinds of features can bring a new layer of convenience to the customer experience, along with driving revenue upwards. There may be a relatively simple way you can do something similar in your business. You can also consider investing more heavily in renovations and new facilities at a future stage.
We also know how much customers value digital self-service options - and that they generally spend more money when ordering by themselves on kiosks. The same principle goes for table ordering. Both of these solutions also bring safety benefits around coronavirus by making transactions contact-free.
It's well worth taking note of the direction major operators such as Burger King are taking, along with seeing how some medium-sized businesses are using design and digital solutions to their advantage.


Learn how Flipdish can help your restaurant with digital ordering and contactless solutions