An Interview with Rob Kramer – Krüst Bakery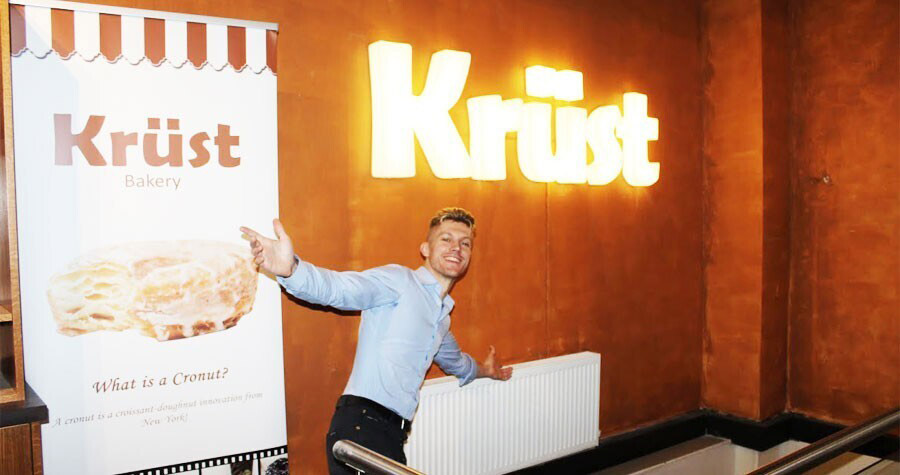 Tired of looking for great coffee or lunch? The World's 1st Smart Cafe, Krüst Bakery, have got you with the brand new Nitro Coldbrew Coffee, divine Cronuts and many more tasty treats.
Serial entrepreneur and one of the men behind the mouthwateringly delicious Krüst Bakery, Rob Kramer, talks business and baking.
How would you describe yourself in 3 words?
Impatient, risk taker and geeky.
How did you end up becoming an entrepreneur and starting
I always wanted to do what I liked. When you are a kid, people ask you what do you want to become when u grow up? My answer was actor or a millionaire. Wasn't because of money, as a kid you don't really get the concept of it. But the lifestyle and being able to do what you want. Bruce Wayne was a big inspiration!
After scoring my 1st ever job in eBay and then Microsoft I tried a biz idea in cloud services, it didn't work out. Then a friend of mine told me about this franchise Fornetti, who in 2007 were Europe's largest franchise right after McDonalds & Subway. So I started it with another colleague of mine. But having a full time job and running a business isn't ideal. Sales were just okayand the company wasn't growing. This is when I met my current partner Garret who was also in DBS and also an entrepreneur. Both passionate about food and business we decided to join forces and create GetFood Limited, a wholesale bakery. This would few months later in 2013 become Krüst Bakery.
What have been your key learnings as an entrepreneur?
To never give up, keep learning and that persistence beats talent.
Where would you like to be in 5 years?
In 5 years time to have Ireland as a whole covered and to be in at least 3 different countries.
What does your average day consist of?
My daily tasks vary but if we take a really boring average day then I start with working on my checklist. I used to be messy and I found that checklists are a good way to start getting organised. It works! So I start my day with going through them and then the necessary evil: emails. Meetings and phone calls are part of the day too for sure.
What did you have for dinner last night?
You won't believe it but I was stuck in the office until late. Having the office in the same building as the new bakery means I had to have what was on site: a Krüst pizza!
What and when was your last take-away?
It was last week and it was from Camile Thai, some extra spicy chicken dish.
What would be your perfect food day in Dublin?
Oh man, this is really making one hungry. A pancake brekkie in Gino's, a Krüst lunch (yesss!) and sushi at 5pm and a Bunsen burger for dinner at 8pm.
Who are your influences?
My mum and dad for encouraging me as a kid – it does make a difference in life.
Elon Musk for his Vision of making the impossible possible.
Broady Sweeney for not giving up.
Steve Jobs & Bill Gates, both stealing ideas from multiple companies, but turning them into businesses that have changed how we live and interact with the world.
Nic Tesla for his creativity.
What are you reading at the moment?
Purple Cow: Transform Your Business by Seth Godin.
What is your favourite tv program at the moment?
Silicon Valley. It is a parody on what's going on in Silicon Valley. It's really entertaining and you can learn a bit too.
What advice would you give yourself at 15?
Just keep doing what you are doing and the way you are doing it. Except don't drive too fast in future. I've got a few car crashes behind me!
Where can we follow you online and find out about your next projects?
Linkedin: https://ie.linkedin.com/in/kramerrob
Facebook: https://www.facebook.com/robskramer
Thanks Rob!
Interested in a free Flipdish demo? Contact Us about our online ordering system.