10 burger brands turning up the heat this National Burger Day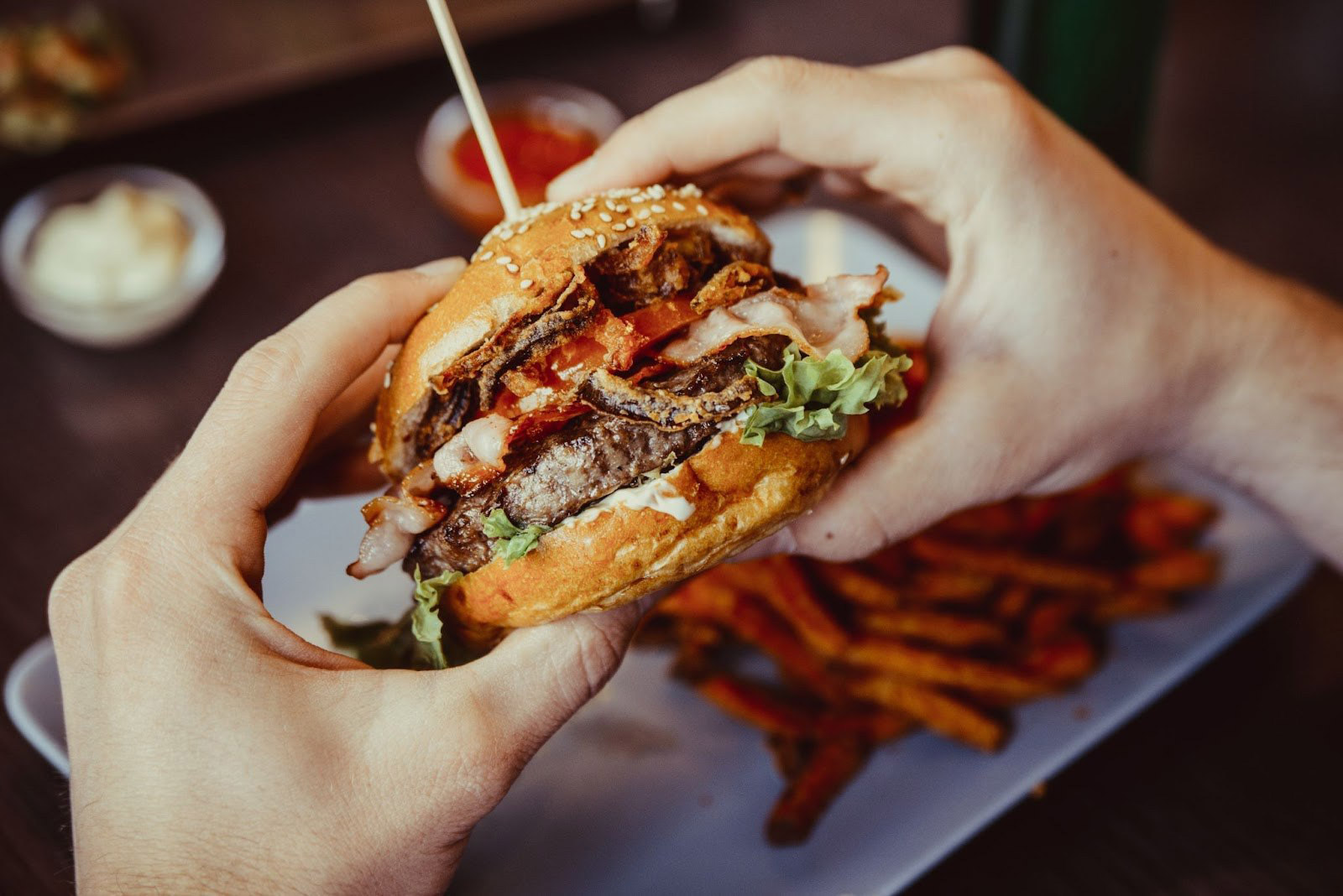 What better way to kick off the Bank Holiday weekend than with a grilled patty inside a soft bun? National Burger Day falls on the 25th August in the UK this year and we're celebrating by highlighting some of the amazing burger brands, powered by Flipdish, up and down the country.
The burger has come a long way since its explosion of popularity as a convenient fast-food staple. You no longer have to endure soggy buns, plastic cheese and grey pucks of meat. Now you can find juicy patties of quality beef, plus a host of alternatives, with all manner of house-made sauces and sides wherever you live in the UK. We're chuffed to partner with so many amazing burger brands, this is just a few of them.
1. Filthy Buns, Dalston

The brand built up a cult following with a residency in East London pub The Three Compasses in Dalston, offering a full menu for pub-goers dining in, as well as local delivery orders.
Filthy Buns are loaded to breaking point with delicious scratch-made fillings – the messier the better. The extensive menu offers beef and chicken burgers as well as an impressive range of meat-free options making for a near 50:50 split.
2. SLAMBURGER, Aylesbury, Cardiff, London, Luton, Birmingham, Leicester and Reading

Slamburger offers affordable Halal versions of the nation's favourite burgers, with locations across the UK, from Birmingham, Cardiff and London to Leicester, Luton and Aylesbury.
Don't miss the Beef Woopper, which packs a grilled patty into a seeded bun with cheese, lettuce and tomato. Or if you're just looking for a quick snack, the saver menu offers burgers and fries from as little as 99p.

3. Dope Bunz, Harlow

Harlow's Dope Bunz serves up a mouth-watering menu of beef and chicken burgers, loaded fries and zingy sauces. These bunz are fully loaded in the style of American burger joints, oozing with cheese and packed with flavour.
The Double Bacon It Up burger is not for the faint of heart, stacked with four beef patties, pickles, onions and lettuce, all slathered with nacho cheese sauce and topped with four slices of turkey bacon.
4. Walt's Burgers, South Wales

Located in the South Wales town of Merthyr Tydfil, Walt's Burgers delights locals with a menu of dry-aged beef burgers and chicken sandwiches complete with its own twists.
Baconaise, for example, takes mayo to a whole new salty, smoky place, and here it's liberally applied to loaded fries and Walt's signature Cefn Bacon Burger.
If you're looking for a little slice of Americana about an hour north of Cardiff, Walt's has everything you could wish for.
5. Munch, Leigh-on-Sea, Essex

Munch offers a wide range of options, from the classic bacon and cheese burger to the more inventive Gourmet Burger complete with sautéed portobello mushrooms with garlic butter and truffle oil, onion relish and blue cheese.
Don't miss the burger of the month, which right now is a Greek lamb burger with homemade tzatziki, fresh tomato, green peppers and feta cheese. Or if you can't find your ideal combination you can build your own concoction, starting with a beef, chicken or veggie burger or a plant-based vegan patty.

6. Smashed & Pulled, Sheffield

Steel City's Smashed & Pulled specialises in beef and chicken burgers, and as the name suggests, the patty is either smashed or pulled. If you can't decide which, the Buff Burger is prepared both ways, with carmelised onions and double cheese on both patties, topped with the restaurant's signature sauce and relish.
And you don't need to choose between chicken or beef either, as their Beef My Chick combines both, with oozing cheese, in a sesame bun.
7. The Hungry Cow, Oldham and London
The Hungry Cow's approach to food is a "no-nonsense melody of meats and freshest of vegetables", which is pretty hard to argue with. All condiments are mixed in-house, and are added to delicately seasoned patties that are cooked to juicy and tender, before resting between two buttery buns.
Naturally, their beef and chicken burgers are top-notch, but their veggie-friendly halloumi option is no slouch either. Find them in Oldham, and in London at Canning Town, Leytonstone and Whitechapel.
8. Figo's Peri Peri, Glasgow
Naturally, chicken rules the roost at Figo's Peri Peri in Glasgow. Choose from peri peri, fried or even fried battered chicken fillet, as pictured below, and top with peri or garlic mayo and sandwich between a brioche bun.
Word is their loaded fries are "life-changing" too.
9. MrBeast Burger, UK-wide
You might recognise Jimmy Donaldson (aka MrBeast) from TikTok where he has amassed 1.2m followers and 7.2m likes, or YouTube where he has 103m subscribers. Or you may have seen his face on ads throughout the UK, where he has joined forces with Virtual Dining Concepts to create MrBeast Burger, which operates out of existing hotel kitchens.
But enough about the business model, what about the burgers? It's a classic, layered approach with smashed beef patties with cheese, pickles, onions, mayo, ketchup and mustard for the Beast Style Burger. And for the Chris Style Burger, a handful of crinkle-cut fries bring extra texture and seasoning.
See where to find MrBeast Burger in the UK here. MrBeast Burger is offering 25% off all menu items to celebrate National Burger Day at participating locations in the UK.
10. OSBK Smoke House, Redruth
Traditional pub classics never go out of style, and it's what the good folk at OSBK Smoke House excel at. Their gourmet burger meal menu includes Cornish steak burgers, pulled pork, crispy chicken fillets, spicy vegetable patties and even a beef brisket burnt ends bap.
Pair with nachos, loaded fries or one of their award-winning hotdogs to round off your meal.
Don't see a burger in your area?