Your Payment Processing Fees Are Probably Much Higher Than You Think
Restaurant owner? Think you've got a great deal for your on-premises payment processing? Think again.
Today, it's so important to know where you actually stand, financially. And while third-party fees may seem low, there are usually a bunch of additional costs hiding away, often listed separately from your statement.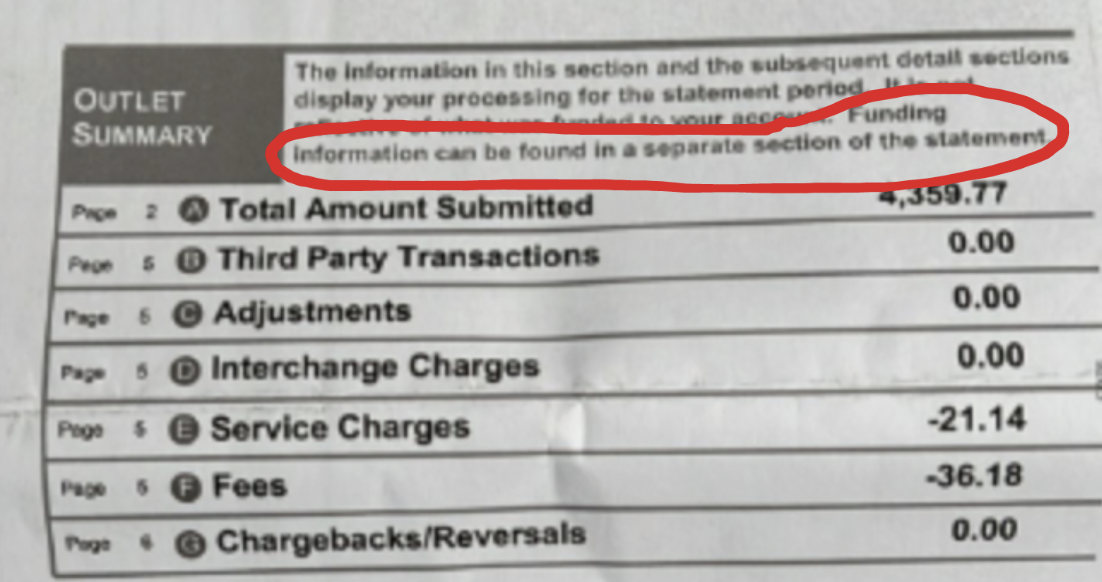 Let's take a closer look at the example above. At first glance, the fees might look reasonable - less than 0.5% for a GMV (Gross Merchandise Volume) of £4,359. But, there are additional charges that aren't always visible.
These "can be found in a separate section of the statement". Why? Well, basically, because the issuer wants to obscure things. They'd much rather you pay attention to the 0.5% figure while they sneakily tack on more costs, like the monthly £23 card reader fee, in addition to the other possible extras.
That 0.5% is just the Acquirer Fee. The hidden extra costs you may not be aware you're being charged for are things like:
Interchange and Scheme Fees - fees by the card brands (eg Visa, Mastercard), to cover the costs for providing their payment network

Authorisation Fees - a charge for authorising the transaction with the issuing bank on each sale.

Monthly Card Reader/Terminal Rental Fees - a fixed fee for renting out your card machine

PCI DSS Monthly Fees (Payment Card Industry Data Security Standard) - a fee to cover the cost of ensuring payments are PCI compliant
While each of these fees may look small individually, when you add them all together, that 0.5% becomes closer to 1.9% and the "fees" of £36 suddenly creep up to total charges of over £80.
All these sly little extras really add up over time. Not great if you're trying to keep a tight focus on your margins.
Still think you've got a good deal? 😬
Now more than ever, it's vital for businesses to be able to clearly manage their profit and loss and see exactly where their money is being spent - without having to account for any hidden extras.
At Flipdish, we believe in being transparent and upfront because we're food industry natives - we've worked in kitchens, we've run restaurants and takeaways, and we know how hard it can be.
Our in-store processing fee isn't hidden. Ours actually work out at slightly less than in the above example at 1.4% +10p. And not only do you also get a cheaper rate, transparency, and a superb POS that helps you track your actual running costs in real time, with Flipdish you also get:
Ownership all of your customer data

Integrated payments

Fewer reconciliations

Less errors

Quicker processing

Realtime profit and loss management

Straightforward tools to grow, like a branded mobile app and website

An excellent customer support team (Literally. We're rated 'Excellent' by Trustpilot and Capterra customers 🌟)
Set up a quick chat with us today and we'll show you how Flipdish can make your life easier and your business more money.