10 things we learned about the hospitality industry in 2020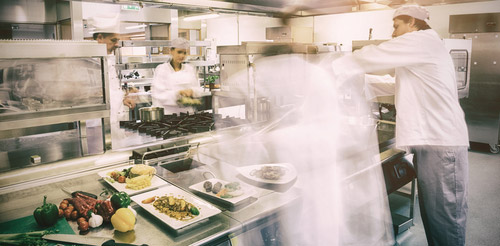 It's fair to say that 2020 did not go as expected, for quite obvious reasons! The arrival of the coronavirus pandemic in the spring changed society quickly and drastically, with widespread lockdowns and new social distancing rules altering life as we always knew it.
While almost everybody and every industry has been affected by the pandemic in 2020, none have been hit harder than hospitality. It's been quite the 'annus horribilis' for many owners, managers and workers in the sector.
However, it's often said that the best lessons are learned in times of great struggle. So, what can we glean from the experience of 2020? Amid all the challenges, there are definitely valuable and positive learnings to take from it all.
So, let's dig a little deeper into the events of 2020 and look at 10 things we learned about the hospitality industry during the year.


1. The industry is very resilient and creative
When the pandemic took hold last spring and lockdowns were introduced, it had a huge impact on the hospitality sector, almost overnight. Many businesses faced an immediate battle to survive and the industry as a whole confronted its greatest challenge in living memory.
This has shown that hospitality businesses are vulnerable to sudden negative uncontrollable events, but also that they have the strength and capability to come through them. In the face of this unprecedented challenge, many thousands of businesses all over the world have shown great resilience to adapt and keep going. We've seen this in action with the quick pivots from dine-in to a takeaway model, keeping businesses afloat and staff in jobs.

Owners, managers and staff have worked hard to get through the crisis. They've also shown outstanding creativity in doing so in many cases, with new menus, offers and digital ordering options being introduced en masse.


2. Hospitality is vital to economies and communities
Widespread closure in hospitality during the year had a major impact on economies overall - an immediate spike in unemployment numbers, businesses seeing revenue wiped out and lost income for governments. It served as a reminder that hospitality is absolutely vital and central to economies all over the world.
Many people might instantly think of large global chains as synonymous with the hospitality industry, but small local businesses are really the heartbeat of it. For example, in the US small businesses accounted for 99.5% of the hospitality sector in 2017 and 60.6% of employment within the sector.
And the social impact on communities runs deep too. People are emotionally invested in their favourite local restaurants, bars and cafés. So much of the coronavirus discourse during the year has been about just how much people miss that aspect of 'normal life'. So this was a positive reminder of hospitality's importance to economies and communities everywhere.


3. Takeaway is an integral part of the restaurant business model
Restaurants providing a takeaway service to meet changing consumer habits and behaviour was already a growing trend pre-COVID. Then this was accelerated rapidly as lockdowns spurred a surge in demand for delivery and collection services.
So, even with all the negatives of the crisis, this presented a significant new opportunity for restaurants to pivot towards takeaway and make it an integral part of their business model. Restaurants of all types have adapted to changing needs and introduced food and drink deliveries. This allows customers to continue to enjoy their favourite restaurant food at home.

Many thousands of closed restaurants across the world pivoted from dine-in businesses to reopen as takeaway and delivery businesses. Many have made the change quickly and with great success - from large chains to high-end restaurants to smaller local outlets. Even when dine-in does return to relative normality, developing these multiple revenue streams can give businesses a key advantage and prepare you for possible future crises.


4. Health and safety is now absolutely crucial
Even with a COVID vaccine being rolled out soon, the mindset of consumers has become keenly focused on safety and hygiene in 2020, due to a pervasive level of fear around the virus. This will probably continue to be the case going forward, so all restaurants, bars and cafés need to make it a top priority.
This includes:
Providing hand gel at all points of entry
Enhanced cleaning
Mask-wearing policies
Social distancing rules
While this could all be viewed negatively as placing extra burdens on businesses, it's also an opportunity to boost customer confidence and goodwill by showing that you're doing things right and keeping them safe.


5. Contactless dining is here to stay
This point of course ties in closely with health and safety - contactless dining through tech tools such as table ordering and self-service kiosks helps hugely with that. Overall, there's a growing demand for less personal contact in the hospitality environment. This is both from a customer and staff standpoint.
This was already a hugely growing trend before the demands of COVID came along. It's preferred by many customers, adds great convenience and brings increased efficiency, while cutting costs. Self-service solutions are also proven to increase average order values. A survey we did during the year showed that the vast majority (80%) of pub-goers that have used digital tools to order food and drinks want to keep using them in the long-term.

Contactless delivery has also become the norm due to COVID. This year saw much greater emphasis put on contactless dining and delivery.


6. Customer loyalty programs are a key lifeline
Research from McKinsey & Company this year identified digital loyalty programs as one of several key lifelines for restaurants during the COVID crisis, along with online ordering capabilities.
"A strong online ordering presence, digital loyalty programs and robust customer relationship management (CRM) systems have been lifelines for restaurants during this crisis, as levels of digital engagement among consumers have soared," it said.
Customer loyalty is absolutely vital to hospitality businesses - increasing your number of loyal customers by as little as 5% can grow your sales by up to 75%. So with the stakes raised so much in 2020, it's been vital for businesses to leverage it as much as possible.
Digital loyalty and retention tools provide a real way to keep customers engaged with you, rewarding them automatically for repeat ordering. Supported by key data, they can also provide a strong personal touch, even in the digital environment. Events of the last year have proven the importance of that.
Download our exclusive customer loyalty playbook here


7. Mobile ordering and marketing continue to rise
The trend towards mobile ordering continued at a pace in 2020, dictated by consumer habits and behaviour. Increasingly, their preference is to transact via mobile. In the second quarter of 2020, mobile devices generated 51.5% of global website traffic and 80% of Internet users now own a smartphone. Analysts have predicted that food orders placed via smartphone and mobile apps would become a US$38 billion industry in 2020.

As businesses need to satisfy their customer needs and cater to the ever-changing behaviours, that means providing great ordering options on their smartphone, at the touch of a button. Having your own app (and a mobile-friendly website) is therefore a no-brainer. Downloads of your app give prime real estate on the customer's phone, keeping you top of mind when they order food.
Mobile-centric marketing is the other big aspect of this - reaching customers on their smartphone with SMS messages, email campaigns, push notifications and social media posts is now absolutely vital to build your brand and drive more orders.


8. Aggregators are a major threat
The large aggregator platforms have strengthened their dominant position during the crisis in 2020, making millions in profits while independent businesses have struggled to survive in the face of their crippling fees.
They are now a very real threat to the survival of local independent businesses. Up to 30% of an order value is taken in commission by marketplaces such as Just Eat, Deliveroo, Uber Eats and others. With revenues already decimated by lockdowns this year, restaurants can't afford to give away their profit margins to the aggregators. It also does long-term damage - weakening a restaurant's brand, breaking the direct relationship with customers and taking away all-important data.
So as the year comes to a close, owners and managers need to be more wary than ever of the pitfalls of signing up to these marketplace apps. The real, sustainable solution is to build up your own brand and digital presence instead of relying on aggregators.


9. People really want to support local business
Customers have historically supported their local restaurants during difficult times, and we saw that during the year just gone as online orders surged when lockdowns came into force. The shift to takeaway ordering was definitely embraced.
Customers are very willing to order directly from their local restaurant or takeaway where possible. In a survey we conducted in Ireland during the year, the vast majority of people (89%) said that, knowing about the fees restaurants face, they would order directly from the restaurant as opposed to using an online marketplace.

Another survey in the UK showed that 70% of takeaway customers would order direct to help save their favourite restaurant from closure. The reality is that most people want to support local businesses but they are often not aware of the high commissions on orders through aggregator platforms.
We've been spreading the message that ordering directly from restaurants and takeaways is the best way to ensure they survive now and can thrive again in the future. The good news here is that many restaurants and bars enjoy strong long-term support in their communities, with local people emotionally vested in their survival.


10. Building your own brand is vital
Having your own strong brand and digital presence is the most solid and sustainable way to grow a restaurant, chain or other hospitality business. These days, that includes having your own branded mobile app, where younger customers are likely to order and where you can drive loyalty initiatives. It also means building your own customer data and leveraging it for marketing purposes.
These tools and capabilities mean independent businesses don't need to rely on the aggregator platforms to drive sales. It can also help to future proof your business and mitigate the effects of a potential crisis. More than anything, 2020 has taught us to be prepared for the unexpected.


A difficult year - but cause for optimism
As the dust settles on the year, few people in hospitality will look back on it with much fondness. The challenges have been enormous. However, there is clearly cause for optimism going into 2021. The rollout of vaccines is expected to largely restore an overall sense of normality in the months ahead.

If you have kept your business going in 2020 you deserve great credit for that. The lessons learned from the whole experience will also prove valuable. Taking some of these on board in your business should put you in good stead for the future.


Grow your business with Flipdish online ordering