New York bagel shop Bagel Point grows digital sales 900% with Flipdish
Weaning off third-party marketplaces and aggregators has been pivotal to the success of Brooklyn bagel shop, Bagel Point. Now the business avoids paying high marketplace commissions and the prices are lower for customers. All the while, the shop is building its own customer database and constantly refining its loyalty program and offering.

We're using third-party delivery apps less. This is because of Flipdish; we've been able to promote our own app. We've been creating flyers and putting them into customers' bags who have come from third-party companies.

Business type

Bagel shop

Location

Brooklyn, New York

Number of outlets

1

Famous for…

Unicorn bagels
Focusing on local and loyalty


When it comes to breakfast and lunch, in particular, many busy New Yorkers are on autopilot. They have a regular coffee and bagel order. They want consistency and they want to support independent businesses.
"Customers love to shop local, so they want to support their local bagel shop," says Sam. "And if there's a way to go to us directly, and cut the middleman, and cut the commissions, then why not? That's what customers are looking for."

Bagel Point customers get 30% off their first order through the dedicated app, and every tenth meal is free. Bagel Point's database now has over 1,400 customers who love to support local and it continues to grow.

Watch Sam explain how Bagel Point has changed their business with Flipdish: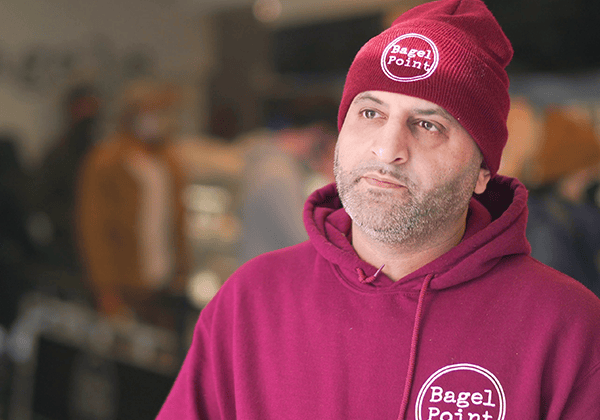 Keeping on top of menu changes is efficient
The raw ingredients list for a bagel shop runs long. Bagel Point offers 45 types of bagels and 25 cream cheeses, all made in-house, plus 50 toppings. The vastness of potential combinations is head-spinning.
"Bagel shops are not easy operations," explains Sam. "There are so many menu items as people want to choose different ingredients and add different toppings. Everything is customised."
If that wasn't enough, the menu changes constantly with the seasons and the holidays. In fall, they'll have pumpkin spice cream cheese, plus pumpkin spice chai and coffees. In spring, it's green-themed menu items for St Patrick's Day and Easter bagels.
Sam estimates he spent a couple of hours a day for a month to truly optimise the online menu. The shop is now doing 600 orders a day on the weekend. "I don't think we are one of the busiest bagel shops, we are the busiest online bagel shop in New York, if not, restaurant."

Join Bagel Point and thousands of other Flipdish customers today
Talk to Sales