Introducing the Flipdish Status Page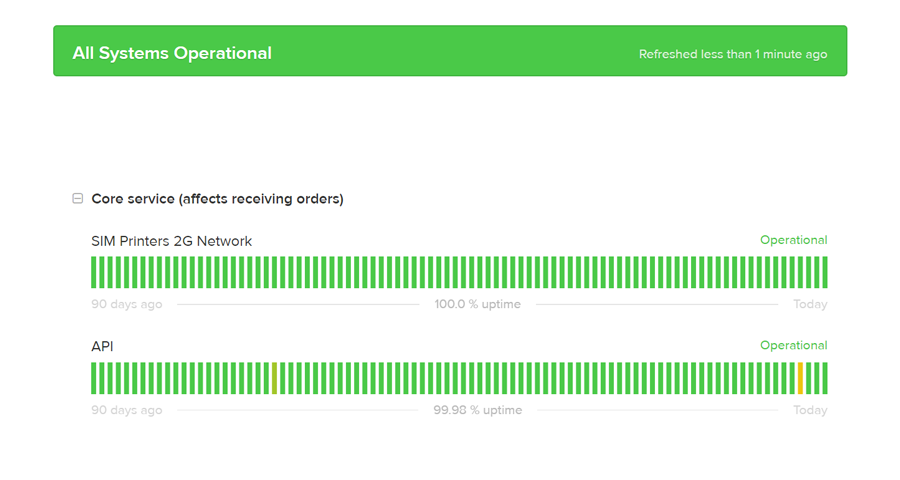 The Flipdish tech team are very proud of the reliability of the Flipdish platform. We have created an online ordering platform that serves hundreds of thousands of people. We are proud to have had nearly zero downtime since inception. While reliability is a core focus of Flipdish platform, things can still go wrong. Either due to an issue with the Flipdish platform itself or due to a service that it depends on. If there is ever an issue that can affect your business then you need to know about it. So if you ever need to ask the question: "Is Flipdish down?" — we have created a Flipdish service status page which displays the status of the platform.
Below you can see an example of what the status page for our online ordering system looks like. Keep reading below for more information.
Is Flipdish Down? How to Find Out
The quickest way to check the system status is to click here — Flipdish Status Page.
However, if you need to know in an instant, you can sign up for email notifications when there are any issues. When you go to our online ordering system status page, there is a blue button that says "Subscribe to Updates". Click on this and enter your email address, and you will be notified straight away if there any issues.
By subscribing to updates, you can take action straight away to keep your business running, while we work to fix the issues.


A reliable ordering system

If you're using a different online ordering system, but need the reliability, transparency, and performance of the Flipdish online ordering platform, you can get in touch with us today.
We have built online ordering that works for hundreds of thousands of customers around the world. Every day, we are improving our platform, adding new features, and making your restaurant or takeaway more successful.
Click here to contact us, and our team can help you with your online ordering requirements.