Fish and chips feed a nation as Ireland turns to takeaway during COVID-19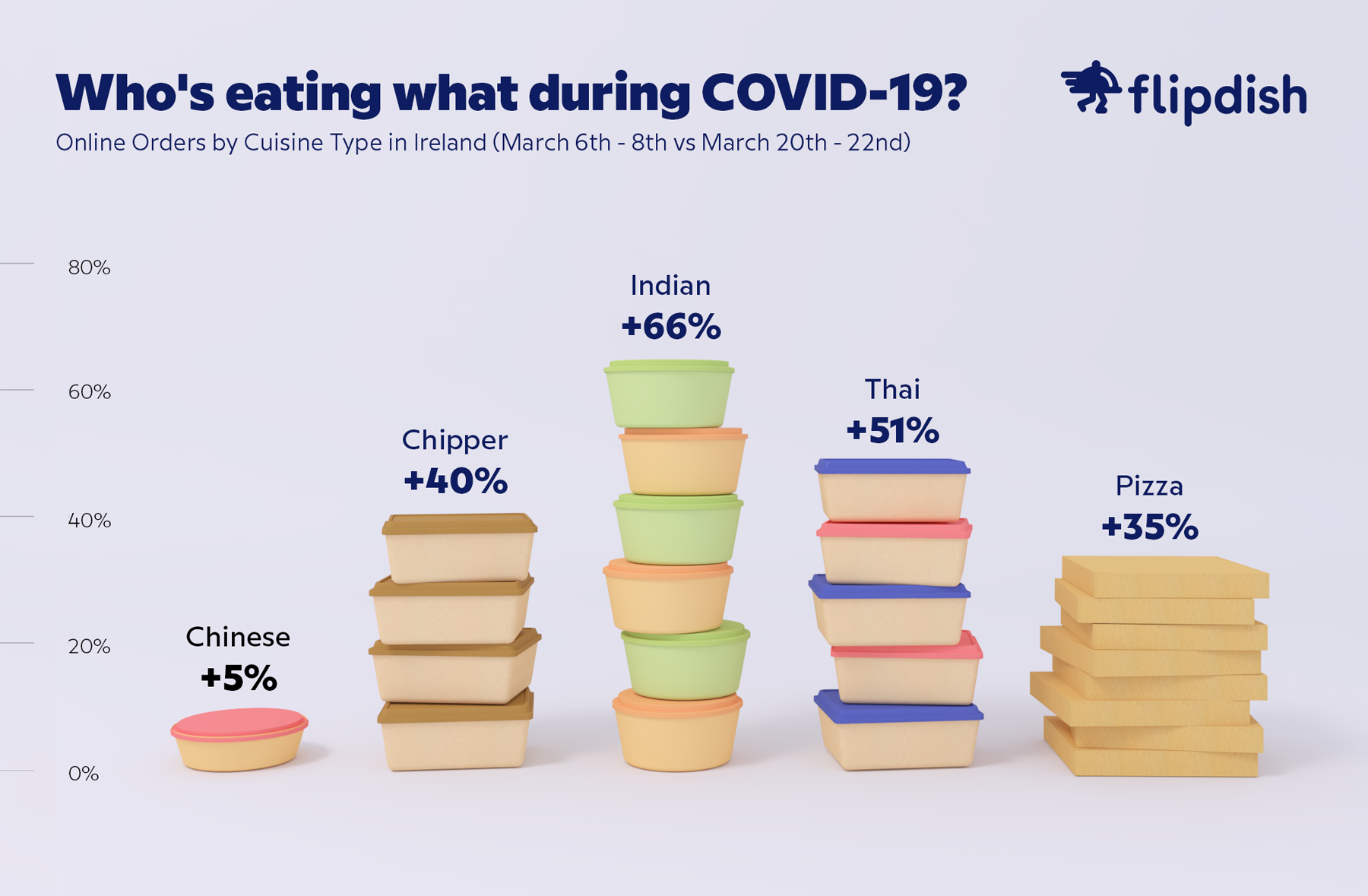 Fish and chip takeaways in Ireland have seen sales grow significantly over recent weeks as online orders for a variety of cuisine types surge during the COVID-19 crisis. The public has turned to online takeaway ordering in large numbers since a number of stringent measures were introduced including the temporary closure of dine-in restaurants.
Chipper orders have risen by 40%, while pizza orders have followed a similar positive trend, with growth of 35%. Mirroring the figures in the UK, Indian restaurants have seen the largest sales growth of all cuisine types, rising by a massive 66% in Ireland.
Thai food is also proving a big hit during the lockdown - takeaway sales have grown by more than half (51%). Meanwhile, the growth for Chinese restaurants has been more moderate, at just 5%.
These figures reflect the percentage increase in orders over two weeks, with 20-22 March compared to 6-8 March, based on a sample of 100 restaurants in Ireland.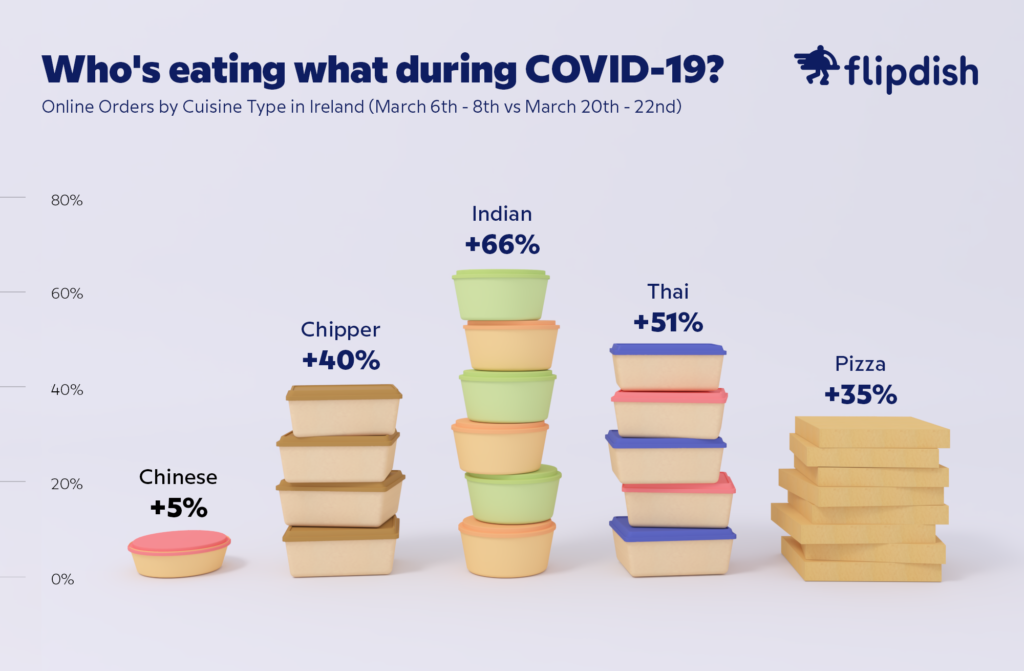 Pivoting to delivery can save businesses
Forced to close their doors to dine-in customers, more and more restaurants are switching to a delivery-based business model in a bid to maintain revenue during the COVID-19 pandemic. Flipdish has seen new customer activations rise by 150% in Ireland over a two-week period in March.
The company has also seen new restaurant sign-ups to the online ordering system increase by 35% in the UK during the same time period, as local businesses in the sector pivot towards online takeaway orders. A year-on-year comparison shows that the number of UK restaurants transforming their business models to include takeaway services digitally has nearly tripled (270% growth).
Flipdish CEO, Conor McCarthy, says many restaurants are now adjusting their business model to focus on online orders and takeaway during the crisis. He thinks this is providing a real lifeline to maintain sales and ensure business survival.
"The only way for many restaurants to stay in business is to urgently transform into takeaways. We've had plenty of calls from restaurant owners asking how to switch to a delivery model, and whether it's even possible to get a website up and running in time. My message to restaurants is that it's not too late to set up a takeaway service," he said.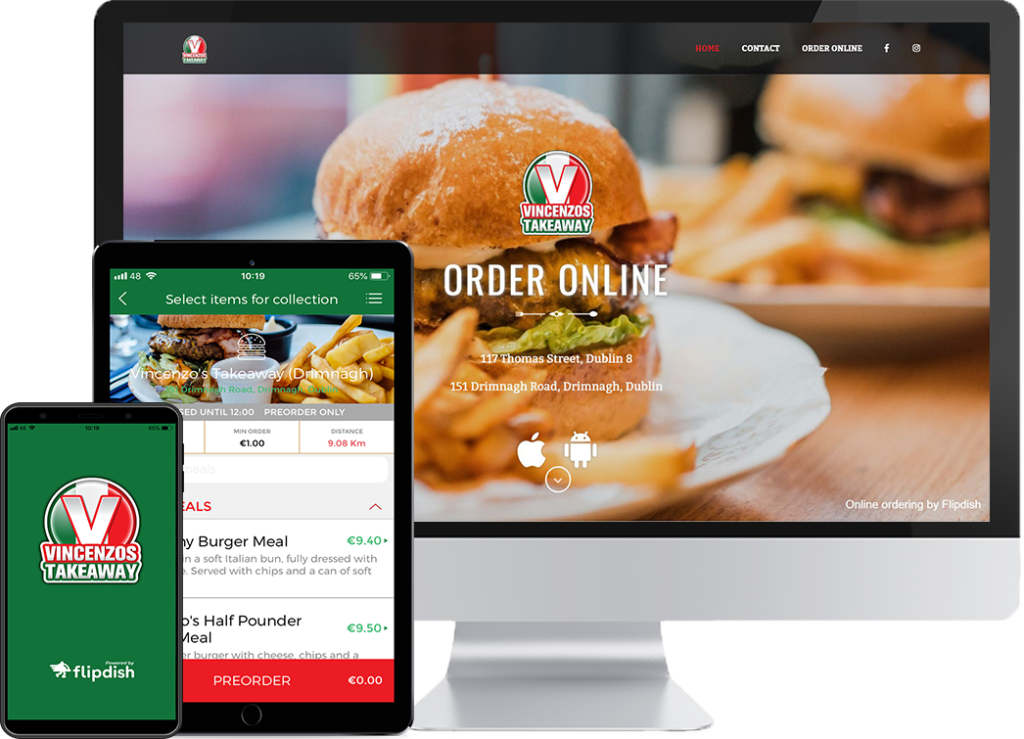 "We've been working with a number of customers over the last few days, getting them set up with their own websites and apps in a matter of hours. Building an online delivery service could help restaurants stay afloat during the crisis, and also rebuild their balance sheets in the long-term," he added.
McCarthy also urged people to support local culinary businesses, to help ensure their survival through these turbulent times. "Everyone who can should support their local favourites during the crisis," he said.



Learn how Flipdish can help your restaurant or takeaway