An Interview with Emily Bradshaw – Cracked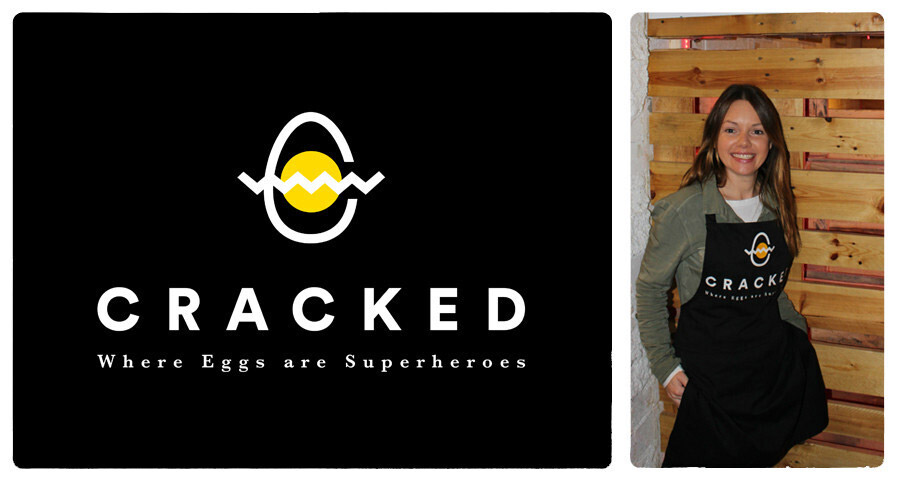 We sat down with Emily from Cracked, Where Eggs Are Superheros, to talk about her startup, eggs and her new pop-up shop in Bread & Bones on Millennium Walkway.
How would you describe yourself in 3 words?
Kind, pretty and selfless. Haha only messing. Probably positive, balanced and craic-loving!
Haha! What's the story behind Cracked and how did you come to be involved?
When I had nothing for dinner I'd always make omelettes with whatever was left in the fridge. l was standing in my kitchen one day thinking how handy they were and how health crazy people are nowadays and said, 'someone should open an omelette bar'. People always say 'it went from there' but I wasn't really considering myself to be the one to open it at that stage as I was happy in my job! When I was made redundant from Paddy Power it really made me think. I looked into the idea properly and decided to go for it, it was a good business idea and would be great starting up again. When life gives you lemons…

Where did the name come from?
Cracked was one of the first names I came up with and I initially thought it might have been too obvious. The more I thought about it the more I loved it and the potential it gave me for the logo, brand and marketing. It also gives a nod to the eggstreme amount of egg puns out there which you just couldn't ignore.
Why did you start the business?
I had an idea, an opportunity presented itself and I was in the right place to grab it with both hands. For a lot of people in food cooking is their passion. For me, it's a combined passion of running a business and one particular food, eggs!

Did you deal with negativity when you were starting off and if so how?
I got the odd head tilt from people when I said I was setting up an 'egg based food business' without the background of the benefits. I think when you talk about an idea people don't take you that seriously but when you go out and do it, people start to see you in a different light. I was lucky enough to be able to meet a lot of great people in the food industry to chat to about my idea and they were all so helpful and willing to give advice.
What does your average day consist of now?
At the moment I'm getting ready to run breakfast in a restaurant called Bread & Bones in town so I'm getting everything organised for that. When I'm set up in there I'll be up at 6am which is a first for me, I'll walk my dog, serve breakfast from 8am-12pm and then prep for the next day, do my marketing, test recipes etc.

What's your favourite egg recipe?
French toast with streaky bacon and maple syrup has always been top of my list. If I'm going healthy it has to be a smoked salmon, cream cheese and avocado omelette (and I'm not just saying that!). I don't think there's anything better than baked eggs as a comfort food either.
Yum! We're a food ordering app so we're interested to know what was your last take-away?
Toltecca – burrito in a bowl.

What would be your perfect food day in Dublin?
Breakfast at Herbstreet, I'm a sucker for nice afternoon tea anywhere, followed by dinner at Coppinger Row and a few of their cocktails.
What do you think it takes to be successful when starting your own business?
You have to be self-motivated, prepared to work really hard and most importantly find a way around the challenges you face. There are always solutions I think you just need to take a breath and look for them.
Who are your main influences?
My friends and family. Everyone has a different piece of advice to give or an idea to share. When it comes to marketing I'm probably influenced by clever brands, continuing to re-enforce what your brand stands for is key in my opinion.
What book would you recommend the most to friends?
I tend to read books like The Hunger Games that don't have lasting meaning unfortunately, they're good for escapism though. In terms of business, The New Digital Age by Eric Schmidt and Jared Cohen gives great insights into the scale of technology coming down the line.
Knowing what you know now would you do anything differently starting the business?
I would have gone ahead and done some things without waiting for approval from particular parties!
What advice would you give yourself at 15?
To start a business at a really young age and continue to fail and start again. That way by the time you get to 30 you'll have a huge amount of experience behind you to succeed.

What's next for yourself and Cracked?
I'll be running breakfast in Bread & Bones from Thursday onwards so I hope to do that for a while and continue to learn. I'd love to do some more pop-ups in different locations to get a feel for the market. As this concept hasn't been done in Dublin before, the more testing I can do, the better. You never really know which direction it will take you so it's good to keep your options open. Eventually I'd like to have a few 'Cracked' deli/cafes out there.
Check out Emily's blog for more information of follow the story on Twitter, Facebook or Instagram.
Interested in a free Flipdish demo? Ask about your online ordering needs today.