5 Reasons You Need a Custom Website for a Restaurant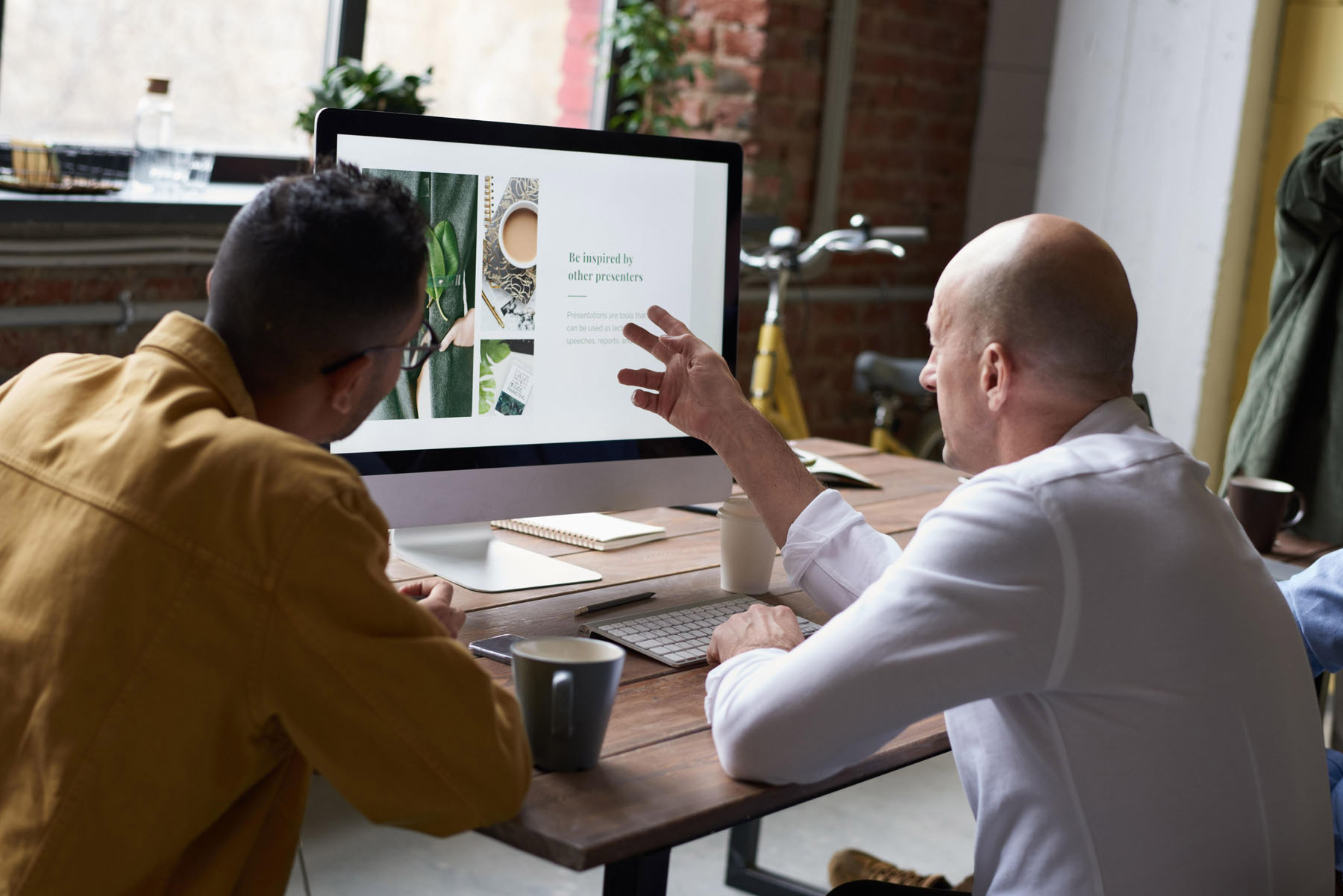 As a restaurant or takeaway operator, you might feel overwhelmed by the thought of creating a website for a restaurant. So you settle for a presence on third-party aggregator sites. The problem with these platforms is they're not interested in promoting you specifically. Your restaurant is competing with all the others, without the chance to stand out.

Building a custom website for your restaurant allows you to take control and promote your own business in a targeted way. It's a must if you want to make the most of customers searching online. And it's far faster, easier and cheaper to set up than you probably think. Let's take a look at why building your own custom restaurant website is so important and how you can have it up and running for free, in minutes, with Flipdish.


Why create a website for a restaurant?

1. Stand out from the competition
Building a custom website for a restaurant allows you to paint a vivid picture and tell a compelling story to entice customers and keep them coming back. A multi-page website offers more information to customers.
Rather than just having a list of menu items, you can have an about page, advertise for job vacancies or have a news page to keep customers updated. This gives you the ability to showcase your uniqueness and also gives you full control of the branding. On restaurant aggregator sites, all the profiles look similar. With your own website, you can customise the look of your restaurant so it stands out from the crowd.
2. Fully utilise your Google My Business listing
Even when you build a custom website for a restaurant, the first thing searchers often find when looking for you is your Google My Business listing. This is Google's listing for your restaurant that appears at the top of the search results.
Your Google My Business listing can be a great driver of traffic to your website so it should also be optimised with your target keywords and you need to make sure all the information listed is kept up-to-date and accurate.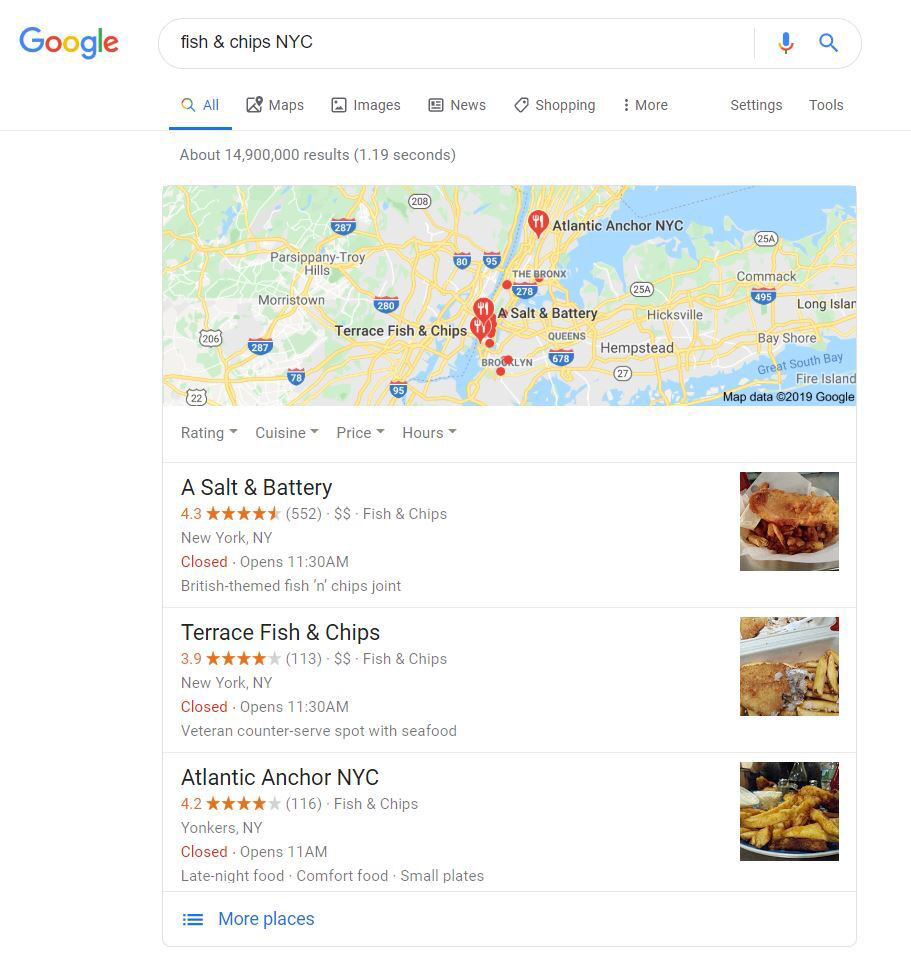 3. Own online ordering for your restaurant

Another advantage of owning a website for a restaurant is you can use your website to drive traffic to other areas of the business like your delivery service. By including an online ordering system on the website, customised to your restaurant, you take ownership of this process and avoid the costly fees and generic look of third-party ordering sites.
Offering a reliable online ordering experience is growing in importance. The market is set to hit a whopping US$200 billion by 2025. More and more customers expect a delivery option and if you are not offering it, or your service is hard to find, they will go elsewhere.


4. Use your website's analytics to optimise and improve
With control over your restaurant website comes the advantages of owning the data. With the Flipdish dashboard, you can see exactly how many orders are coming through and where they're coming from. You can review orders and manage deliveries in real-time. You can also measure business performance over time, allowing you to recognise trends and discover opportunities for growth. All of the data is displayed clearly in detailed reports and charts, with filter options to help you dig deeper.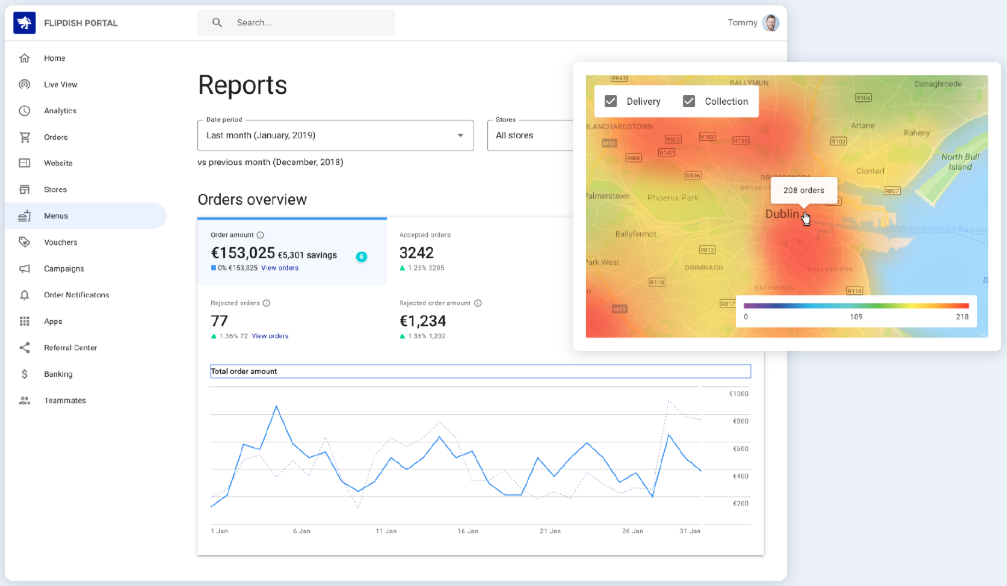 5. Drive offline business online
Another advantage of building a custom website for a restaurant is to streamline your marketing channels. It's important to present a coherent brand to customers both online and offline. It makes your restaurant much more memorable, helping customers to recognise it and improving customer retention.
There are many ways to leverage your brick-and-mortar customers, including branded stickers in your shop window, flyers and special promotions on social media. Why not try running a promotion via an instore flyer that offers a discount for online orders? Give the flyers out to your in-store customers to make them aware of your website and online ordering service.
The important thing is to make it easy for them to find your website address on these promotional materials and to present consistent branding across all of your channels.


Building a custom website for a restaurant is easier than you think
When it comes to building a website for a restaurant, you might have nightmare visions of starting from scratch and hiring expensive developers. But creating a custom restaurant website is far easier and cheaper than you think.
Flipdish allows you to create a branded and customised multi-page website, with a fully integrated online ordering system, in minutes, and you can get started without paying a penny. How is this possible?
The platform is built to be quickly customised and optimised to your restaurant's needs. All you have to do is sign-up for a free account, add your logo and other branding, photos and menu details, and your website is good to go.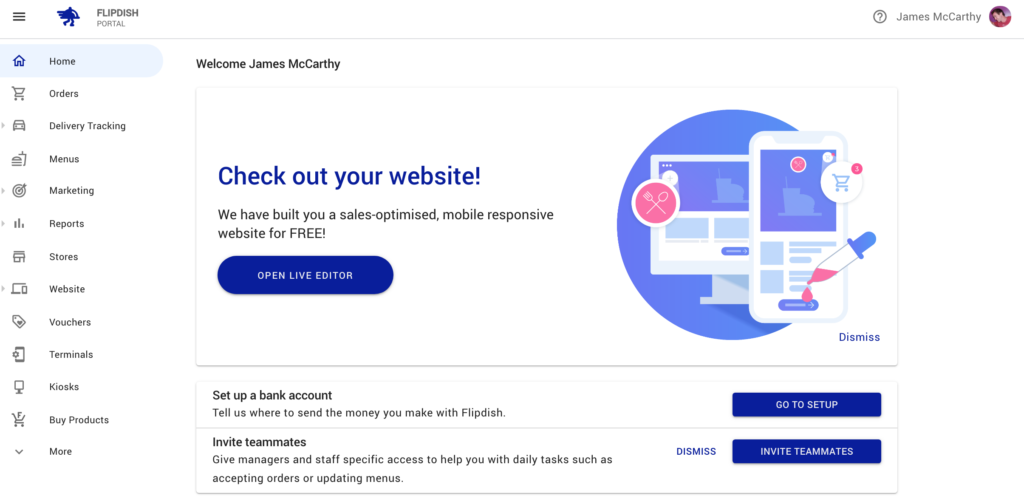 The user-friendly drag-and-drop interface makes it easy to quickly customise your restaurant website and update it as you grow.
You get the benefits of a tried and tested ordering platform while providing your customers with the experience of a custom-built website and app. Plus, marketing and loyalty programmes are built into Flipdish: another thing you don't have to worry about starting from scratch.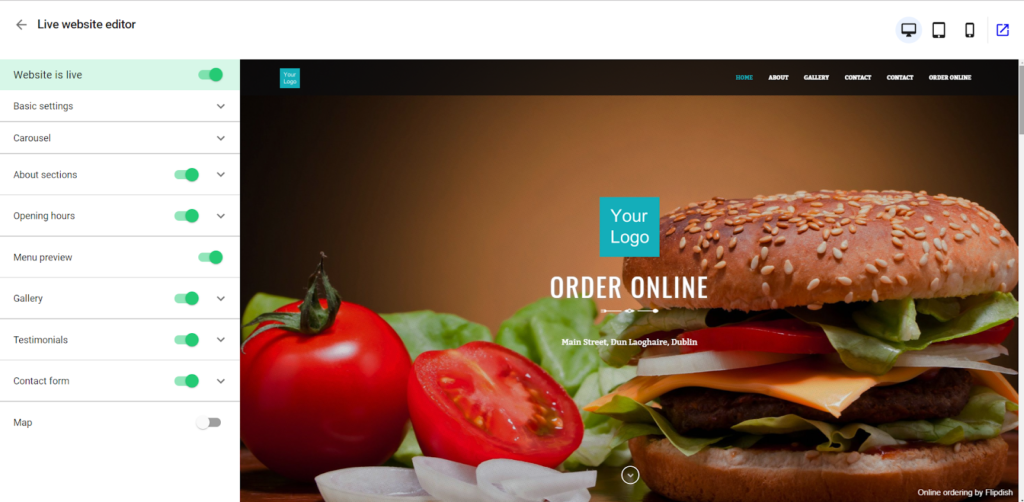 Flipdish is in your corner. You only pay for the orders you receive which means you're not paying unnecessary fees during quieter times. What's more, it means when you succeed, we succeed with you. So it's in our interest to help you attract as many customers as possible.
Instead of paying up to 30% of your potential profits to third-party ordering services, you can start for free with Flipdish. Then when you are ready to start taking orders, you will pay a fraction of what the aggregators charge per order. The best part is, you control the quality of the delivery process from your kitchen to the customer's front door.
Sign-up for a free account today and get your restaurant's website up and running in minutes.
Want to read more about some of the reasons your restaurant should offer an online store?


Click below to read more about what Flipdish can do for you:


Interested to learn more about how Flipdish can help you business?