Welcome to Flipdish's Summer edition of The Dish. It's been quite a first half of the year. Months of working to better understand our customers, taking on a shift or two in the local takeaway, and building and launching great new products. All while working on some updates to the Flipdish brand. In the coming months, you may notice that we may look a little different but, don't worry, it's still us on the other side. In fact, it's the most 'us' we've ever felt.
So, without further ado, let's dig in 🍴.
🖥️ The Flipdish Point of Sale: Your all-in-one restaurant management system
Introducing the Flipdish POS, your go-to management tool that packs everything your restaurant needs into one intuitive system. Built by quick-service restaurant owners that know exactly what you need (and what you don't), the Flipdish POS gives you visibility across your entire business and helps you run smooth front and back-of-house operations. Since its launch into the UK and Irish markets at the beginning of the year, we've added further improvements. Let's check them out 👇

Payment over the phone via SMS or email
Make it easy and secure for your customers who call in their orders to pay you via a link you send by SMS or email. That way your customers don't have to share their credit card details with you and you can reduce your reliance on drivers taking payments for delivery orders. Bonus! Your customers will be able to review their orders, add more items, and add notes.

Accept online orders manually or automatically
It's no longer required to use a separate terminal to accept online orders. You can now accept orders manually from the till, and even add time when your store is really busy. Or if you prefer, you can auto-accept orders so that they go straight to the kitchen. Plus you can control how you accept those orders based on the time of the day, the day of the week, or the dispatch type.
New reports to understand your business better
The new Customer Sales Analytics report helps you deep dive into a specific customer's activity - like total sales, last sale, and sales by location so you can gain a better understanding of an individual's behaviour, or even gift/reward them a voucher or reward points.
With the VAT Analytics report, you can quickly generate a summary of your store's VAT payments and show comparisons across different storefronts, dispatch types, categories, etc. saving you time, stress and hassle when it comes to the dreaded VAT return.
The Sales Tips Analytics report helps you identify how much customers have been tipping you by venue, dispatch type, operator and server. That way you can compare sales channels and more easily determine what amount needs to be split out between your staff.
If you have multiple locations, you'll surely appreciate the new Sales Overview Analytics report which makes it super easy for you to see your sales by store. It's a great summary of all your sales totals, whether you're looking to understand how much you're making per storefront, venue, dispatch type, payment method or how much you're giving away in discounts and refunds.
💻 Online Ordering: Bigger baskets, better conversion and turning one-off orders into loyal returning customers
That's what it's about at the end of the day. For your customers - quick, pain-free ordering. For you - increasing average order spend and generating repeat orders.
Cross-Selling: Web Ordering and Kiosks
When a customer orders from your website, or comes into a store and orders via Kiosk, they'll be shown a selection of menu items before checking out. Usually a side, drink or something similar. What does this mean? In just a couple of clicks, and a nudge in the right direction, an order can go from €20 to €25 - putting more money in your pocket at the end of the day.
ReOrder Button: Web Ordering
The ReOrder button means your customers can now place their order in as little as two clicks. Sitting above the menu or before they choose their store a simple button will show their previous orders - helping them select and checkout even faster than before. A better (faster) experience for your customers, and an increase in successful orders placed for your store, what's not to love?
Loyalty progress: Web Ordering
Your customers can now view their progress in a Loyalty Campaign at a much more natural point in the ordering flow - right before and after checkout. Loyalty cards and animated stars show clear progress in the campaign which means no more digging through old SMSs to see loyalty progress. Everything is viewed within the order, within the menu. Better experience. Happy returning customers.
Order Status: Web and App Ordering
Order Status brings a modern and familiar experience to your customers when viewing the progress of an order. Upon checkout, they'll see an animated progress bar at the top of the screen. They can check this page again and see it animate and progress further. This should mean fewer calls to your restaurant asking where the order is, so you can focus on the good stuff - cooking great food.
💅 Kiosks: A total makeover for the Kiosk menu just in time for Summer
From starting the order to checking out, your customers will get a market-leading experience (all while not having to wait in long queues), and you'll get an in-store digital menu that represents your brand in the best light possible. You can check out the full details of this redesign in our launch blog here, but some quick fire highlights include:
Improved customisability
Better navigation with new categories module and item cards
Faster ordering speeds
Improved checkout experience
⚙️ The Flipdish Portal: Supporting better decisions, smoother operations and more…
While menu design, customer experience, and everything in between are obviously important, we're conscious of the things that make your business tick day-to-day. Reports, data, and operations. So, let's take a look at what's new and how it can help you manage your restaurant.
The new Store Ops report gives you the superpower of being in multiple places at one time. With this report, you can get a detailed look at your online ordering performance across multiple stores all in one place. The report provides an overview of when store hour overrides are used, which stores are the biggest users of that feature, and a clear visualisation of the busier and quieter times for orders at each store for your online ordering.
The Flipdish Phone Marketing (FPM) report gives you a full breakdown of all your FPM orders. Get an instant summary, in easy-to-read charts to understand the ROI you get from using this great free tool. New to FPM? It allows you to convert phone calls into online orders by sending your customers a link via SMS once they've called in. This eliminates missed orders if phone lines are too busy and can free up your staff to focus on other tasks.
🔍 The Flipdish Terminal: Search fast, quickly and easily….
The introduction of Search on Terminal means no more scrolling through a list of orders on the Terminal while trying to manage 100 other things on a busy Friday night. Now, you can quickly find an order based on Customer name, Order ID, Customer phone number, and Customer address. Time saved, stress halved.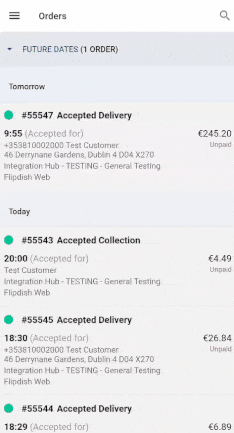 🚀 Big things coming….
As we move into the next 6 months, we'll be working hard to continue to give you the tools to manage your restaurant efficiently, increase your bottom line as much as possible, and provide your customers with the best ordering experience online.
A sneak peek of what's to come 👇
Next generation of Websites
Refreshed and improved design of our Mobile Apps
Voucher & reward improvements