An Interview with Simon Lamont – The Lazy Chef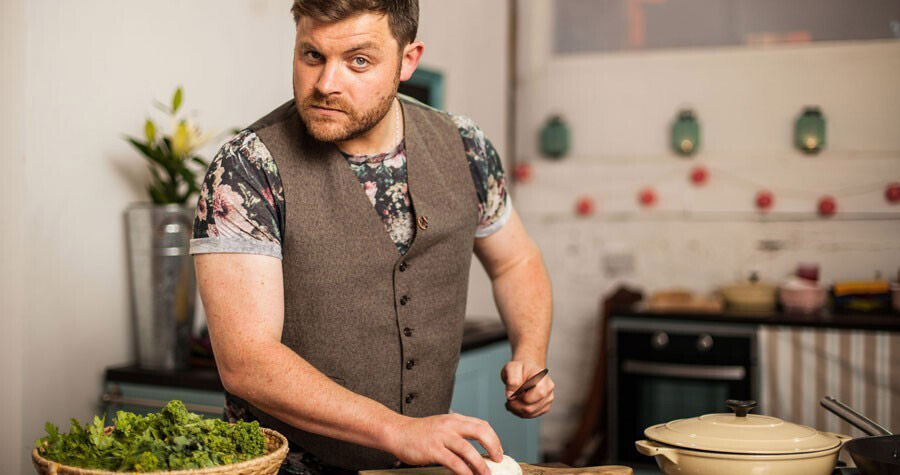 TV3's "The Lazy Chef" Simon Lamont is quickly becoming one of the most recognisable faces on the Irish food scene. He talks about his journey as a chef so far.
How did you come to be a chef in London?
I smashed my knee playing rugby, and lost my job in Dublin. We were in the grips of recession and things were bleak. I had no other option but to leave Ireland. Once my knee could bare weight I got on the first boat to London. I did a quick hazing in River Cafe before landing my job in Wright Brothers, were I started as a Manager. I'm now the chef of Shuck (@shuckldn) a splinter cell / pop up for Wright Brothers.
What are the main differences between living and working in London rather than Dublin?
Living in Dublin is about work and play. But you can get away from it all too; the mountains, Howth head, Dun Laoghaire. London is work, work, work, work, work, work. And then squeeze in a little bit of fun , if you have the energy! Don't get me wrong, its a blast! But can be draining at times.
How did you come to be 'The Lazy Chef' on TV3?
It sort of happened very naturally. I always wanted to tick the food TV show box and when the opportunity arose, I grabbed it. Basically a TV producer was introduced to me at a little diner club and we got talking. 18 months later we did a pilot, 2 years later we started filming. Long and slow process, but very enjoyable and worthwhile. Who am I kidding: it was bleeding deadly, great craic!
Will we be seeing you again on Irish screens?
Yes, soon. We hopes.
Where would you like to be in 5 years?
In 5 years I'd like to have one foot in Dublin, one in London and one in Athens. That's 3 feets, or foots (?)….
Business-wise, I'm really enjoying this new venture – Shuck. But have plans for a couple of projects in the works in the aforementioned cities.
How would you describe yourself in 3 words?
Fun, hard working, loyal.
Did you always want to be a chef as a kid?
I wanted to be Luke Skywalker as a kid. Jamie Oliver turned me on to food at about 15 years of age. Started cooking in restaurants and then did the Culinary Arts Degree in DIT.
Did you deal with negative people when you were starting off?
It's a real issue, unfortunately. There is a genuine go-get-them attitude in London, and maybe due to the size of Dublin there can be some naysayers. If you want to make it as a chef or restaurant manager in Dublin just be yourself, don't BS people, back yourself, stay true to yourself. Your allies and networks are important, so invest time into that too.
What time do you wake up in the morning?
6:30am, and I'm in bed at 1:30am, if I'm lucky.
How would you describe your relationship with food in 3 words?
Curious, passionate, messy.
What is your favourite dish to make?
Chargrilled Veggies with burnt onion creamy dip.
What did you have for dinner last night?
I had oysters and ramen noodles, not together though.
What was your last take-away?
Lamb Kofta, humous and flat bread.
I order from home about 3 times a month.
What would be your perfect food day in Dublin?
Walk on Sandymount strand, coffee in Grand Canal dock. Seafood lunch in Super Miss Sue. Chill out in Hugh Lane Gallery for the afternoon and then meets some friends for drinks in the Flowing Tide or Toners. Head over to my bud Barry's place Juniors or squeeze in at the bar at Etto for some great food and lovely wine.
What would be your perfect food day in London?
Breakfast at Dishoom, chai tea and bacon naan.
Brixton market for a mid morning stroll and snoop around.
Lunch of tapas in José in Bermondsey.
Afternoon pints in the Rake in Borough Market.
Early eve snack of Cerviche in Martin Morale's Cerviche Bar in Soho and then some handmade noodles and spicy cimon lamb in my local Chinese, the Legendary (!!!) Silk Road in Camberwell!!!!
Who are your influences?
Keith Floyd as a role model, but I've also worked with some legendary people who have changed the course of my life massively. Im getting all choked up now!
Who's your favourite celebrity chef?
Tricky one… I'm going old school on this one.
Rick Stein and Darina Allen.
What are you reading at the moment?
Vefa's Kitchen. All you need to know about Greek cuisine.
What book would you recommend the most?
Setting The Table by Danny Meyer. Changed the way I run restaurants.
What's your favourite tv program at the moment?
Chef's Night Out, google it.
Love a bit of River Monsters too!
What advice would you give yourself at 15?
Listen to your Mum and Dad.
Thanks Simon, best of luck with the new ventures!
You can follow Simon on Twitter @simonmlamont or on Instagram @simonmlamont.
Interested in a free Flipdish demo? Contact Us about our online ordering system.