An Interview with Adam McMenamin – Two Fifty Square Coffee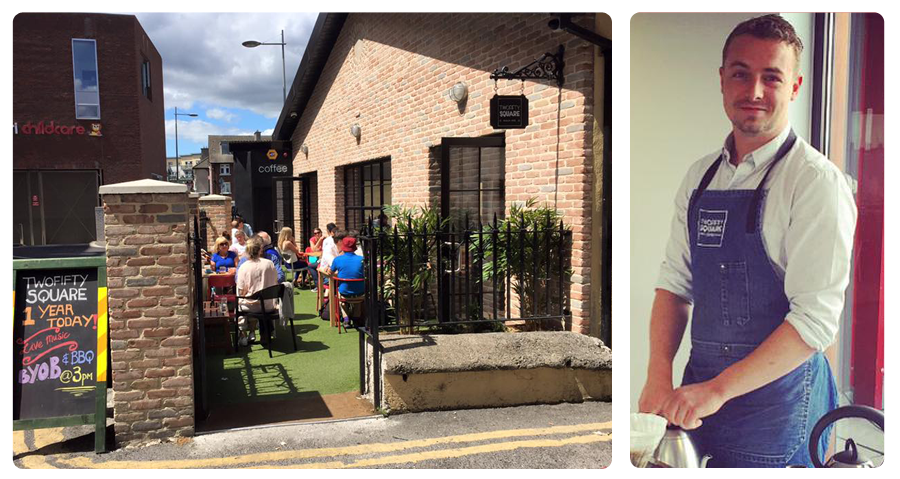 What's the story behind Two Fifty Square?
I got obsessed with coffee when living in Melbourne, one of the best coffee cities in the world. I took a lot of ideas from there and put them into Two Fifty Square. We have the roaster in-house and we have the wholesale coffee side of the business. I wanted to make it easier to get a good coffee in Dublin. It was definitely harder to get a good coffee here than it was to get a bad one but that's changing.
There's the retail and wholesale side to the business, is there an ecommerce element too?
Yes that's currently under development. We will do monthly deliveries of 4 different types of coffee. We want to showcase different types of exotic beans.
Tell us about the wholesale business.
On volume of kilos going out the whole sale is bigger than the retail side. We have 14 wholesale customers who take weekly deliveries ranging from 4 – 20 kilos. We will have all those places listed on the website. And we also do office delivery of beans. We'd do about 300 kilos a week, but it's nowhere where it could be.
Where did the name Two Fifty Square come from?
It's the size of the building – 250sqm. A lot of names were thrown out there but we settled with that. It's hard to remember but I didn't want to call it something stupid like "Adam's Café". Haha.
What did you do before you started Two Fifty Square?
Back in the boom times I went straight from school into the workforce. I used to sell and install vacuum systems in new builds. That was going great for about 4 and a half years. I was planning on buying an apartment and living in Dublin forever. I had no travel plans whatsoever. And then my phone stopped ringing. There were no jobs coming in. So I booked a flight to Australia and left 6 weeks later. It was snowing when I left and we arrived into the 30 deg heat of Sydney. After a while there I moved to Melbourne where my uncle lived and did construction. Then I got a part time job in a coffee shop which I loved. The owner knew I didn't know anything at the beginning but he got to know me and he eventually opened up and taught me all about the business. I did that for 5 years. There's constantly new machines, techniques and beans. There's a lot to learn.
Did you deal with much negativity starting off?
There's people that wouldn't know any better that complain about the price. It's superior coffee and I think it's too cheap. There's so much more to coffee than the mass-produced stuff most people are used to. There's so much love and hard work that goes into each cup. I absolutely believed in the product that I wanted to scream it from the roof.
How do people hear about the cafe?
We don't have a website, we're off the main street and we started off with no kitchen, just a borrowed house dishwasher. Every Sunday we closed and I'd work on the building. I don't know how we survived. We didn't advertise. People just came.
How long did the building work take?
It took 1 year to do all the construction work with 2 other builders. We didn't use an architect. We couldn't afford one. I had a very clear vision and 8 USB sticks full of photos I'd collected from New York, Melbourne, Singapore and my own ideas that I though would be cool.
What would your average day look like?
I'm a part time barista now. I thought Id be working in the café 40 hours a week but I spend most of my time on other stuff. The kitchen almost runs itself but we have a weekly meeting. It was a bit hectic for about 6 months at the beginning. I hope the customers didn't notice. But now everything is systemized and the staff have worked hard to get it that way. Most of them have been here from the start.
Working such long hours would you get takeaways?
Yea Camile Thai or an Indian. I think my last one was Neon on Camden Street actually. They use good quality ingredients, real coconut milk. Not every place does.
What would be your perfect food day in Dublin?
Beats by Ray at Green Beards, then Bison Bar and finish it off with a few cocktails at the Vintage Cocktail Club. But to be honest I don't eat out much.
What does it take to be successful in business?
A total love for what you do.
What are your main influences?
Melbourne City. I have a lot of love for the place. They're doing a lot of good coffee over there. My dream day there would be 4 coffees in different places. I used to do tastings all the time over there.
My family has been great too. They keep me going on the tough days.
Knowing what you know now what would you do differently starting the business?
I'd have a clear divide between work and downtime. The important things are family and loved ones. Don't lose track of what's important.
Are you planning to open another location?
Maybe a small takeaway place. A tiny place. 10sqf would do me. We're considering doing food in the evenings here too. There's huge potential. There's a lot of people out on the main street looking for something to do.
Thanks Adam and congratulations on the café!
Visit Two Fifty Square for more info or follow them on Twitter or Facebook.
Interested in a free Flipdish demo? Contact Us about our online ordering system.