44% increase in average order value at John Dory's since joining Flipdish
Since 1984, John Dory's has been serving up fish and chips to a growing and loyal customer base. Now at seven stores, and with another on the way, the much-loved brand has utilised Flipdish technology and support to grow digital revenue, increase order value, further nurture customer loyalty and build its brand.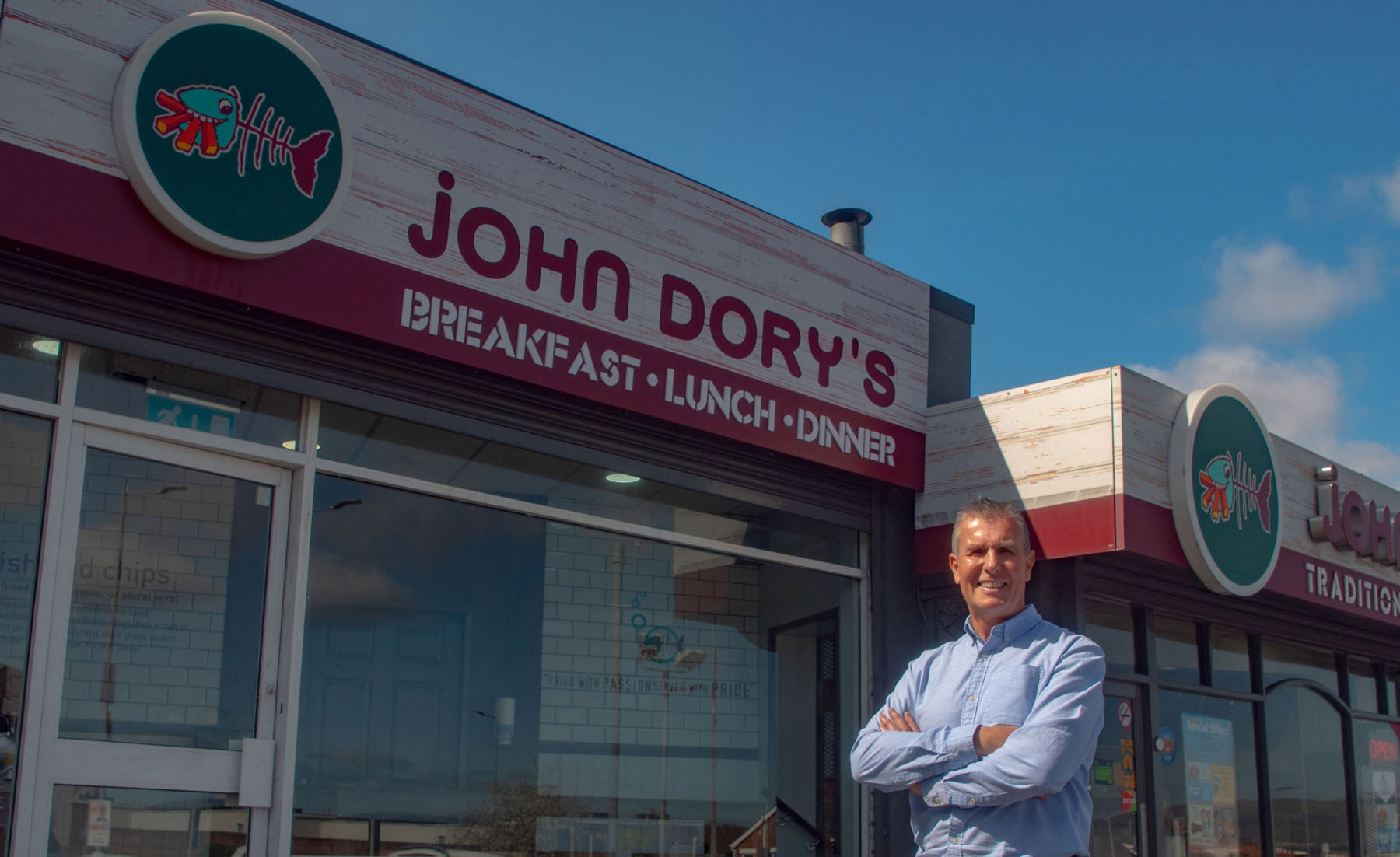 "The best part for us is the person-to-person contact, the immediate access to somebody. If I picked up the phone today, I could phone up my manager from the Managed Marketing team. I could phone up our designer who would design the ads for that together. I love that person-to-person contact."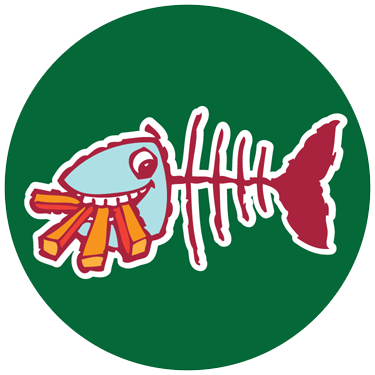 Business type

Takeaway

Location

Belfast, NI

Number of outlets

7

Famous for...

Fish and chips
Start with Flipdish

2020

Owner

Mark Polley
'Consolidation' has been the guiding word at John Dory's over the last few years. Since 2020, the family-run business has embraced digital ordering and works closely with the Flipdish Managed Marketing team on advertising and brand building.
"We see online ordering as being the future. We've seen such a change in the way businesses operate and we would have been predominantly walk-in based customers and some phone-in customers," says director Mark Polley.

"Nowadays customers look down on their mobile phones. It's just a way of the future. We were very fortunate that we got in pre-pandemic because our business changed dramatically overnight."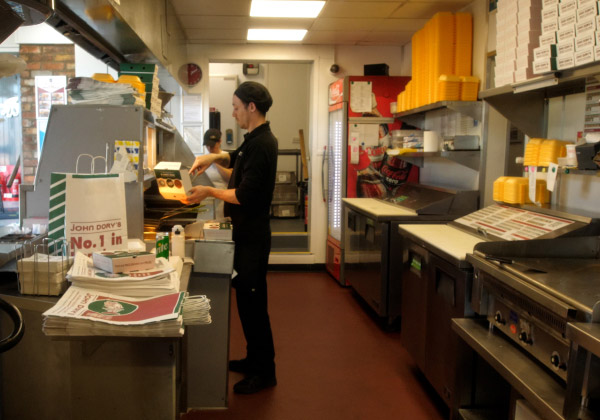 Improved operational efficiencies across 7 stores
It was Flipdish partner Kepak who originally recommended Flipdish as a technology partner to John Dory's. "There's an online integration between our POS and Flipdish, which makes our operation much smoother. And we wouldn't have had that from a third party," Mark explains. "So that was a big bonus for us. Everything's about communication."

One of the big issues John Dory's had with seven shops was the reconciliation of daily accounts. "We changed from a situation where our managers would really have run each of the shops. They would have paid all the bills each week and they paid the staff each week. And that changed overnight. We were a business that would have generated a lot of cash, which came with its own risks in terms of security. We became a business operating from two credit cards on prepayments with our Flipdish-powered app."

John Dory's restaurant app drives loyalty
Prior to joining Flipdish, John Dory's looked at other restaurant app developers. "We just weren´t comfortable with where they were in terms of their evolution. Our app now is very much John Dory's powered by Flipdish. We're grateful for the experience they bring."
Mark cites migration to app orders as the greatest triumph so far: "I think our biggest success really has been that 20% of our customer base now is ordering through the app."

"Customer loyalty is very important for us and the app has a tremendous opening offer in that if you sign up to the app, you get 20% off your first order and every tenth order free. So that's immediately recognised. We find that has probably been what has driven the app the most."
Flipdish Managed Marketing is a true partner
Mark and his fellow directors work closely with the Flipdish Managed Marketing team for Google Ads and social media marketing. "It's a real bonus because it took that pressure off us. We all dabbled in social media, but we aren't experts by any means," he explains. "We felt we needed a dedicated team, which Flipdish were able to offer us. They offered us a very young, dynamic team who are very savvy with all the social media aspects."
Mark is quick to credit how the Managed Marketing team is able to react quickly and with a simple, structured process. "We have a designated team who look after us and we have a weekly meeting with them, usually on a Thursday morning. We plan the content for our calendar for the next two weeks and those ads will be social media ads which are run on Facebook and Instagram and we would run promotions from time-to-time through Google or through our websites. It's a structured approach and they really take care of all of it for us."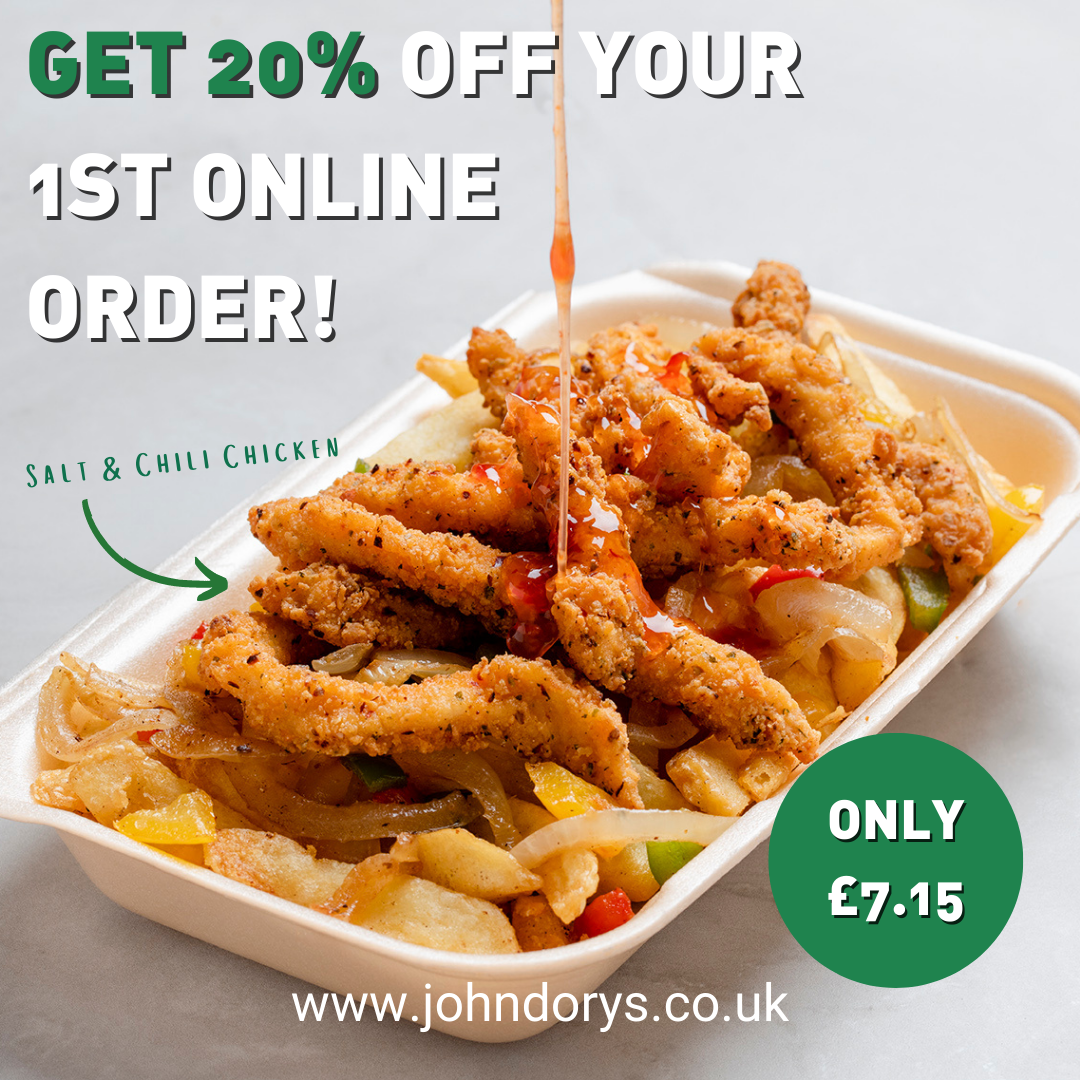 John Dory's runs a mix of targeted ads and content with Flipdish Managed Marketing, including staff hiring ads, competitions, highlighting particular products or comments from customers. Since starting with the team, John Dory's has increased its customer following from several thousand up to 10,000.
Brand building has been essential in all promoted activity. "I think from an early stage we realised that people were perceiving us as a brand. So it wasn't 'we're going to get fish and chips, it was 'we're going to go and get a John Dory'. And that took a long time."
The business previously achieved this through a mix of traditional marketing competitions and by winning awards, such as National Fish and Chip Shop of the Year. "All those things helped to develop a brand and our brief to the Flipdish Managed Marketing team was to keep pushing the brand. Yes, we have to promote products, we have to run competitions, but it was all about building the brand."

Immediate person-to-person access is a big selling point
Mark is quick to praise the human touch of the Flipdish service. "I love the personal aspect. I phone up my helpline, I get an immediate person-to-person service, and that's really helpful for us. We can deal with things very quickly, and we can make changes on a daily basis if we need to."
"The best part for us is the person-to-person contact, the immediate access to somebody. If I picked up the phone today, I could phone up my manager from the Managed Marketing team. I could phone up our designer who would design the ads for that together. I love that person-to-person contact."
Mark contrasts this service to the service at third-party food delivery apps. "With the aggregators, I don't have that flexibility and we very much are at the mercy of when their team gets around to making any changes. Things can take weeks. And again, I don't have one person I can phone up who is my partner to organise that for me. That's the flexibility I get with Flipdish."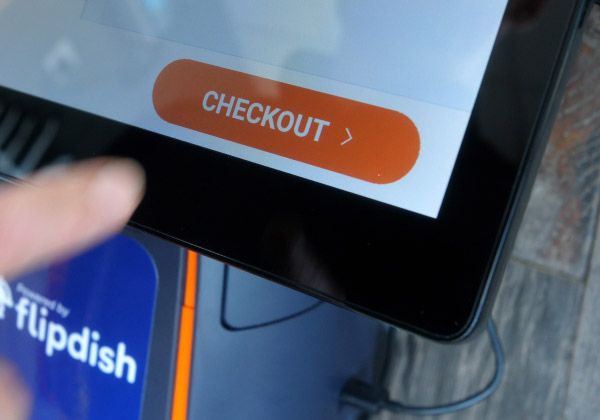 Restaurant kiosks are the future
John Dory's has recently introduced restaurant kiosk technology. "The kiosk is a new venture for us," explains Mark. "But again, it reflects the way people order and it´s convenience. Some people do like the personal contact but customers, by the majority, want less contact. So this gives them the option to come in and use a touch screen, put their order in, wait in their car, and then come in and collect the order when it's ready. I think generally people tend to order more online either on a web platform, on an app or on a kiosk."
This has certainly been the case at John Dory's, where average order value has increased 44% since introducing digital ordering. It helps that with kiosks prompts are automated. "I think there's no doubt if the kiosk is set up properly and it is very visually attractive, then people will scroll through it and they will tend to order more. We also have the option of prompts, you know, 'do you want to drink with this order? Do you want to add onion rings?'"
Kiosks are influencing the design of the eighth location. "I may well just decide not to allocate space to a till at all," Mark says. "I may just put a kiosk there, maybe two kiosks, and people come in, put their order through on the kiosk and there'll be no immediate or direct communication between customers and the staff."

The technology will roll out into every new site John Dory's opens. "It's hard to change customer's habits. It may take a bit of time to build that up, but each time we do it, we'll learn and we'll read it forward and will do it slightly differently."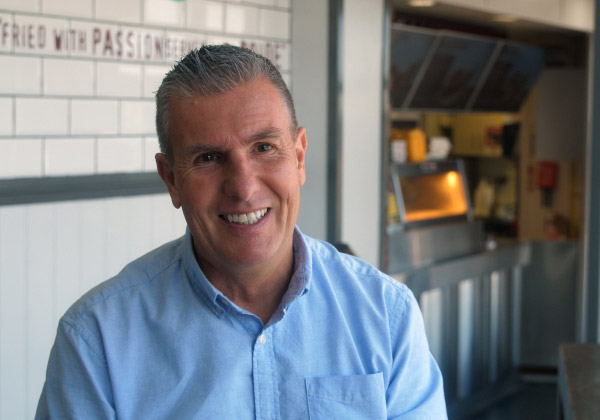 Want to grow orders with your own branded website, app and kiosk?
Talk to sales