An interface-lift for our Kiosk menus
Over the last number of months our product and design team have been busy at work researching, understanding and building what we believe is the biggest update our Kiosks have seen since their initial launch.
An end-to-end redesign of our Kiosk menu elevates the in-store ordering experience to new heights. Designed with takeaways, QSRs and of course, your customers at the heart, we're proud and excited to bring you a design that is sleek, logical, and of course, can be branded - putting you in a position to compete against the big names and big chains.
In this blog, (or video below if you prefer to watch!) we'll walk through some of the key elements and stages of the ordering flow that we've improved and what it means for your business. Let's dig in 🍽️

Home screen: Engaging customisable design to entice your customers in
Clear, engaging, and customisable. That was the goal of the 'touch to start order' screen. Entice your customers in (and keep them away from the counter!). We made it super clear how to start the order, and wanted to show off your brand right from the beginning. Now, being able to customise elements like primary colours and images mean your Kiosk can seamlessly blend into the feel and experience of your store - while still maintaining the practical and functional elements it needs to do its job!
In short - it doesn't just look good, it works well too.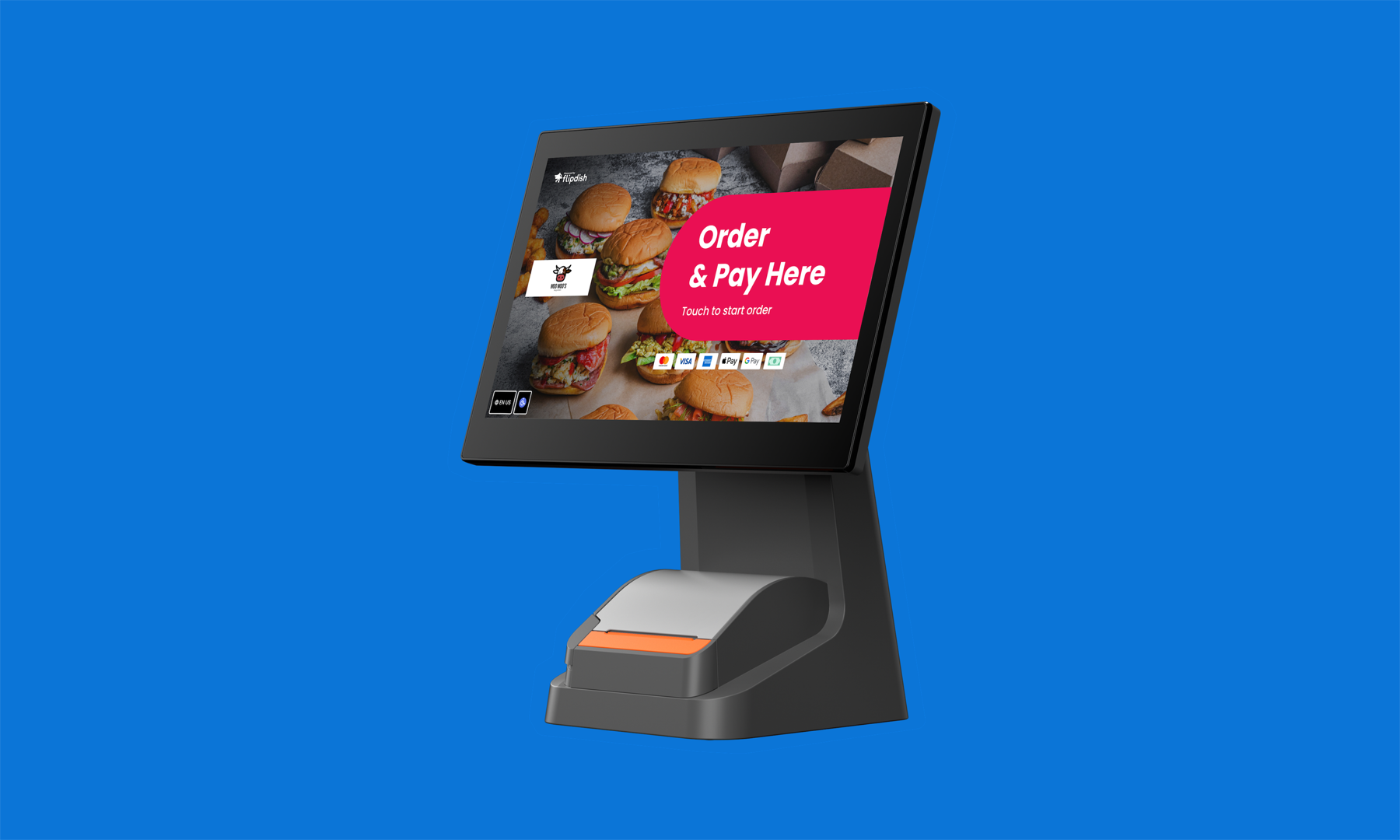 Main Menu: Simpler navigation, clearer imagery and fine-tuned details…
When redesigning this customer experience, we wanted to make sure your customers could easily find their way around the menu, we wanted to increase (and speed up!) conversion and also reduced the chance of abandoning orders or carts. In order to improve these areas, we added the 'Categories Bar', added clearer more engaging 'Item Cards' with big images and clear text to stand out, and an overall more understandable experience as your customer adds items to their order.
We also looked at the smaller details, like buttons, and toggles, to ensure even the finer details support your customer when building an order at the Kiosk.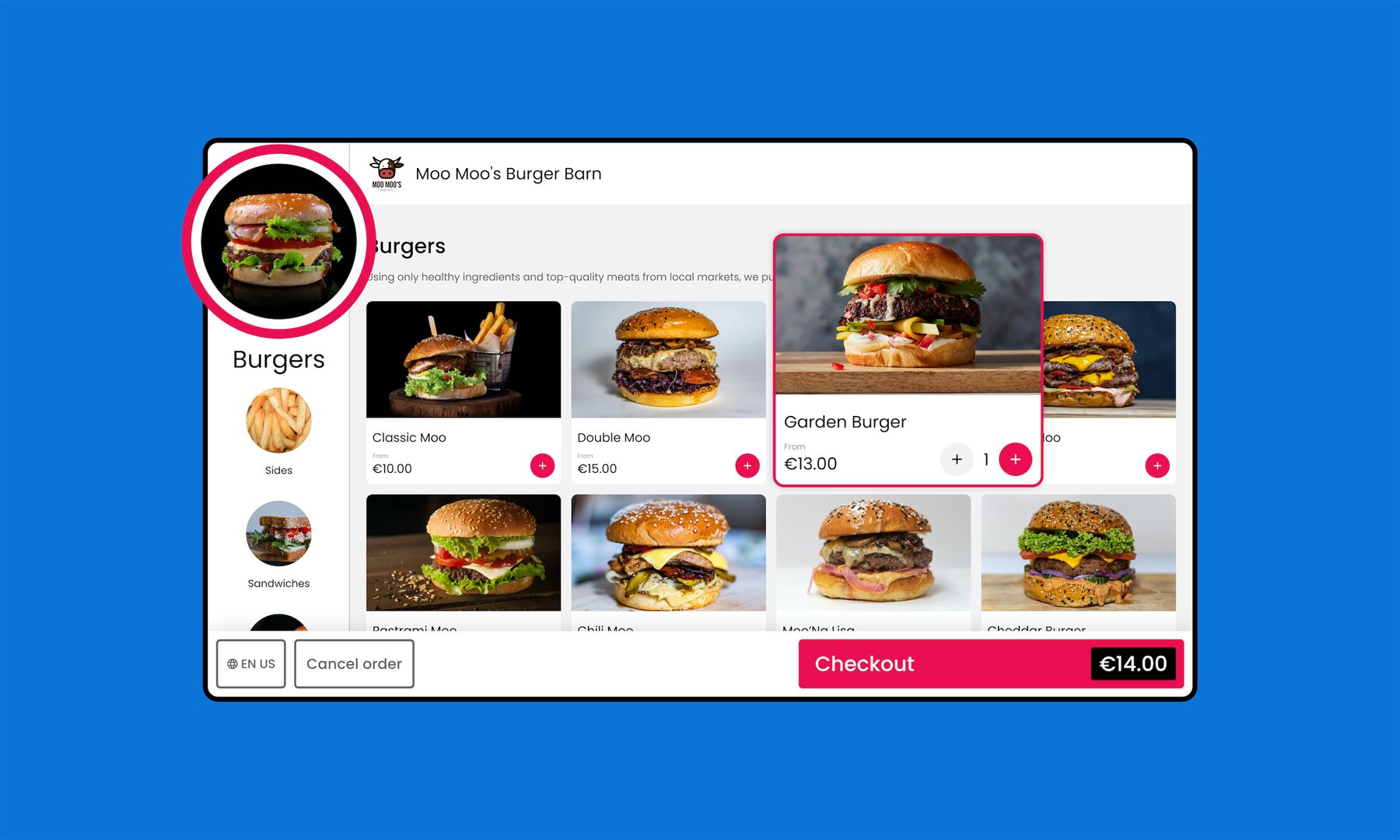 Meal Deals: Guided, step-by-step process for pain-free ordering
Built for takeaways and QSRs we wanted to ensure things like meal deals and customising items we're catered for in a meticulous fashion. Redesigning this part of the ordering process, we put emphasis on guiding your customer through the order. As items are added to the meal deal, the menu will 'guide' your customer through it, requiring very little action or searching for the next 'add-on'. This page is clear, legible and easy to navigate ensuring that errors on meal deals or orders with more 'add-ons' are kept to an absolute minimum saving you and your customer stress and anxiety. Check out the improved version below 👇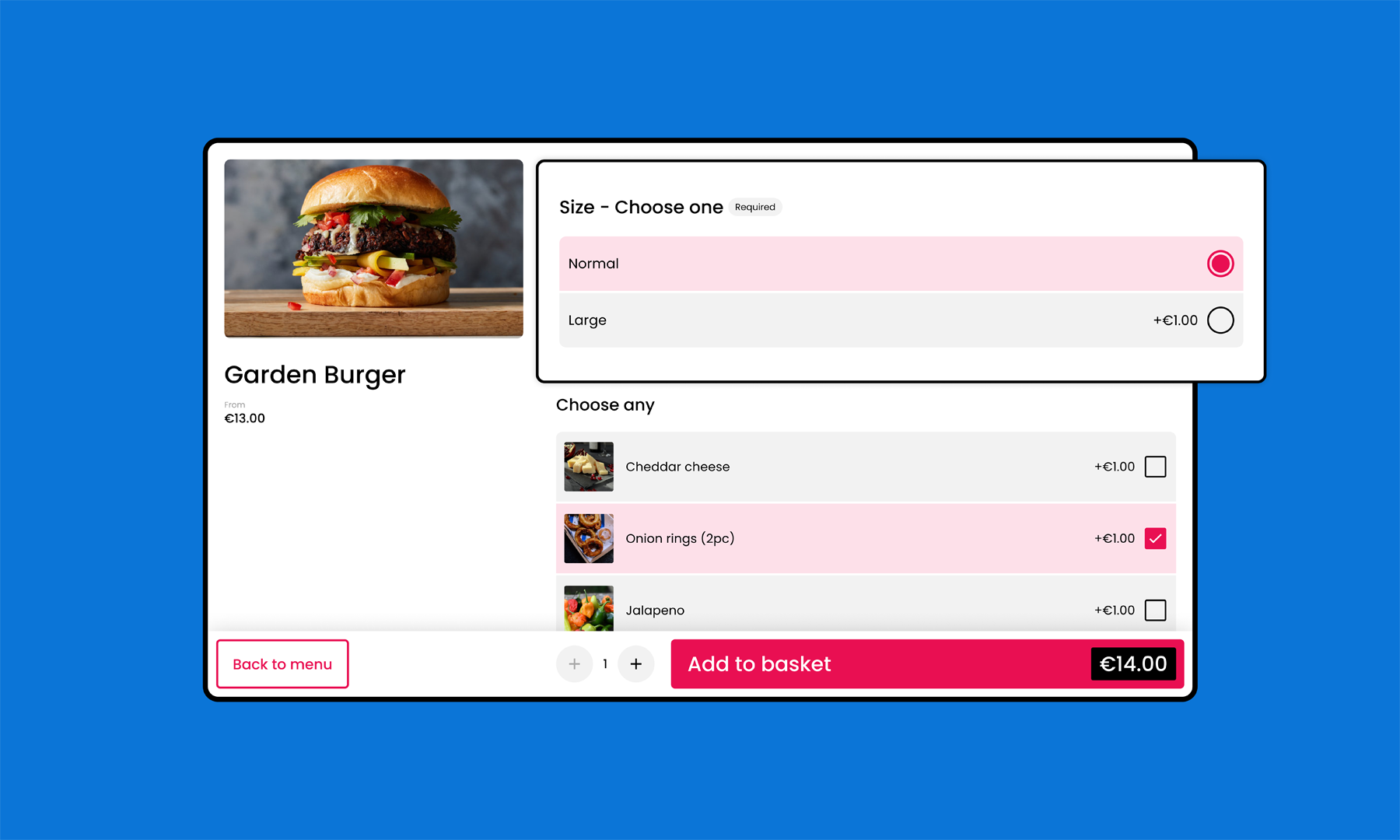 Checkout: Improved experience which saves time and eliminates frustration
Our goal in redesigning the checkout experience was to ensure that the final step of the process didn't slow things down or worse - cause your customers to abandon their orders.
We made improvements to make sure order error was kept at a minimum and checking-out speeds were kept high! This came in the form of improving how we display the order info, and adding the capability of editing an ordering within the basket. No more going navigating all the way back through the menu to change one thing on an order.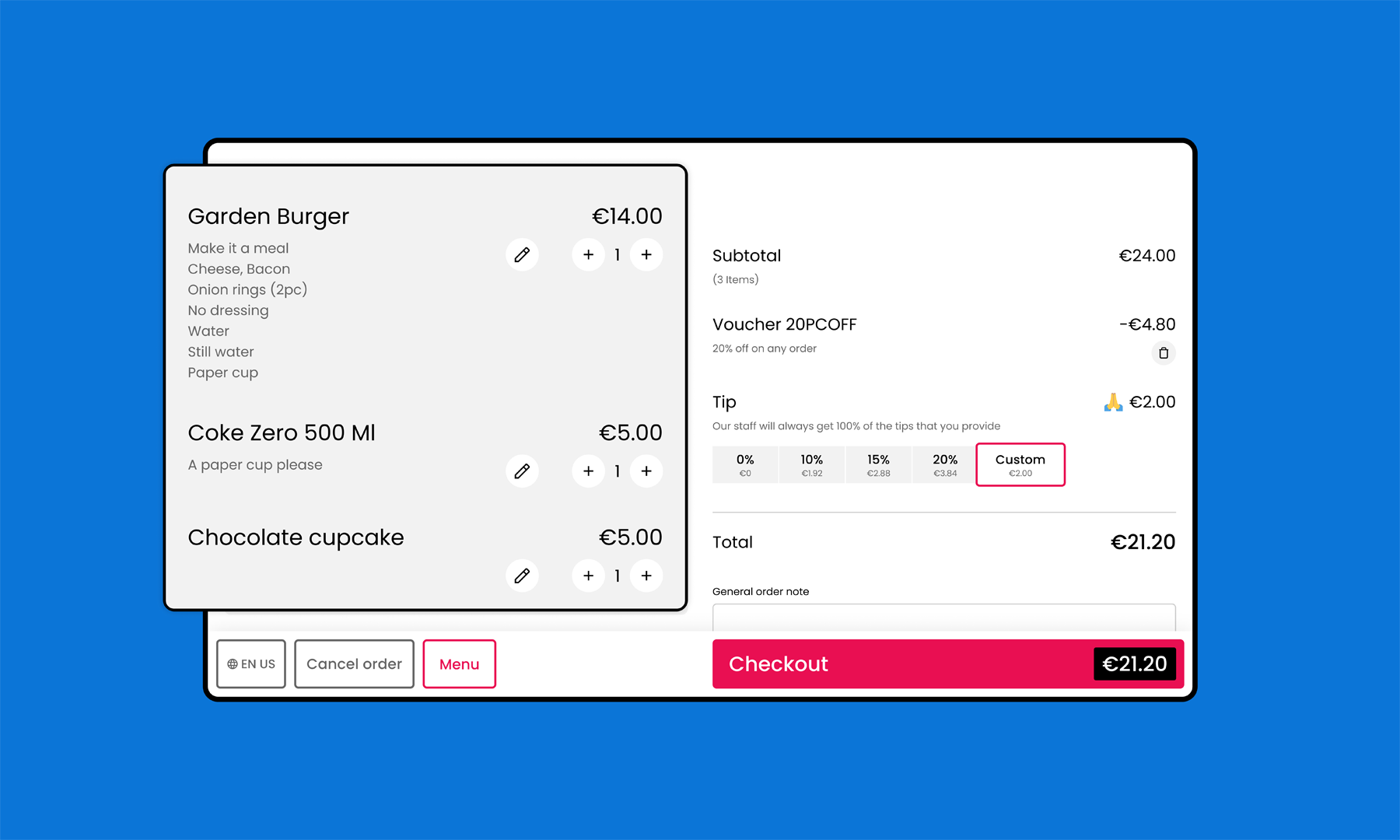 New tipping design: Encouraging more tips, eliminating surprises and thanking customers
We've significantly improved the look and feel of our tipping module. We've added predicted values to show customers what that % tip equals on their bill - eliminating any surprises upon checkout. And when adding a custom amount, customers will be kept on the same page with 'in-context' windows, removing any unnecessary jumping back and forth between pages.
Finally, a nice-to-have, we added emoji reactions based on the value of the tip which adds a nice 'pat on the back' for your customer.
As a reminder: you can manage, control and edit what tipping values you want to display from within the Portal. Check out how you can do that here!

A new lease of life for recent updates
We've released some great features over the last number of months, and like all other parts of the Kiosk menu - we're in line for a redesign too. Let's check out what changed and take another look at how they can help your business.
Cross Selling
More items per basket mean more revenue for your store and more money in your pocket. What once was a €20 order, can now be a €25 order in just a couple of clicks. We've added Cross-Selling functionality to our Kiosks so that right before checkout, your customers are shown 6 recommended items, like drinks, sides or similar, which they can easily add to their basket.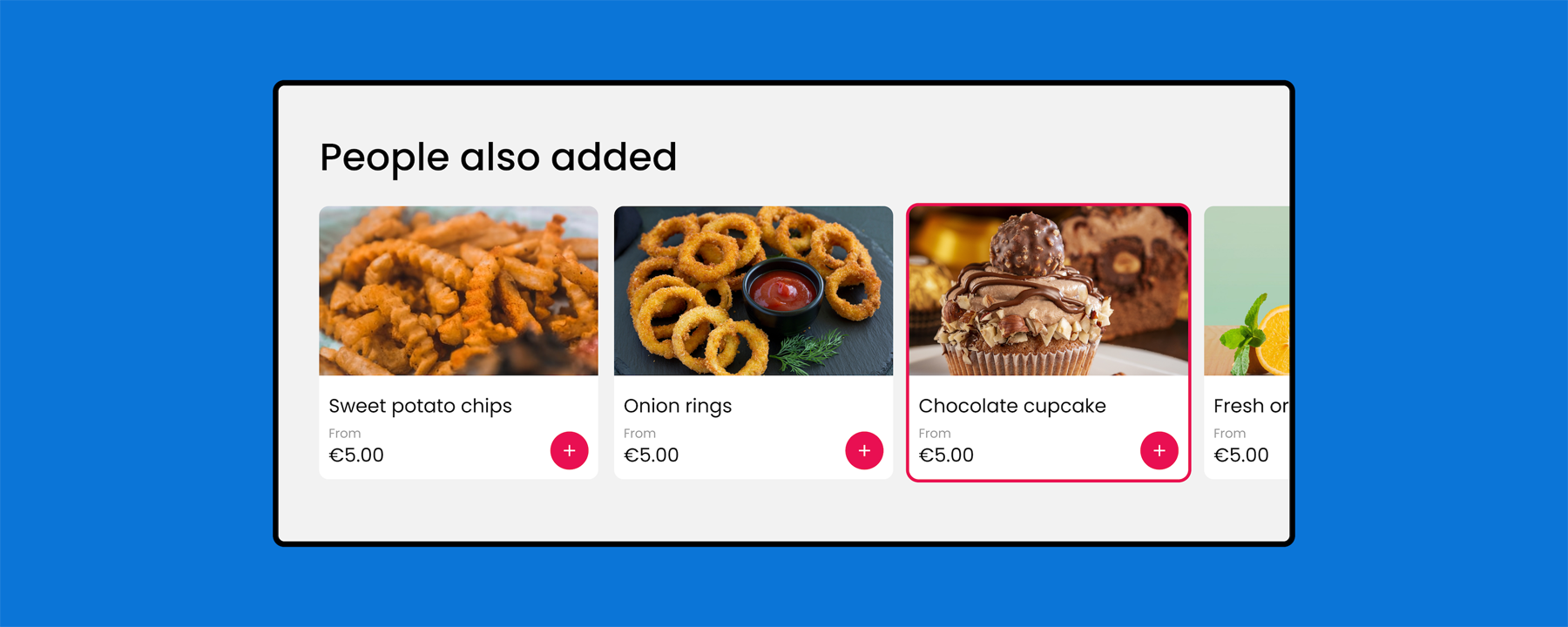 Loyalty & Vouchers
We understand that happy returning customers and repeat business are significant elements of a healthy bottom line, so in an effort to support that, we redesigned and made it easier for customers to apply vouchers upon checkout and improved how they engage with your loyalty campaigns. What does this mean? Growth in your loyal customer base and an increase in repeat orders to your store.
As a reminder - here is how to set up a loyalty campaign.

Tipping Configuration
We've given you more control over how your customer views and engages with your tipping values. Now, within the portal, you can view, edit and manage the tipping values that are displayed upon checkout. Choose your preferred values, choose the pre-selected amount, and increase your tips!
Find out how to manage your tipping values here.
Order up….
The newly designed menu has begun to roll out to all Kiosk customers from today and we're really excited to hear your thoughts, feedback and any questions you have on the fresh new look. We've made a diligent effort to focus on what makes a great in-store ordering experience for takeaways and QSRs, and we're confident your customers will love it.