A cautionary tale for restaurant owners: John DiLoreto explains all in this new video interview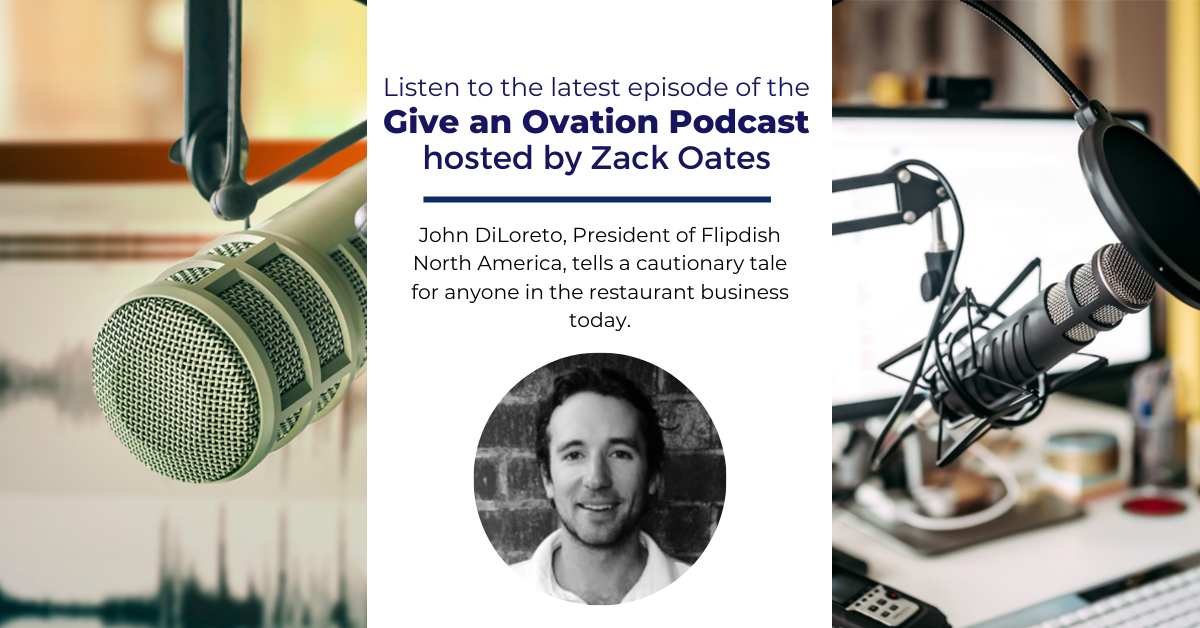 Today we are sharing a new episode of the 'Give an Ovation' podcast and YouTube show in which John DiLoreto, President of Flipdish North America, tells a cautionary tale for anyone in the restaurant business today.
In the year 2000, Toys "R" Us partnered with Amazon, and in doing so allowed another organisation to take ownership of their customer relationship. The rest is history - and it didn't end well for Toys "R" Us. Restaurants and chains who allow marketplaces and aggregators to do the same now could face a similar fate.
John was speaking to host Zack Oates on the podcast and YouTube show, where industry leaders share growth strategies for restaurants and retailers to help businesses succeed.
Check out the full video with John and Zack here:


Toys "R" Us paid a big price for ill-judged alliance

John and Zack discussed how restaurant operators can learn from the industry lessons of the past to power their future. With the restaurant industry currently going through a major digital transformation, John pointed out that this kind of dramatic change has been seen previously in the retail, hotel and car rental industries.
"We don't have to look too far into the past to see some of the dynamic shifts that have happened in those industries. There's some comparisons that are playing out in the restaurant industry today. Sometimes by just looking a little bit into the past to similar industries, we can potentially learn how we may be able to make the right decisions to power our future in the restaurant industry," said John.
He looked at Toys "R" Us joining up with Amazon in 2000 to outsource their e-commerce business. That relationship ultimately broke down and had dire consequences for the popular and historically successful toy retailer.
After the deal fell apart and an ugly lawsuit, Toys "R" Us had to start their business again. They eventually went bankrupt after the years-long decline of their business.
"This story sounds very familiar in terms of what I've heard in the restaurant industry recently. With Amazon and Toys "R" Us, it didn't turn out so well. Within a year, the partnership fell apart. At the time it seemed like a great idea, but in the end it certainly wasn't," added John.
John explained how a similar situation may be unfolding into today's restaurant industry, with many restaurants now partnering with online food marketplaces. By giving away control of their relationship with end customers and valuable data to the marketplaces, restaurants may be jeopardizing their future.
While it can initially seem like a good deal to a restaurant operator to partner with a marketplace, what really happens is the marketplace company gathers data and uses that to its advantage. Meanwhile, the restaurant's own brand is diminished.


The solution: Establish your own strong digital presence
Rather than give away control of your brand and customer relationship to third-party platforms, John advised that restaurants actively engage with customers directly, using their own digital channels to good effect.
"We recommend that operators put together a plan to build and establish your own digital presence. Ultimately, I think the goal is to engage with your customers digitally the same way you would do in person," he said.
He also explained some of the key practical aspects around this, such as having a great website, a strong social media presence and providing a range of different digital ordering options.


Grow your own brand and business with Flipdish online ordering