Flipdish POS reduces costs and maximises efficiency at UK fast food chain Chicken Cottage
Chicken Cottage needed a better tech system to manage its 60 UK chicken shops. Flipdish POS and restaurant management tools have helped the brand get control of food costs, improve staff scheduling and increase order accuracy across the business. Chicken Cottage now has access to all its data in one place, which it can now use to make better business decisions for future growth.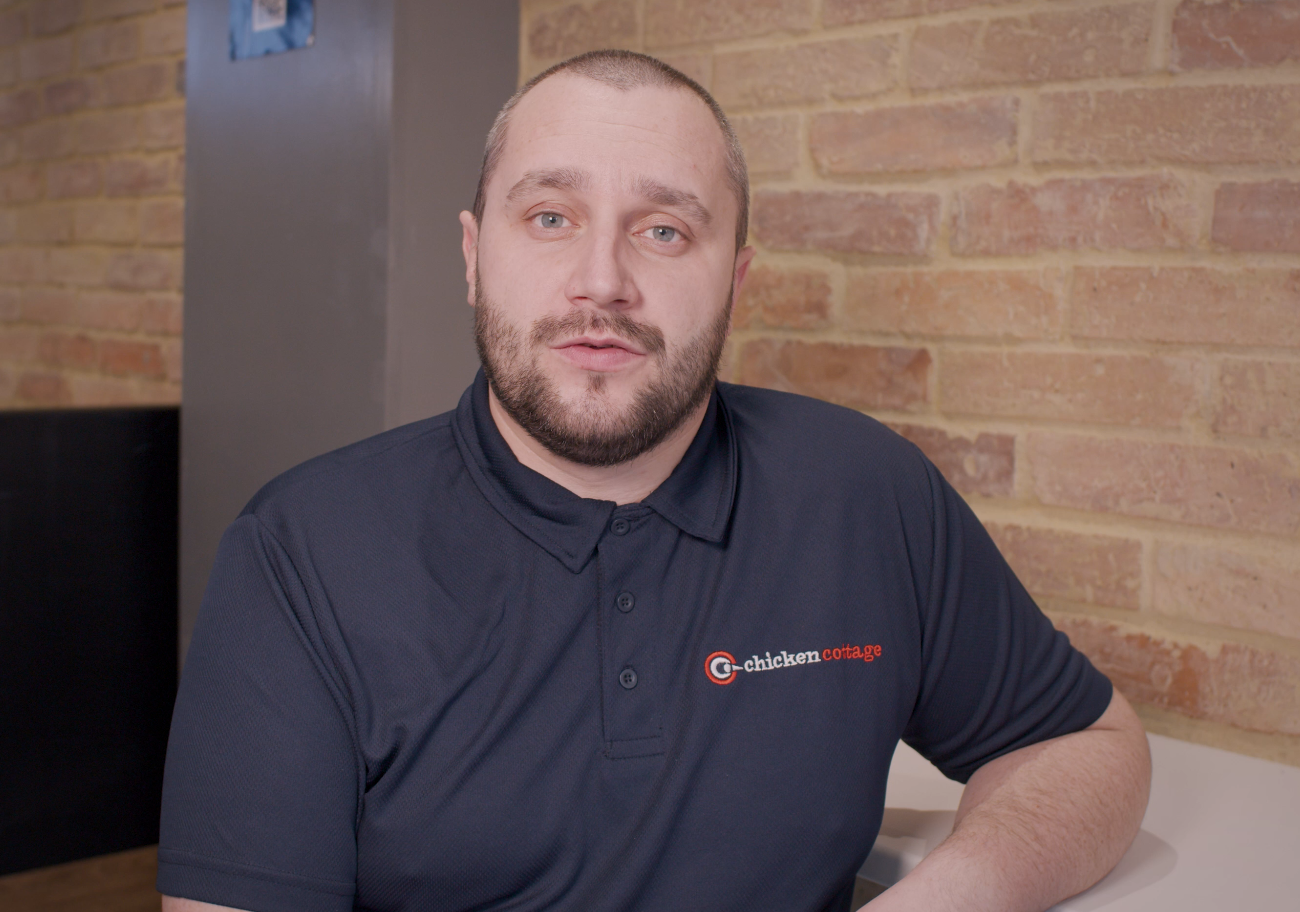 "The best thing about Flipdish POS is it's now allowing us to make operational savings across the business."
Business type

Takeaway

Location

UK

Number of outlets

60

Famous for...

Halal fried chicken
Started with Flipdish

September 2021

UK Operations Manager

Tom Corcoran
Originating in London in 1994, Chicken Cottage has become a popular UK-wide takeaway brand with over 60 chicken shops up and down the country. Serving fried and grilled halal chicken along with fries, sides and soft drinks, the brand has made a name as a quality QSR franchise.
Tom Corcoran, UK Operations Manager for Chicken Cottage, explains that before implementing Flipdish POS, there was a lack of visibility and consistency across the stores. In other words, they were winging it.
"Our stores generally had no system that was fit for purpose," Tom reveals, "The main issues that we had was a lack of understanding of what our food cost was and our labour controls. As well as that we also add inaccurate orders."
"Our old ePOS system generally didn't give us the data," he adds, "It never gave us enough information as to what our stores were selling. We weren't able to understand our menu. We weren't able to have a consistent menu across all stores, and we also weren't able to understand the store's food cost, labour, and more importantly, understand how to support the franchisee more from a head office function."
It was time to hatch a new plan and Flipdish POS ticked all the boxes with its feature-rich restaurant management system
Flipdish supports a smooth rollout
Tom says that as they rolled the POS out to the first stores, it got the attention of other franchisees who could see the benefits of the end-to-end system.
"We started implementing Flipdish across our stores in September 2021," he says, "Throughout multiple sites, we've now grown and the interest has risen across the whole estate."
Flipdish POS allows quick-service restaurants like Chicken Cottage to take in orders from third-party delivery platforms, as well as its own channels. Orders are then sent through to the Kitchen Display System (KDS), which organises and prioritises tickets so that staff behind the counter can see what needs to be prepared and the status of each order.
"It's improved our business by streamlining our operations, not just through the delivery platforms, but also in the kitchen where the communication has massively improved by using the screens," Tom explains.
"Implementing Flipdish POS has been really easy, it's been really straightforward," he adds, "The level of support before the installation has been fantastic, making sure the menu was set up, testing the menu, and making sure that, on day one, there weren't any issues as it was installed into the stores. Having that level of understanding before the installation has really set us well."
Centralised menu management keeps Chicken Cottage legally compliant
One problem that comes with using multiple delivery partners is when you want to make menu updates. Something as simple as a price change or image update could take days or more to be implemented if you have to go through the platform's customer service team.
Flipdish POS eliminates this problem by allowing operators to update menus centrally and then push the updates out to all the delivery platforms.
Not only does this save time, it also means menus are accurate and in compliance with food safety regulations. The menu management features were particularly useful for Chicken Cottage, which uses three third-party delivery partners in multiple cities.
"We are now able to upload our menu across all of our sites, control the allergen and the nutritional guidance, and provide that on hand frequently for all of our stores," Tom explains, "It means that legally we're always up to date with the correct legislation."
Chicken Cottage cuts labour costs with smart scheduling
Operating 60 stores across the UK, Chicken Cottage processes a lot of data. Flipdish POS takes in all the data from customer details to sales by store, region or item. Data is only valuable if you can use it and the reporting tools give the team the insights to make better decisions.
Tom explains how Chicken Cottage benefits from the clean processing of its restaurant data:
"We can understand all of our sales across the business. We can do that by store or we can do that as a business overall, which is a massive benefit for us to understand exactly what products are doing well on our menu and which ones aren't."
"Flipdish POS has helped our franchisees by understanding their food cost, the labour, and more importantly, the combined sales, " he adds, "It's allowed us to support our franchisees a lot better using the rota system."
Using sales data to predict demand, Flipdish POS helps franchisees plan their schedules to maximise efficiency. This means they make the most out of busy periods but also save on labour costs when fewer team members are needed.
"It's also meant that we can understand exactly when we need our staffing at the right times, using the expected sales predictions," Tom explains, "Which is a massive benefit for the franchisee, and it allows us to understand when our customers coming into our stores, but also when they're asking for the food to be delivered."
Chicken Cottage flying into the future with Flipdish POS
Tom is very happy with the support that his team received while getting up to speed on the new system. There's no guarantee of success with dozens of franchisees having to get used to a new way of working, but he says that they found the system simple and intuitive.
"It's easy for our franchisees to understand," Tom says, "The level of support we've received has been fantastic."
Overall, he recommends Flipdish POS to other quick-service restaurants looking to boost efficiency, cut unnecessary spending and improve order accuracy.
"I'd recommend you over to anyone in the QSR business as a massive benefit and a great way of moving forwards with technology," he adds.

Could your takeaway benefit from a feature-rich POS and restaurant management system?
Talk to sales