Trusted by thousands of leading food businesses around the globe
Get up and running fast
The simple way to enable drive-thru collection
With Flipdish, restaurants do not need to have a traditional drive-thru window or set up to activate this option. You don't need to invest in specific drive-thru ordering systems, equipment or restaurant intercom systems.

There is no extra charge for this feature for Flipdish customers. You simply ask your Customer Success Manager to enable drive-thru at any store location where you currently offer Click & Collect. Then when a customer orders via your website or app, they'll be able to pick a time for drive-thru collection.
Easy for customers to use
There's nothing complicated about drive-thru collection. Once enabled on your website and/or iOS or Android app, when they select Collection, customers will see an option to pick Drive-Thru or Take-Out. After picking a time to collect, all customers have to do is roll up and roll down their window.

Customers love the efficiency and absence of contact that drive-thru collection offers. It also means you reduce indoor gatherings and lines forming outside, while you increase capacity and take more orders.
Watch your business grow
Flipdish provides detailed insight into your business's performance over time. Track order volume and amount across multiple stores, and automatically see growth rates over time.

But don't just watch the numbers - Move them. Flipdish powers marketing campaigns and insights that really make a difference.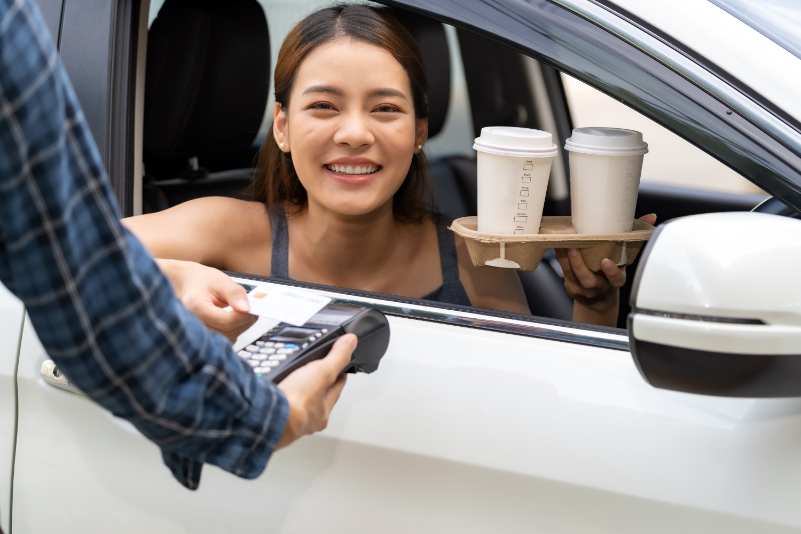 Get started with drive-thru for your business today
Talk to sales